Looking for the ultimate in quiet, efficient, environmentally friendly portable power? Then you've probably heard of Goal Zero Yeti. This brand of portable power stations has become very popular since hitting the market.
In this article, I'm going to introduce you to both the company and its line of eco-friendly, low-maintenance power stations. But first, let's introduce the overall concept in case you were still relatively new to portable solar generators.
Why Choose a Portable Solar Generator?
When I first bought my recreational vehicle, one of the first things I did was get rid of the generator. The idea of the generator sounded great, but it was too loud and expensive to operate. It just didn't make any sense to continue to lug it around.
But I still needed a solution for portable power in locations without hookups. That was what got me into learning all about portable solar powered generators.
Here are just a few reasons to get rid of your old-fashioned gasoline generator and purchase a solar-powered generator such as a Goal Zero Yeti power station:
First of all, gas generators are extremely noisy, and they produce vibrations which can disturb wildlife. With a solar-powered generator, both of these problems ceased to exist.
Gas generators continuously require new fuel, which is an ongoing cost. They also produce fumes which are bad for the environment. A solar powered generator requires no fuel and produces no fumes, making it eco- friendly and cost-effective.
Virtually no maintenance is required on a solar generator. You simply need to let it soak up the sunlight. A gas generator on the other hand needs to be routinely cleaned with sparkplugs and oil changed.
When you plug devices into your solar power station, they only consume the power they require, leaving the rest available for future use. This is not the way that gas generators work.
What Sets Goal Zero Generators Apart?
Now you understand the basic benefits of solar-power stations and why they are a far superior option to traditional gas generators. But why choose Goal Zero Yeti?
This company manufactures power stations which cost 40% less to own than comparable gasoline generators. That doesn't just account for the initial cost outlay, but also the overall lifetime cost.
Goal Zero has been manufacturing solar power products since 2007. Since its inception, it has built a reputation for quality, reliable products and top-shelf customer support.
These generators are ridiculously easy to use. You can charge them by plugging them in with an AC adapter or by hooking them up to solar panels and waiting for the sun to do its work. The solar option takes longer, but it allows you to keep powering your devices even if you're out in the wilderness miles away from AC power. Once you have the power station charged, just plug in your devices and enjoy using them.
There is a 30-day money-back guarantee on all products from Goal Zero. This gives you plenty of time to test-drive your power station and make sure that it will serve your needs. A lot of people wait to do this until there is an actual emergency, but you should always test any generator you purchase right away.
Goal Zero manufactures an entire line of solar power stations which are ideal for a variety of applications. Whether you are shopping for a compact model you can take on a camping trip or a heavy duty generator to use for backup power at home, there is an ideal product waiting for you in the Goal Zero catalog.
Yeti Power Station Comparison: Top Goal Zero Yeti Power Stations for 2019
To help you discover the best portable power stations by Goal Zero, we have put together a product comparison with detailed information on some of the company's top solar generators. Read on to find the perfect Goal Zero Yeti power station for you.
Note: If you are wondering how the Goal Zero Yeti power stations have received their names (400, 1000, 3000 and so on), these numbers refer specifically to their watt-hours.
Each generator boasts slightly higher watt-hours than the number in its name. So for example, the Goal Zero Yeti 400 offers 428 watt-hours. The Goal Zero Yeti 1000 features 1045 watt-hours, and so forth. While other differences exist between the models, this is the main distinction from one to the next.
The fastest way to find the right generator is simply to ask yourself how many watt-hours you are shopping for, and then look at the generators which offer those watt-hours.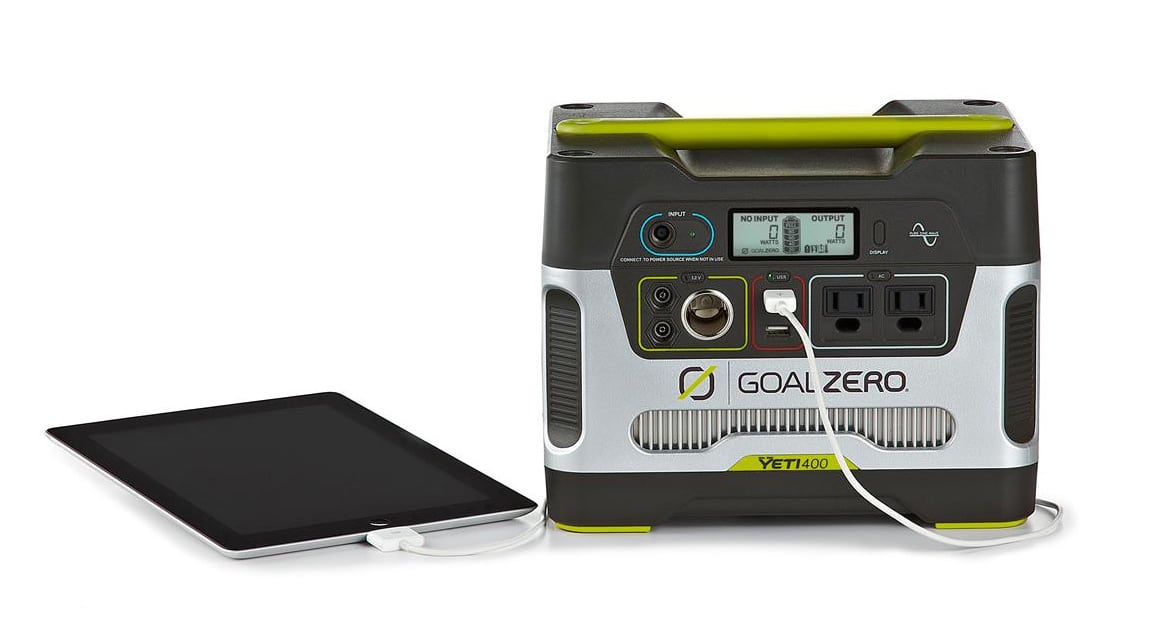 If you are in search of a lightweight, compact power station which you can use to charge small devices (i.e. your camera or mobile device), the Goal Zero Yeti 400 Lithium Portable Power Station may be just what you are in the market for.
Specs:
428Wh (39,600mAh @ 10.8V. 119,000 @ 3.6V) capacity
Two AC outlets: 300W continuous and 1200W surge
Three 2.4A USB ports
Two 12V ports
Combined port capacity can support up to 7 devices simultaneously
Pure sine wave inverter
LCD display
Replaceable lithium battery pack
Store power for up to 12 months
Measures 7 x 7 x 11 inches
Weighs 16 pounds
Best For:
You can easily carry this handheld generator from place to place. It can power your small devices at home if you have a power outage, and can also keep small devices running while you are traveling or camping.
---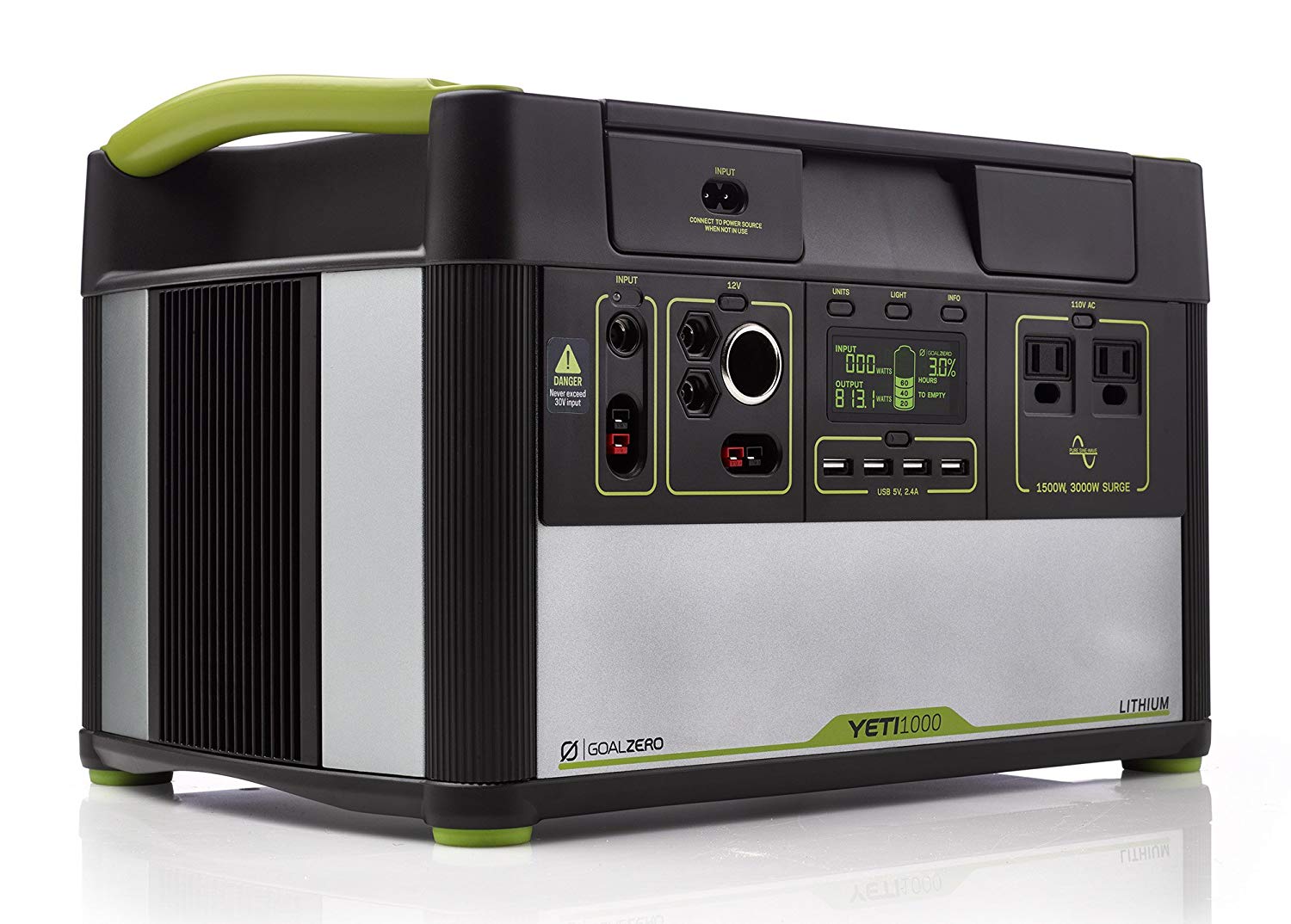 Like the Goal Zero Yeti 400, but looking for something with a higher capacity? Consider the Goal Zero Yeti 1000. This power station has higher watts and watt-hours.
Specs:
1045Wh (96,800mAh at 10.8V/290,400mAh at 3.6V)
1500W continuous and 3000W surge
Ports: 2.4A USB ports, 120W 12V
Power up to 7 devices at once
Pure sine wave
Measures 15.3 x 10.1 x 9.3 inches
Weighs 43 pounds
Lithium battery pack is replaceable
Water tight enclosure for batteries
Protection against over-charging
10-12 month shelf life
Best For:
According to the company, you can power some of your devices for more than twice as long using this station than you could with a traditional gas generator.
Like the Goal Zero Yeti 400, it is perfect for smartphones, cameras and tablets, but it also is great for television sets and similar small appliances. With 1045Wh, it can keep your devices running longer than the Yeti 400.
---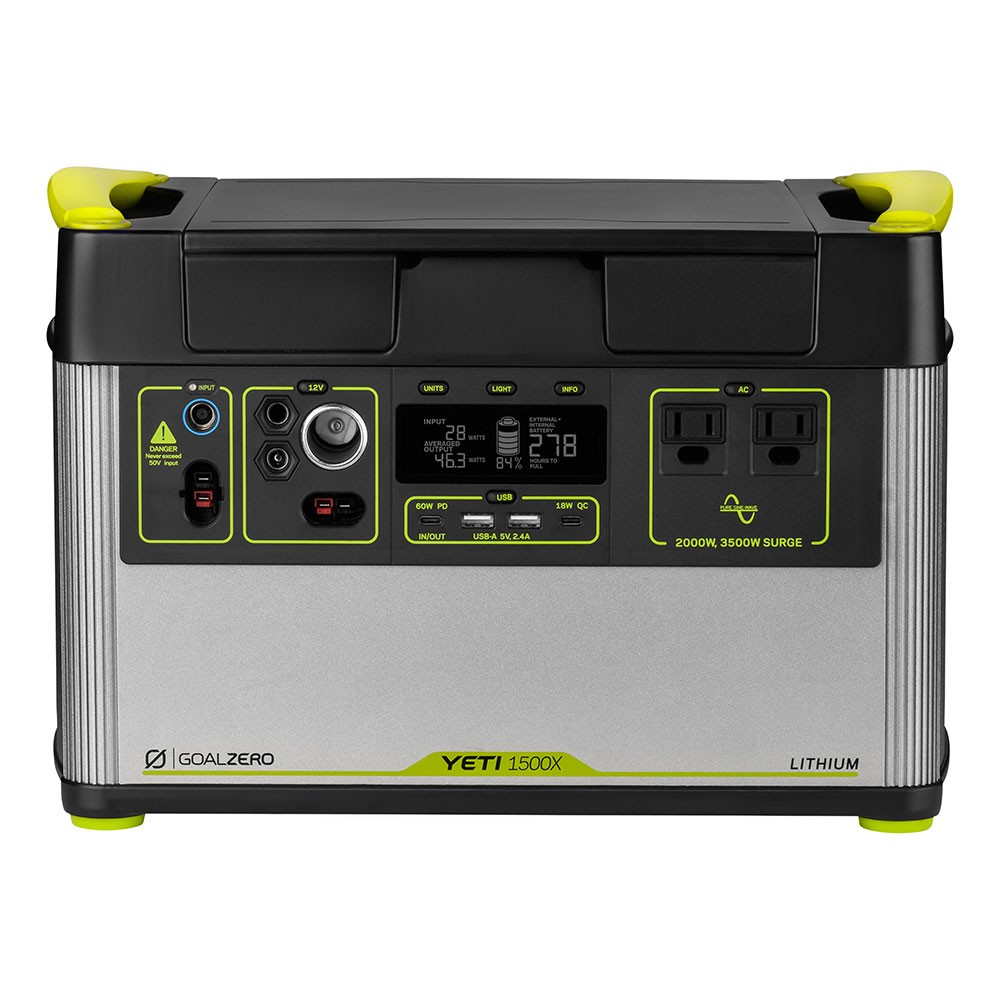 If you are looking for a portable power station which can power more devices at a time, the Goal Zero Yeti 1500x may fulfill your needs.
Specs:
Continuous 1500W with 1700W surge
100Ah @ 12V
Outlets: 2.1A USB, 1200W AC, and 12V
Run up to 10 devices simultaneously
Roll cart for easy transport
Batteries and chaining cables available for increasing runtimes
Measures 11 x 16 x 14.5 in
Best For:
This works great as a backup source of power since it is able to power not just small appliances, but also larger ones such as refrigerators. You also can charge or power up to 10 devices at a time, rather than just 7.
Additionally, the watt-hours are increased over the 1200 model.
If the power is cut for an extended time, you might be more comfortable with this generator than you would be with one of the compact models.
That being said, it still may not be sufficient for all scenarios. If you need to extend its runtime, you can purchase the optional chaining cables and batteries. Alternately, you can check out the Goal Zero Yeti 1400, which you can read more about below.
---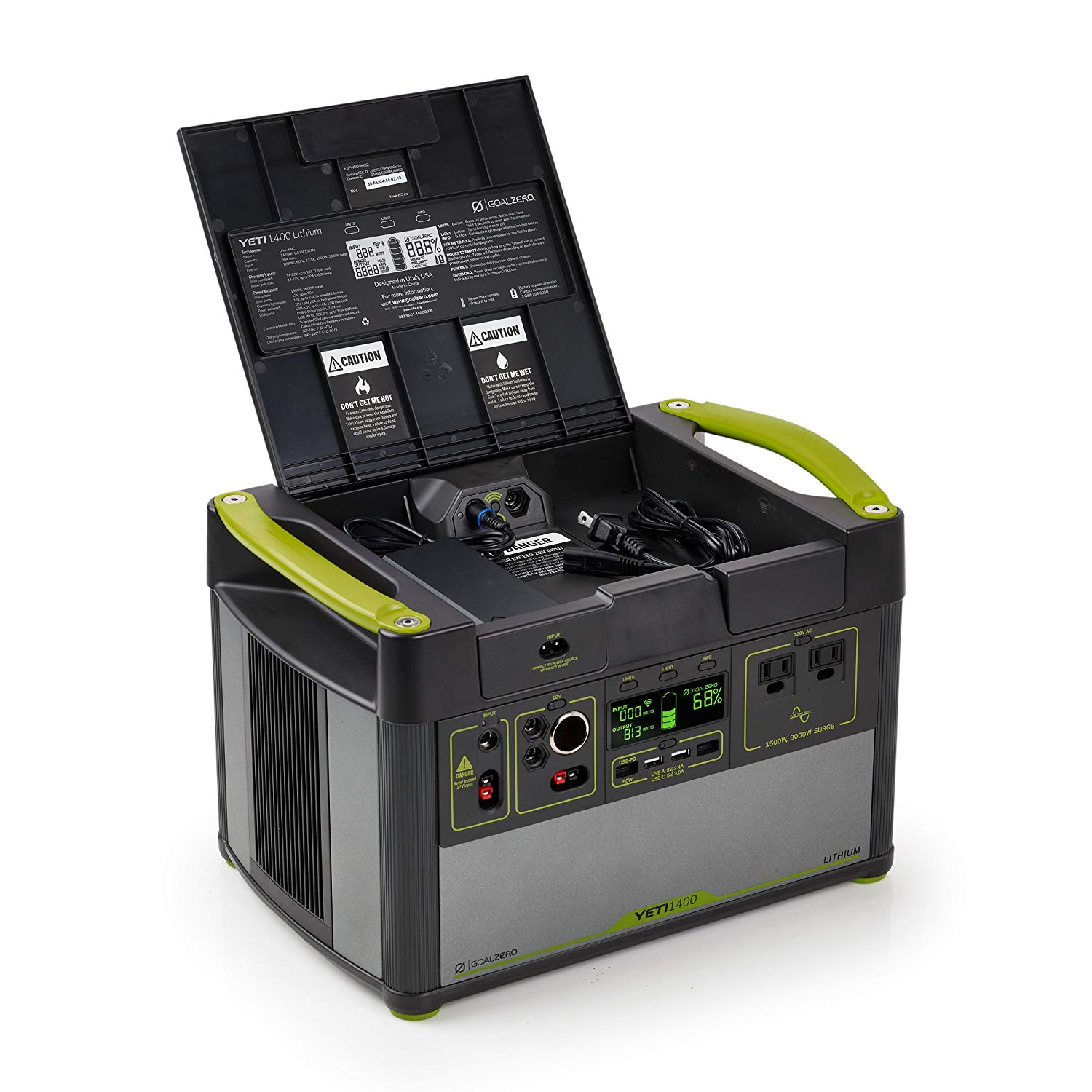 If you need more watt-hours than the Goal Zero Yeti 1250 offers, consider the Goal Zero Yeti 1400.
Specs:
1425Wh (132,000mAh/10.8V, 396,000mAH/3.7V
continuous output 1500W, surge output 3000W
396Ah @3.6V
Power up to 10 devices simultaneously
Pure sine wave AC inverter
60W USB-C power delivery ports
AC, USB, USB-C, USB-PD and 12V outputs
Measures 10.1 x 15.3 x 10.4 in
Weighs 43.7 pounds
10-12 month shelf life
Control your generator using a convenient app
Best For:
You can power your small devices with this power station as well as a few of your larger appliances. Along with your smartphone, camera, laptop, and so on, you can for example run your refrigerator or your LCD TV.
While this generator features a high-capacity battery, its weight is comparable to that of the Goal Zero Yeti 1000.
---
>Goal Zero Yeti 3000 Lithium Portable Power Station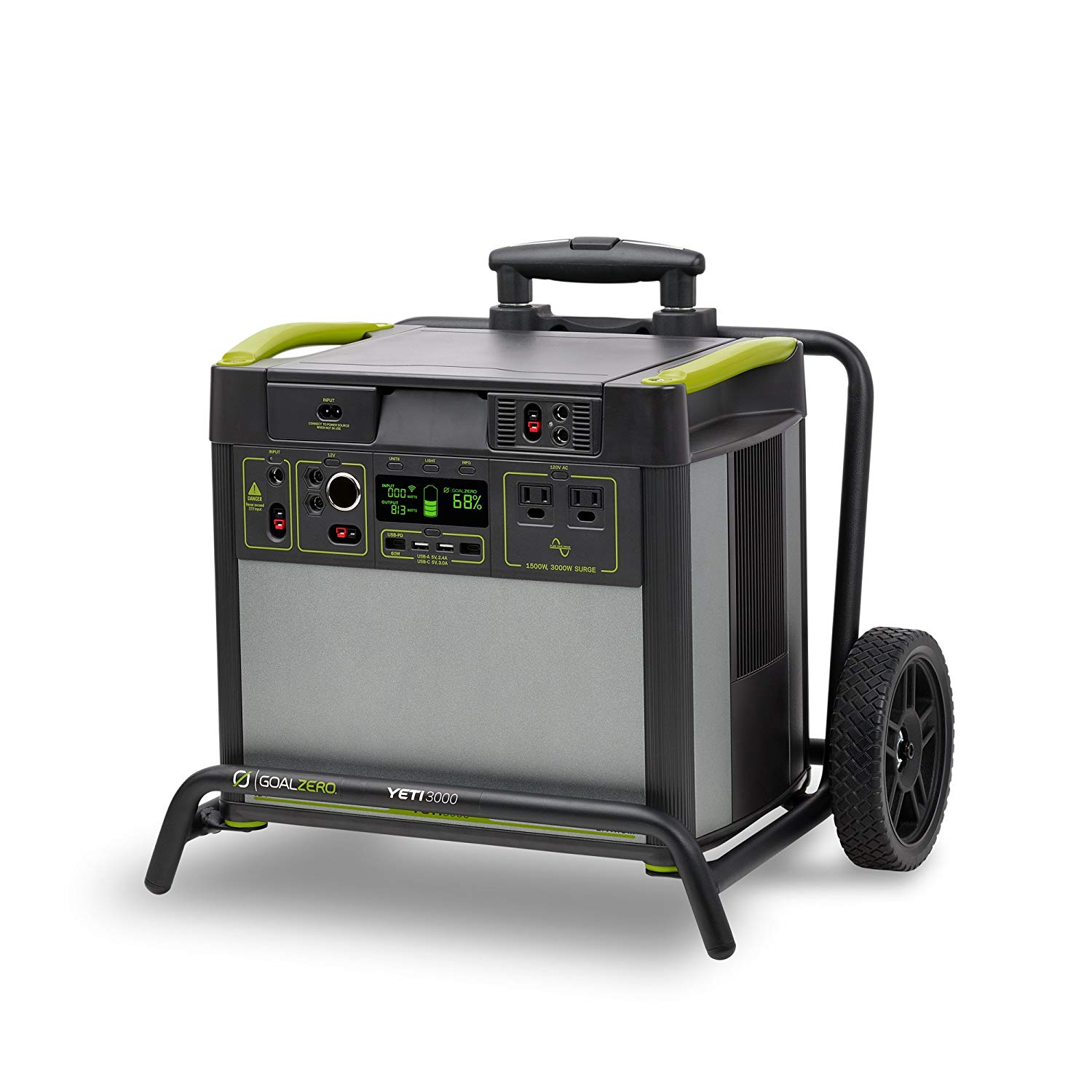 If you are after a heavy duty generator which packs some serious power and runtime, you'll want to check out the Goal Zero Yeti 3000.
Specs:
1500 watts continuous power and a 3000 watt surge
842Ah @ 3.65V
Measures 10.1 x 15.3 x 13.1 in
Weighs 68.6 pounds
Control your power station using a handy app
10-12 month shelf life
Ports: USB A, USB C, USB PD, 6mm port, 12V car port, 12V Power Pole port, 120V AC Inverter, charging port, Power Pole charging port, Expansion Module port
Best For:
The main difference between this generator and the Yeti 1400 is runtime. You can power essentially the same types of devices—your mobile device, your headlamp, your laptop, a lamp, a fridge, a television set, etc. But you can run them for significantly longer using the Yeti 3000 than you can with the Yeti 1400.
Goal Zero posted a blog outlining the differences between the Yeti 1400 and 3000. The main differences mentioned there are the addition of the USB-C connector and a wi-fi app for the 3000 model. Note that these features appear to have been retroactively added to the 1400 power station as well. But the runtime difference still exists.
---
Do the Math to Figure Out Which Goal Zero Yeti Generator You Need
While there are some differences between each of the Goal Zero Yeti power stations in terms of ports, wi-fi capabilities, and power output, the easiest way to figure out which generator to buy really is to think first and foremost in terms of watt-hours.
Ask yourself which devices you are likely to run using your power station, and how long you want to be able to run them for. Add up the wattage of those devices, and you'll be able to calculate how long you can run them for by themselves or simultaneously using each of these generators.
Once you figure out which generator will be ideal in terms of watt-hours, you can double-check to make sure it offers the ports and other features you are looking for.
You'll pay more for higher watt-hours, but you'll also be able to operate your devices and appliances for longer.
In the end, it is ultimately up to you to decide what is more important to you: maximizing runtime, or saving money on a generator.
Regardless of the choice you make, any of the Goal Zero Yeti power stations can offer you the versatility, quality, and reliability you need for camping, emergency backup power, and all your other portable power needs.