Did your insurance company or agent recently ask you if you are interested in storage unit insurance? Did the storage facility itself?
If you are thinking about declining, but are not sure, you might want to rethink that decision.
A lot of people underestimate the importance of storage unit insurance. Indeed, many people believe they have more protection for their items in storage than they actually do. That was the case for me.
I live in a small apartment, but I have important possessions that I cannot keep in my apartment. For that reason, I rent a long-term storage unit.
This is not my first storage unit. In fact, my previous storage unit was destroyed in a flood. And when it was, I learned a very important life lesson about storage unit insurance.
I thought that I had all the coverage I needed for the items in my storage unit because I had renters insurance.
As it turned out, I was sorely mistaken. My renters insurance did provide some limited coverage for the items in my storage unit. But I ended up losing thousands of dollars worth of possessions with no compensation because there was an exception in my policy for flood damage.
I ended up having to replace everything out of pocket. I don't want other people to end up in the same situation, so I put together this guide to storage unit insurance. Let's dive in.
Storage Insurance 101
Storage insurance refers to any insurance coverage for possessions that are in a storage unit.
While storage insurance can be a separate policy, in many cases, it refers to the applicable protection that is built into a homeowners or renters policy.
Types of Storage Insurance
There are several ways you can come by storage unit insurance:
Your regular homeowners or renters insurance carrier might cover temporary storage for items listed in your policy if you cannot store them in your home because of a covered event (i.e. damage from a storm or fire, or even because you are moving). It might also cover long-term storage, but usually with limitations.
You can purchase storage unit insurance separately.
You can purchase the insurance policy offered by your storage facility. We don't recommend this since the policies have a lot of exceptions and often do not pay well. Why? Because they tend to pay actual cash value for items that were destroyed, not the cost to replace your items with new ones. Also, damage or destruction resulting from flooding is frequently not covered.
Why is Insuring Your Storage Unit Important?
There are a lot of things that can go wrong when your things are in storage:
Thieves might break into your storage unit and take items.
Vandals might bust into your storage unit and destroy your possessions.
Storage units may be destroyed by fire, whether from electrical hazards, natural disasters or arsonists.
Flooding can damage or destroy the items you are storing.
Earthquakes can damage or destroy units and their contents.
Pests can get inside storage units and damage items.
Those are just some examples of situations where you could suffer losses. There are many other possibilities as well.
Do You Need Renters Insurance For Your Storage Unit?
There are two broad reasons you might require storage unit insurance:
1-The facility requires you have some kind of coverage before it will let you rent a unit.
2-You want to make sure your items are covered.
Generally speaking, your regular renters or homeowners policy might provide the following:
Temporary coverage for your storage unit items if you are relocating.
Temporary coverage for your storage unit items if you cannot store them at home because of a fire or other covered situation.
Long-term coverage of storage unit items up to a certain limit.
Coverage only for certain scenarios (flooding, for instance, is typically excluded).
That means that you might not need to purchase storage unit insurance in every situation. It depends on how comprehensive your existing policy is and what is important to you. But in many cases, especially for long-term storage, you will benefit from purchasing additional coverage.
Because there is so much variation, it is vital not to make any assumptions about your coverage.
That was my mistake. I was told my renters policy covered items outside my home. But I did not realize that flooding would be an exclusion.
So, read the fine print for your policy, and call your agent if you have questions. Make sure you are aware of any existing loopholes so you can close them.
Depending on your current coverage, you might need some combination of the following:
Coverage for additional named perils (i.e. flooding) or all-risk coverage.
Higher coverage limits.
Coverage for your possessions when they are outside your home.
In some situations, this might mean that you need to add endorsements to your existing homeowners or renters policy.
For example, you can schedule a property endorsement to cover an individual high-value possession that would otherwise exceed policy limits.
You can also purchase a replacement cost rider for an actual cash value policy to increase your protection.
Other companies might require you to purchase a standalone policy to accompany your existing policy.
How Much Is Storage Unit Insurance?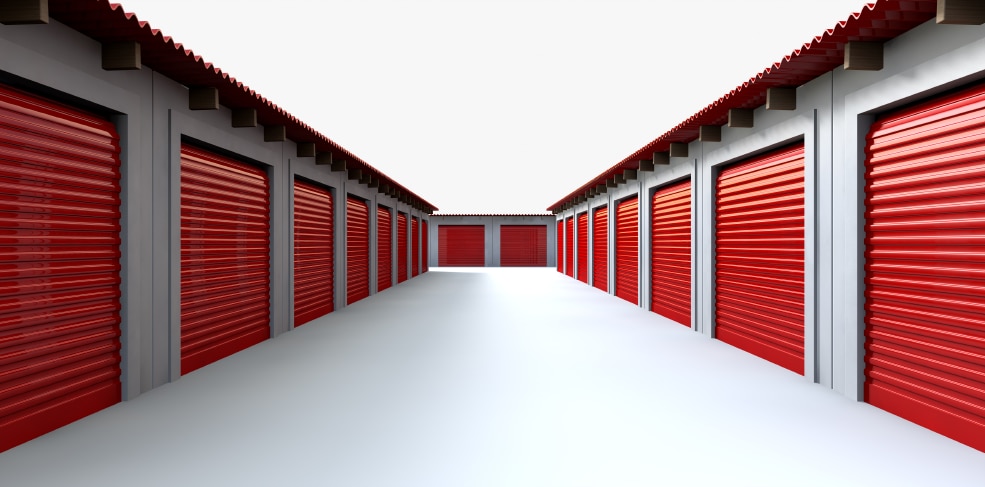 Policy costs are based on coverage limits. For every $100 of value, you can expect to pay around 50 cents to $2 each month.
When you think about it, that is pretty inexpensive to cover your prized possessions when they are in a storage unit. I certainly wish I had gone for it. I would have ended up saving a lot of money in the long run.
Best Storage Unit Insurance Companies
Our recommended carriers for renters insurance for storage units are State Farm, Nationwide, AllState, and American Family. Let's take a look at what they offer.
State Farm
The policy that can help cover your items in storage through State Farm is the company's "Personal Articles Policy."
State Farm explains, "Personal property doesn't have to be in your home to be protected by your policy. Your coverage travels with you — whether you're enjoying the vacation of your dreams or running weekly errands."
For this reason, this deductible-free policy is ideal for protecting items in a storage unit.

State Farm says, "We'll pay the cost to repair or replace your personal property, without deduction for depreciation up to the applicable limit. The personal articles policy insures against theft and accidental direct physical damage to covered property with some limitations and exclusions."
Note that if you already have homeowners or renters insurance through State Farm, you may already have some coverage for your belongings outside of your home. Check your policy to see if you need the additional coverage offered through the Personal Articles Policy.
Nationwide
As with other carriers, a good starting point with Nationwide is to check your renters or homeowners policy to see if it will cover you as needed. If not, you can look into add-ons (i.e. for flooding).
Nationwide also has a "Self-storage facilities insurance" policy specifically for small businesses. So if by chance you run a storage facility, this policy may be what you need.
AllState
AllState homeowners or renters insurance may cover your property in your storage unit. The level of protection depends on the "personal property coverage" for the specific policy as well as the coverage limits.
Once again, you may need to purchase additional insurance such as flood insurance.
American Family
Another insurance carrier to consider to protect your items in your storage unit is American Family.
American Family writes, "Similar to the protection your property has while in your house, your homeowners insurance has 'off-premises coverage' that provides protection for your things in the form of personal property coverage. Off-premises insurance coverage can extend to items you keep in storage units — but the coverage can vary according to the type of loss and other conditions."
The company recommends contacting an agent and discussing your needs in detail so you can get the protection you require for specific items and circumstances.
Don't Get Caught Off-Guard Without Storage Unit Insurance
Now you understand the importance of storage unit insurance, especially if you will be keeping your items in a unit over the long haul.
You also know some of the top companies to consider when choosing a carrier for this type of insurance.
Whichever carrier you go with, start by checking your homeowners or renters policy to see what it covers, and add more coverage from there if you need it.