Artificial intelligence, or AI, is making its way into every facet of our lives. Now, it's taking our home security systems to a whole level with smart home automation.
Deep Sentinel brings a whole new meaning to smart home security. Marrying AI and real-time security, you'd think that a system as sophisticated as this would be reserved only for the rich. But the affordability of Deep Sentinel is almost as impressive as the technology itself.
What is Deep Sentinel?
Deep Sentinel is a home security system that uses artificial intelligence, round-the-clock monitoring and real-time intervention to prevent burglaries, auto theft and other domestic crimes.
What sets Deep Sentinel home AI apart from other home security systems, aside from the advanced technology, is that if offers intervention. Other systems passively monitor, so you can see who burglarized your home after the fact (or call the police if you happen to catch them in the act).
If the Deep Sentinel system detects suspicious activity, it will call law enforcement for you – immediately. It can also talk to the potential intruder. So, if your uncle stops by unexpectedly and is trying to get into your home, you can avert a potentially awkward encounter with the police.
How Does the Deep Sentinel Home Surveillance System Work?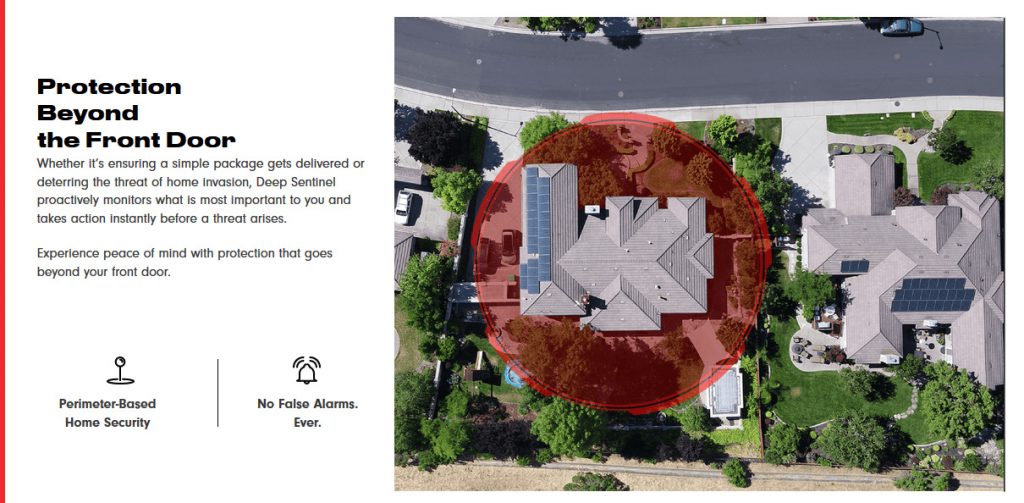 The Deep Sentinel system includes three cameras with wall mounts, four rechargeable batteries, a hub and a yard sign. There's also a human video surveillance team that monitors your cameras remotely.
The surveillance team won't be watching your camera feed 24/7. The system's deep learning AI can tell the difference between everyday activity and potential intruders. The surveillance team relies on AI algorithms to tell them when to take a closer look. If they see someone trying to break into your home or vehicle, they will call the police.
The team can see your footage and even speak to the potential intruder using the system's two-way intercom.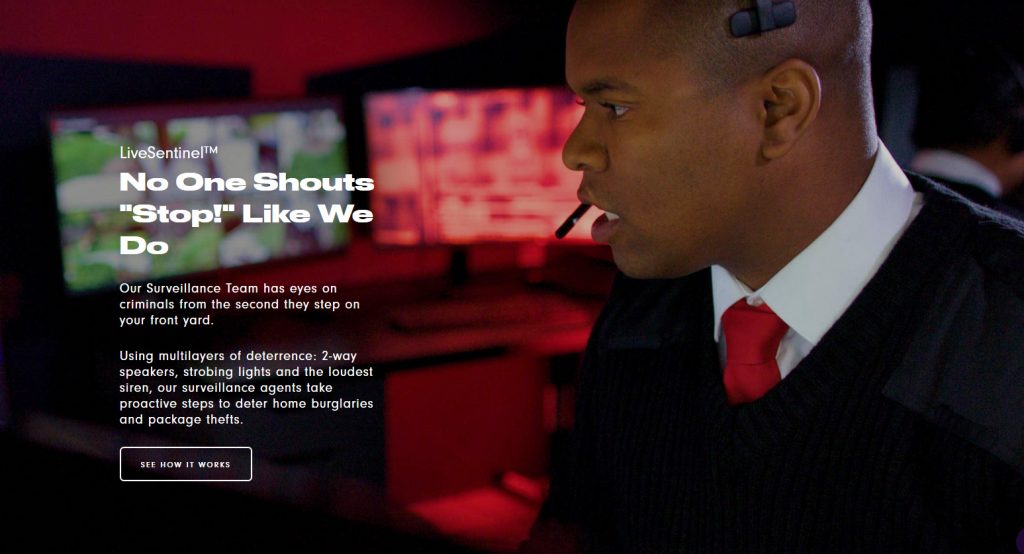 Deep Sentinel's Surveillance Center will make the decision whether or not to intervene when suspicious activity is detected. The team can speak to the intruder, activate a siren to scare off the intruder, and/or call the police.
It takes just 10 seconds to identify a true threat, and 20 seconds to contact police.
What Sets Deep Sentinel Apart from Other Security Systems?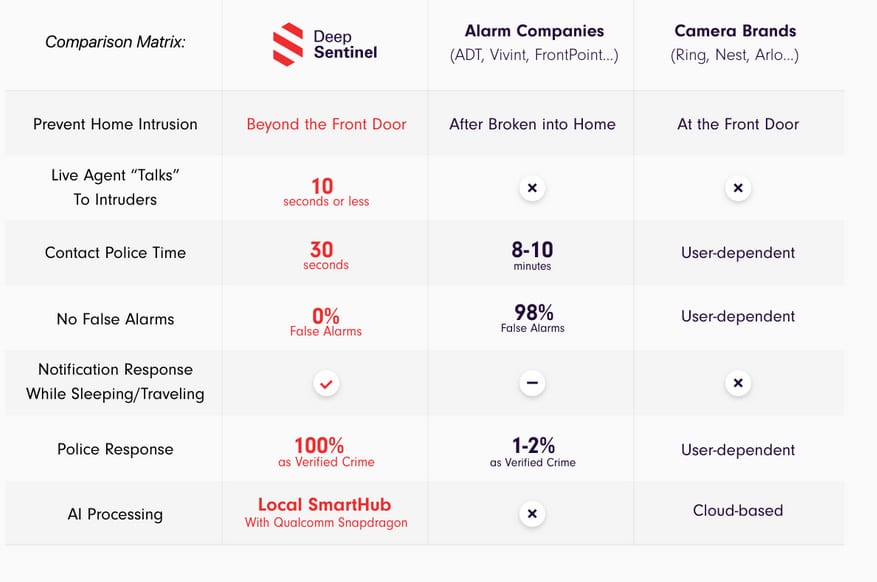 Deep Sentinel goes above and beyond to prevent home intrusion by attempting to stop a crime before it even happens.
Other home security systems work after your home has already been broken into. Systems like Nest or Ring require you to take action, so if you're not constantly paying attention to your system, you may miss a burglary entirely.
It takes just seconds for the team to "talk to" intruders, and this is something that other companies don't offer. And if a crime is in progress, it takes just 30 seconds for the team to contact the police.
Deep Sentinel says its systems have 0% false alarms compared to 98% with other alarm companies. The company also says that with police response, they have a rate of 100% as verified crime. Other companies have a rate of just 1-2%.
But don't other companies have live agents as well?
Yes, but these agents simply respond to a notification that a sensor has gone off. They can't actually see what's happening at the home. For this reason, police tend to give these calls lower priority because they have such a high false alarm rate.
I want to point out something important: Because Deep Sentinel's team can view your footage when needed, the cameras can't be placed indoors. Also, the agents can't access your live stream without an active alert, so you don't have to worry about agents spying on you whenever they please.
Deep Sentinel was actually designed by police, so it provides law enforcement with everything they need to improve safety, response rate and arrest rate.
Don't other systems also have two-way speakers?
Self-monitoring systems like Nest and Ring do have two-way speakers, but you have to be the one to use it. That means that you have to be the one to monitor your home 24/7. What if someone breaks into your home while you're on a plane or at a meeting?
Deep Sentinel's team does the monitoring for you, so nothing is left to chance.
Smart Cameras and Hub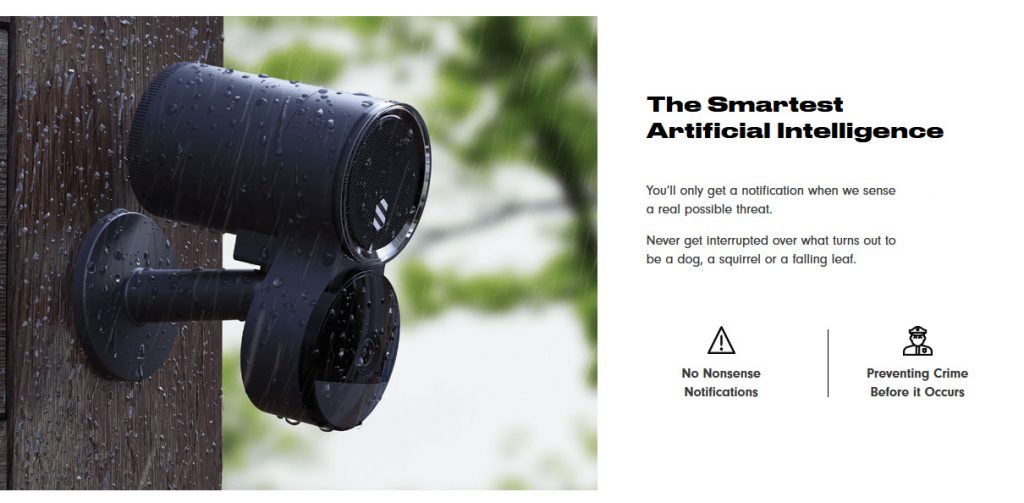 The system itself consists of specially-designed smart cameras that work with the included AI processing hub. Together, they create a surveillance zone for your home in real-time. The hardware for the system was actually created in partnership with Ammunition, which created Square's point-of-sale system and Lyft's LED emblem.
The cameras have 1080p HD resolution with 130-degree lenses, two-way audio and night vision. They can be used outside, and they're outfitted with strobe lights as well as 104-decible sirens. These smart cameras wake up from standby in just 250 milliseconds and start recording.
If you're worried about having to constantly recharge the batteries, don't be. They can last months on a single charge.
There's also no need to worry about the weather damaging your cameras. The outdoor weatherproof hull protects your cameras from rain and snow. They're built to withstand temperature ranges of -4°F to 122°F
The 850nm, motion-detected infrared LEDs and 35-foot range allow the system to differentiate between animals, people, cars and other objects.
The AI hub, which weighs just one pound, can store up to six months of video footage, and offers 64GB of flash memory and 4GB RAM. Its Qualcomm Snapdragon 820 system-on-chip can process up to 10 frames per second.
If you're concerned about privacy, you'll love the fact that this system offers local storage. This means that the footage of the area around your home won't be stored at some third-party facility where strangers can see everything that's going on in your life.
What's even better is that the system only records when necessary. This eliminates hours of useless footage and wasted battery life.
The system also features professional-quality speakers and microphones that allow for clear, two-way communication.
Technical Specs
Let's take a closer look at the technical specs of this system.

Camera
56"W x 5.18"H x 4.41"D
3oz.
Weatherproof
Wireless connection to the Hub
Hub
64"W x 4.67"H
1lb, 4.3oz.
Indoor use only
12V output
Connects directly to router using an ethernet cable
Mount
76"W x 3.19"H
4oz.
Weatherproof
1 screw per mount
How To Install the Deep Sentinel System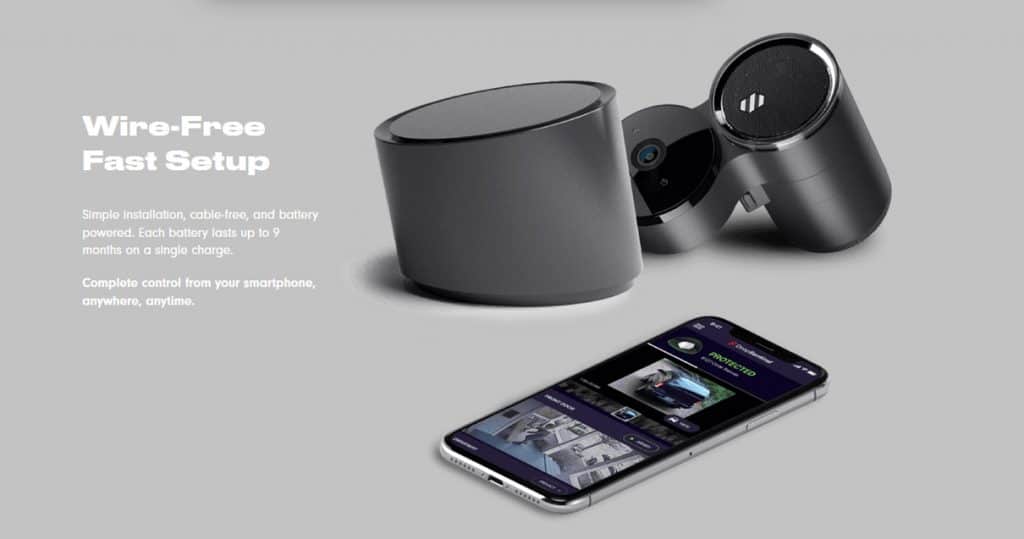 Installation is a breeze with Deep Sentinel. There are no wires, and the cameras come with mounts.
Setting up the cameras requires a single screw and just one step. The zero configuration Wi-Fi makes it easy to get the system up and running.
One Caveat – A Monthly Subscription
The cost of the system itself is surprisingly affordable (around $400) if you consider the advanced technology it uses.
But there is one caveat – you have to pay for a monthly subscription. The subscription is about $50 per month and will require a one-year commitment. Billing starts 30 days after your order ships.
Additionally, the subscription allows you to personalize the artificial intelligence settings through the system's app.
If you're scrunching your nose at the cost, think about it like this: you're paying about $1.65 per day to have your home monitored 24/7.
That's a small price to pay for peace of mind, especially since the system is designed to prevent theft – not just help you identify the thief after the fact.
You're also paying for the ultra-fast and highly accurate human response rate that Deep Sentinel offers. Other surveillance companies, like ADT, charge almost the same monthly rate for their services, but fail to offer the same level of intervention that Deep Sentinel offers.
Instead of alerting you or the police after the break-in has already occurred, Deep Sentinel's system works to prevent a crime from happening in the first place.
Police even classify their calls as high priority because their system can so accurately determine whether an actual crime is in progress. And because agents can see the camera footage, they can provide law enforcement with accurate descriptions of the intruder and the details about the incident as it's unfolding. Police arrive at the scene with far more information, which makes them better able to prepare for the situation.
Deep Sentinel is the 1st AI-based home security system, and it's one of the more comprehensive ones on the market today. It combines predictive AI with camera technology and human intervention.