Now that many of us are working at home full-time and without a proper home office we have learned a tough lesson.  Office ergonomics plays an important role in productivity and comfort. After a while, working on the couch or the kitchen table just doesn't cut it. Back pain and poor posture can make it difficult to stay on task.
An ergonomic task chair is a worthwhile investment for your home office. When it comes to quality, it's hard to beat Herman Miller.
The Mirra 2 line-up offers the perfect balance of comfort and style.
Mirra 2 Pros
Extensive adjustability options to find the right fit for your body
Lightweight
Durable
Tilt adjustability
Lumbar support
Breathable backrest
Mirra 2 Cons
Wide distance between armrests
About Herman Miller
Herman Miller has been around for more than 100 years, and throughout its history, has developed a reputation for producing some of the highest quality office furnishings. In its early days, the brand worked with well-known designers, including Charles and Ray Eames and George Nelson.
Today, Herman Miller is a public company headquartered in Zeeland, Michigan.
The brand has manufacturing facilities all over the world, including the U.S., the U.K., China and Italy.
Herman Miller Mirra 2 Facts and Specs
3-position tilt lock and adjustable tilt tension
Seat height and depth adjustment
Adjustable arms
Flexible backrest
Lumbar support
Dimensions: 38"-42.5" H x 27" W x 27" D
Weight capacity: 350 lbs.
Chair weight: 42 lbs.
Distance from seat to arm: 3.5"-8.5"
Distance between chair arms: 18.5"-20.5"
Back dimensions: 21"W x 23"H
Our Review of the Mirra 2


The Mirra 2 was designed with personalized ergonomics and comfort in mind. It moves with you, and it offers maximum adjustability to ensure that it fits your body like a glove.
There are several key features that impressed us when reviewing the Mirra 2.
Supports Your Natural Movement
The Mirra 2 is made for movement. It's both flexible and supportive, allowing your body to move naturally.
The Loop Spine allows for this movement. It provides torsional flex, so you can reach left or right without discomfort. The Harmonic 2 technology allows you to tilt backwards or forwards smoothly.
Whether you're typing an email at your desk or searching for a paper in a filing cabinet, the Mirra 2 supports your movement and helps you get things done.
Breathable Back Support
When you buy the Mirra 2, you have two back options:
Butterfly Back: Combines polymer veins with fabric to create a flexible yet supportive back.
TriFlex: Does not have a fabric layer, which makes it easier to clean and disinfect.
Both of these back options are built with Herman Miller's PostureFit, which offers sacral support. PostureFit helps keep your back properly aligned as you sit. Both back options are well-ventilated, so your back stays cool while you work.
Striking Design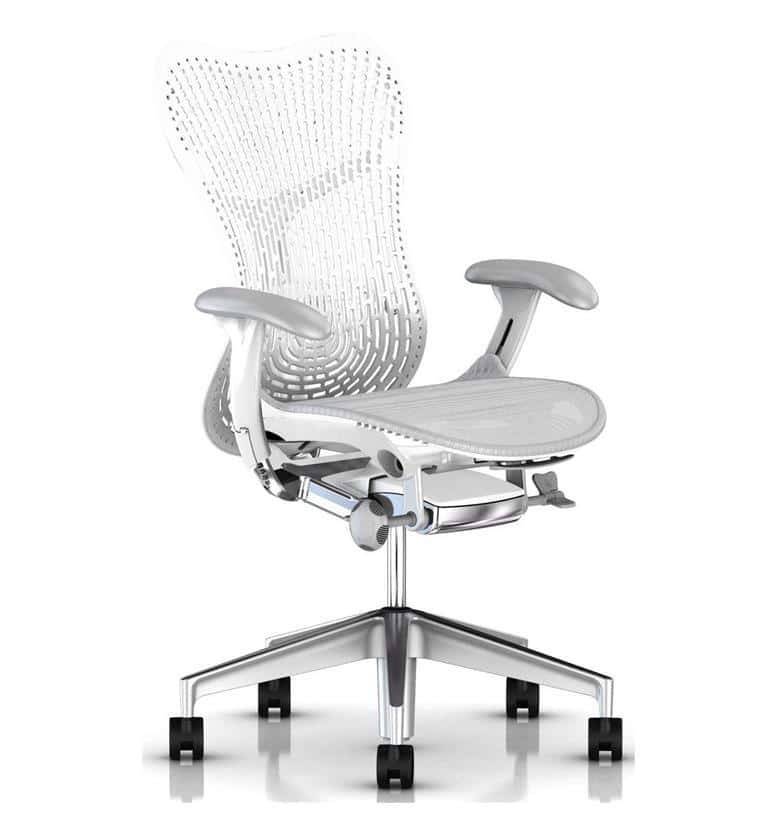 Form and function are the most important things when buying a task chair, but design can't be overlooked. If a chair looks great in the office, that's all the more reason to buy it.
The Mirra 2 has a sleek, lean design. It doesn't take up too much space in the room, and it comes in a variety of colors to match both your space and personality:
You also have different options for the back loop, textiles, spine and base colors for added personalization.
Easy Adjustability
The Mirra 2 was designed to be customized to your body, so you can adjust virtually every aspect of this chair with ease.
A lever under the seat allows you to adjust the chair height.
A simple button under the seat allows you to adjust the depth of the seat.
A knob under the seat allows you to adjust the tilt of the backrest.
A lever just below the armrest allows you to tilt the seat forward, and a switch on that lever allows you to make the backrest tilt more flexible to move with your body.
The height of the back loop can be adjusted to provide back support in just the right place.
Levers on the back loop can be moved to adjust the backrest tension.
A simple lever allows you to smoothly and easily adjust the armrest height. You can even adjust the armrests side to side or left to right to match your needs. Virtually every aspect of the armrest can be adjusted in some way.
The Mirra 2 has extreme adjustability, which means that you can find positions that match your body perfectly. Ergonomics is key to pain prevention and posture support.
What are the Benefits of the Mirra 2?
Why choose the Mirra 2 when there are so many office chairs on the market? After all, the Mirra 2 does come at a higher price tag.
There's a reason why this chair is more expensive than others, and it comes down to quality. And if you buy at the right time from the right place, you can snag this chair for the same price as a mid-range chair.
Here's what makes the Mirra 2 so special:
#1 – Unrivaled Ergonomics
The ergonomics of this chair is what really sets it apart from the crowd. You can adjust virtually every aspect of this chair, and that's so important for your posture, back health and overall comfort.
If you're on the short or tall side, you know how hard it can be to find a chair that fits you. One of the biggest issues is seat depth. With the Mirra 2, you can easily adjust this to find a depth that allows you to sit properly. Having the ability to adjust the back loop also means that you can provide your back with just the right amount of support.
#2 – Lean Design
The Mirra 2 has a lean design, so it fits nicely even in a small space. Some office chairs are big and bulky, which can make it hard to move them around.
The chair is also lightweight, which makes it easy to get around the office without even having to get up out of your chair.
#3 – Style
The Mirra 2 looks great, and that's important, too. You want a chair that complements your office space. After all, you'll be spending several hours each day sitting in that chair and in that space.
Who is the Mirra 2 For?
The Mirra 2 is a high-end task chair that lives up to its reputation. It's a great choice for anyone who:
Is working from home full-time
Needs an ergonomic task chair
Is building a home office
With its ergonomic design and quality construction, the Mirra 2 task chair makes a great addition to any home office.