Worx is a leader in lawn and garden equipment. The company's innovative approach allows them to offer some of the best lawn mowers on the market, including the Worx Landroid series of robotic lawn mowers.
Introducing the Worx's Brand
Worx prides itself on being a creator and not just a builder. The company lets innovation drive their path forward. The brand was founded in 1994 under the Positec Tool Corporation before the founder wanted to expand into the lawn and garden equipment niche.
Worx tools were first introduced to the Chinese market in 2004.
The Worx brand would eventually open their headquarters in Charlotte, North Carolina to better cater to the US market.
Direct response marketing would be used to grow the brand, including infomercials that were very popular in the early 2000s.
Sales for the company's GT units would top 300,000 in 2007. Worx tools and equipment, once only found for sale by the company, can now be found in retailers across the United States. Home Depot, Lowes and other major retailers carry the brand's products.
Introducing the Worx Robotic Lawn Mower Line-up

Worx introduced their first robotic lawn mowers in 2014 and have continued to innovate their automatic lawn mower lineup ever since.
There are two main Worx Landroid models two choose from:
M 20V
L 20V
Both are different and come with options for a GPS or non-GPS model.
Landroid M 20V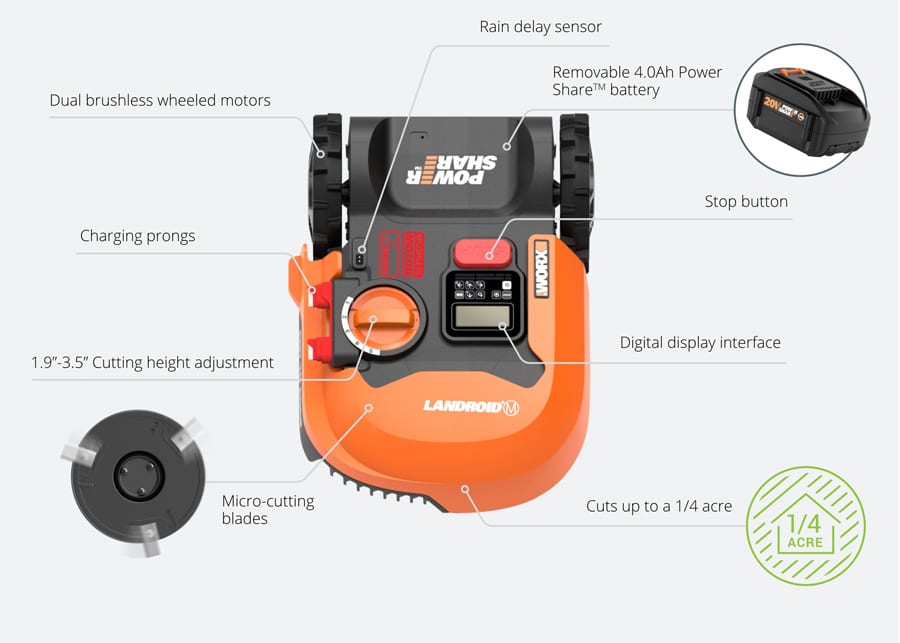 Worx's Landroid M 20V is a fully automated lawn mower designed to mow up to ¼-acre of land. You'll find that Worx has a patent pending on their technology that enables the Landroid M to confidently cut through narrow spaces with relative ease.
Instant operation and control are provided with app function.
When you work with the M 20V, you'll be working with a lawn mower that is designed to:
Offer multiple layers of interface to allow for a truly customized working schedule.
Mow hills and slopes without any human intervention.
Close edge cutting thanks with a three-blade cutting system that allows for both mulching and cutting.
Brushless wheel motors that run independently from each other.
Rain sensors that alert the unit to rain and return it back to your charging station.
The M 20V runs at a decibel level of 63 dB, so it's not excessively loud. Operating at a maximum of 20V, the unit has a battery capacity of 4.0 Ah and can charge in as little as 90 minutes. The cutting width is a generous 7 inches, while the cutting height is between 2 and 3.5 inches.
Rotating disc blades cut through the grass, while the wheel motors are powerful enough to ascend hills and slopes.
Total weight is just 21.2 pounds, and the dimensions are:
22-inch width
15-inch depth
10-inch height
The Landroid M comes backed by the Worx three-year warranty.
Mow time is difficult to estimate due to the terrain difference between each yard. Flat land without much slopes or hills will enjoy the highest run time.
GPS models come with the unit that allow you to know where your unit is currently mowing and also keep your software updated.
Shop The Worx Landroid M Series
Landroid L 20V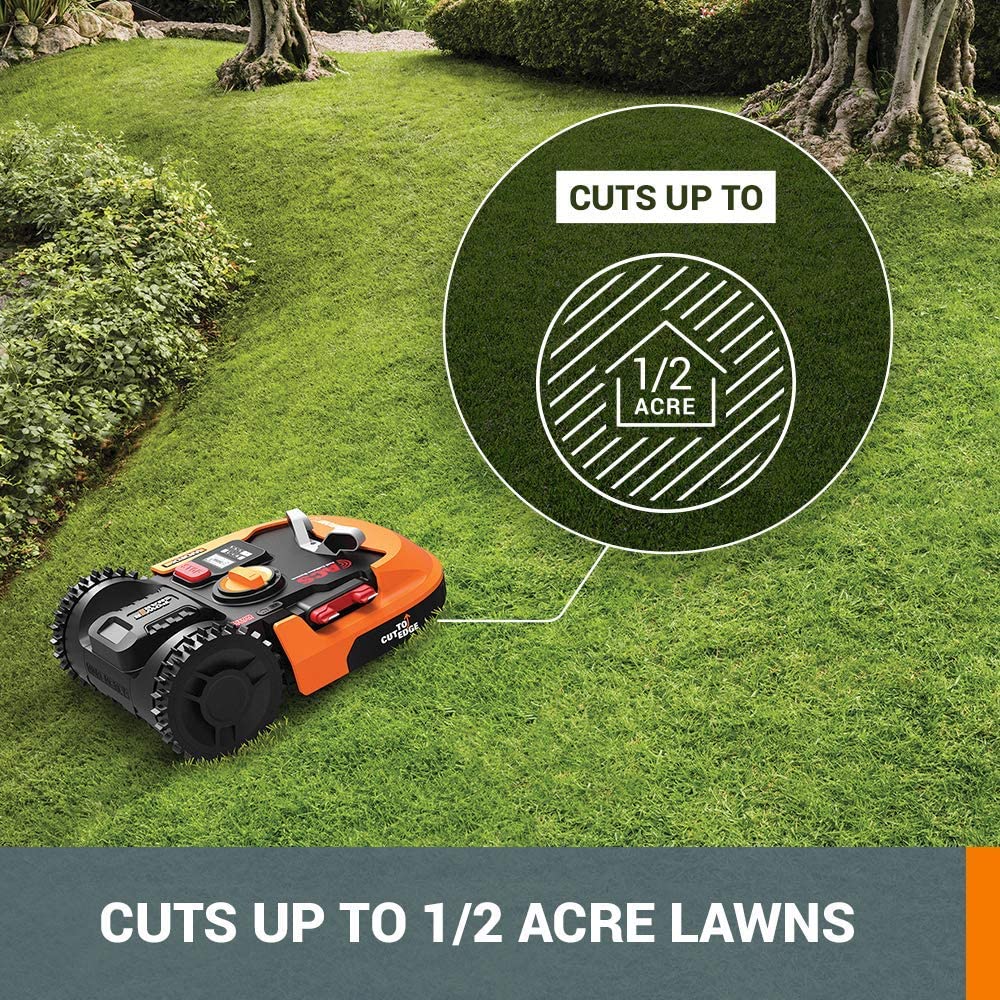 The Landroid L is a higher-priced model that also comes with a GPS and non-GPS model to choose from. While it's very similar to the Landroid M, the L is more powerful and boasts some advancements over the M.
If you want to mow a space that is larger than a quarter-acre, the Landroid L is going to be a good choice.
When you choose the M, you're choosing a model with the battery capacity to mow a half-acre space.
You can still use the app and enjoy the narrow path cutting technology. Worx also includes everything you need to get started with your robotic mower, including:
4 Ah lithium battery
Charging base and cable
Perimeter wire
Wire ground pines
Cutting blades
The rain sensor, cut-to-edge technology, three-blade design and efficient movement on slopes are all still included. A few differences can be seen in the cutting path.
Cutting width is 9"
Cutting height is between 1.6" and 3.9"
Weight is 22.9 pounds, and the dimensions are:
25-inch width
5- inch depth
86-inch height
Charging time is still just 90 minutes, the Landroid L operates at a comfortable 63 dB. If the battery is near depletion, your Landroid will go back to its charging base without you needing to lift a finger.
The unit will never be stuck in the middle of your yard because it ran out of power mid-mow.
You can fully control your Landroid with your app, or you can use the dials and interface on the unit itself.
Shop The Worx Landroid L Series
Installing the Worx Landroid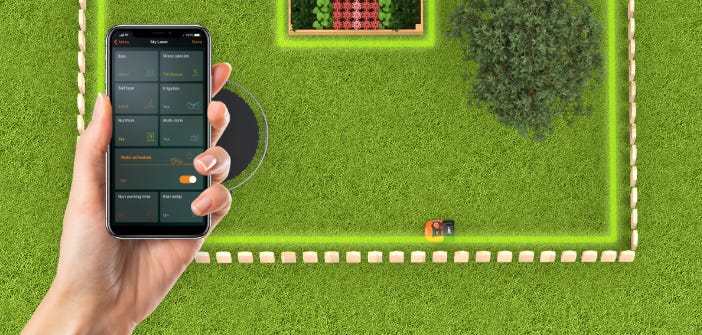 The Landroid has evolved in recent years, with the free app making it easier to set this robotic lawn mower up. You'll want to follow the quick start guide to install your robotic lawn mower, but it should take anywhere from 3 to 5 hours to fully setup.
There are a number of variables that dictate installation time:
Lawn size
Number of obstacles
You'll need to take an afternoon, and part of your evening, to install your automatic lawn mower.
Boundary wires do need to be installed using the included wire and lawn stakes. These wires ensure that your automatic lawn mower stays in its path when mowing.
Mowing inside of an electric dog fence can be tricky, so it's important to not install your boundary wires within three feet of your dog fence. The key issue is that the radio frequency from the dog fence may interfere with the mower's operation.
If the unit does hit an obstacle that it can't overcome, such as a tree, the unit will turn around. You also have the option of installing the anti-collision system, which is an add-on, that will use ultrasonic detection to go around obstacles rather than bump into them.
Cutting height can be adjusted using the unit's turn knob. You can choose between five different lengths, with the cutting length staying between 1.5" and 4." If you need to manually shut off your mower, there is a big, red stop button on the top that will shut your mower off.
Landroid Accessories
Worx has developed a variety of accessories for their auto mower lineup over the years. While you can purchase the best accessory for cheaper in a package deal (the GPS), none of the other accessories are offered in a packaged deal.
The many accessories that you can purchase are:
Anti-collision system – A great, powerful accessory that is designed to detect obstacles and go around them. This is a great option if you have trees or rocks in your yard that the unit will hit.
Off limits fencing – A quick and easy-to-install fence that alerts your Landroid to areas of your lawn which are off limits. This is a good option if you plant a garden in your yard and don't want to unbury your boundary wires.
Garage protection with lift-top – A garage for your Landroid. This small garage protects your unit from the elements and comes with a flip cover for easy access to your lawn mower. Battery life is extended due to the lift keeping the unit cooler. When the mower is complete, it will return back to the garage.
You'll also find a general accessory kit included, which includes additional wires, lawn stakes, screws and blades. The accessory kit isn't needed for most users because each unit comes with a lot of these pieces in the box.
If you need to swap out worn parts, you can do so thanks to Worx selling replacement and additional parts for all of their Landroid units.
Worx stands behind their automatic lawnmowers with a three-year warranty, but normal wear and tear issues will not be covered.