If you're on the hunt for a vertical vaporizer, there's a good chance that you've come across Nectar Collector. Their units give you a new way to dab and vape using handmade, quality glass units that are manufactured in the U.S. Read on to learn more about Nectar Collector, their kits and how to use their vertical units.
What Is a Nectar Collector?
Nectar Collector is a brand that offers vertical dab gear that is proudly made in the USA. The patented design delivers spill-proof in-line water filtration and handcrafted styling. Nectar Collector also offers interchangeable tips to give you more control over your experience.
The company started in Oregon. The team wanted a simple way to use concentrates, and so, the concept of vertical gear was born.
Best Rated Starter Kits
Whether you're new to vertical dabbing and vaping or just want an easy way to upgrade your gear, Nectar Collector's kits are a great place to start. There are several kits to choose from, including:
Nectar Collector Honeybird Kit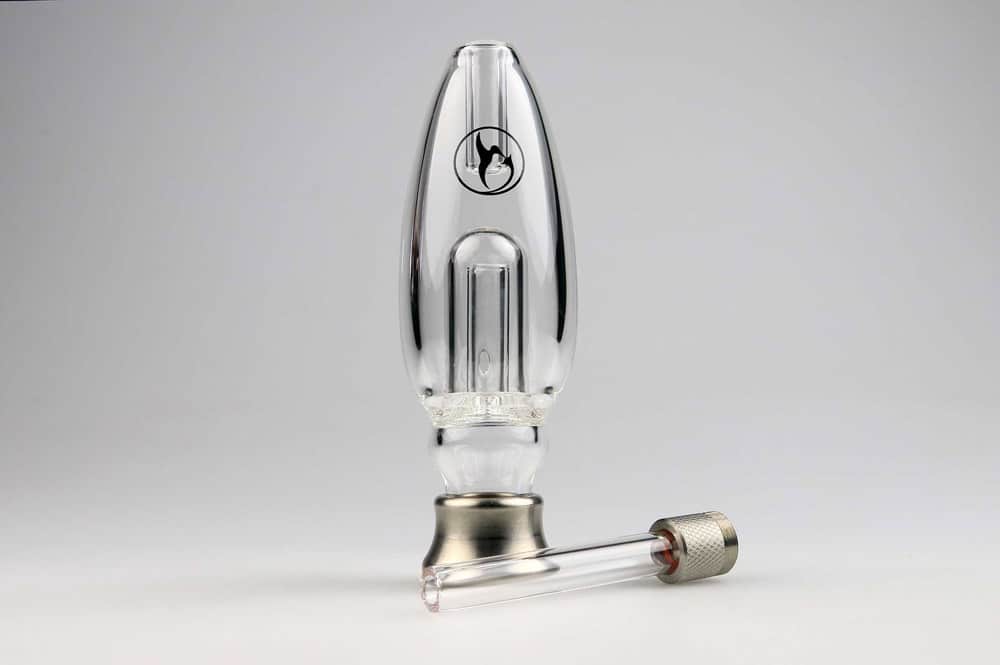 The Honeybird is a portable vertical vaporizer that's water-cooled and made of 2.5" borosilicate glass. The spill-proof bubbler is threaded to fit any tip or accessory from Nectar Collector.
It's easy to use, highly portable and delivers full-size hits. The Honeybird Kit is one of Nectar Collector's best sellers, and it comes in a handy carrying case.
The Honeybird core has a lightbulb-shaped design, and this is what holds your water. To fill it up, just grab a small glass of water and use the Honeybird Core to suck water up into the diffuser.
To dab, reattach the tip and heat it up with your torch. Using the feeder dish (that's what holds your concentrates), dip and sip to enjoy.
The Honeybird Kit is perfect for anyone who wants an easy on-the-go dabbing kit. When you're done, just slip on the tip protector, put the Honeybird back into its case and get on your way.
It's a no-frills kit that is built to last.
Huni Badger Electric Nectar Collectors
Don't want to deal with torches?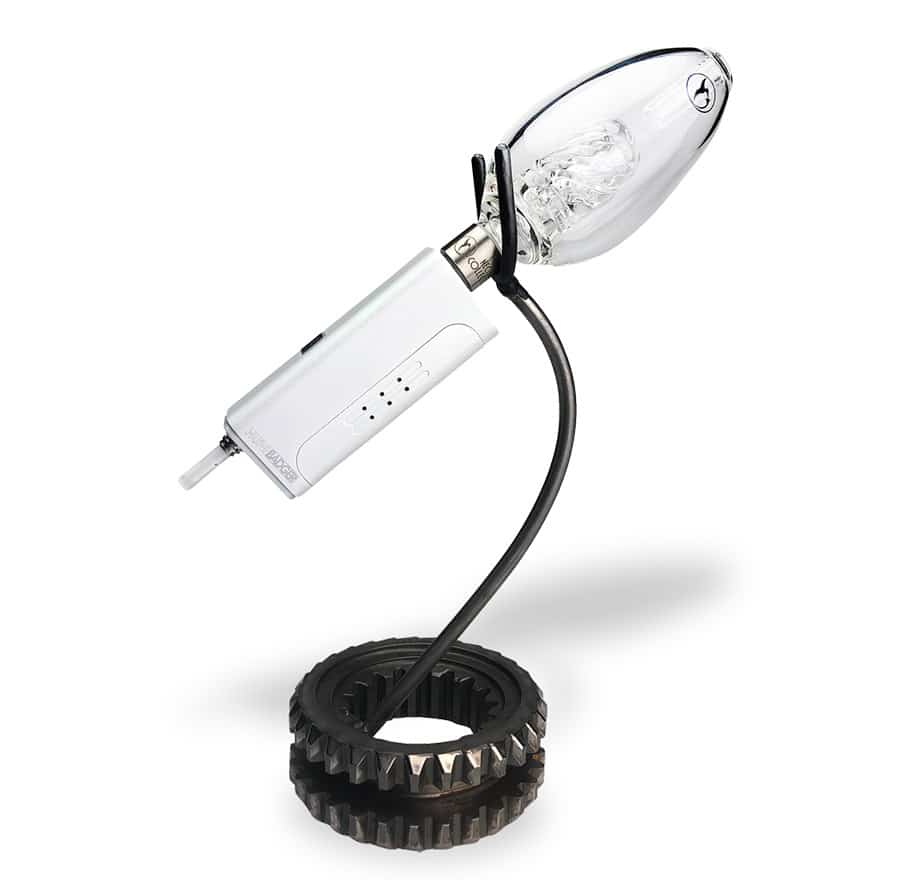 The Huni Badger kits are for you. You have two options here: the original and the Delux version.
Think of these kits as Honeybird kits on steroids
The Original Huni Badger Electric Nectar Collector

The original kit includes the Honeybird core and the Huni Badger Nectar Connector. The Nectar Connector heats up the Honeybird, eliminating the need to heat the tip with a torch.
With a heat-up time of just 10 seconds, the Huni Badger makes it quick and easy to start dipping and sipping. Spill-proof water diffusion makes this vertical vaporizer unstoppable.
Here's what's included with this kit:
Nectar Collector Honeybird Core
Huni Badger Unit
Huni Badger Nectar Connector
2 Batteries
Charger
Waterproof case
High and low temp HuniTips
Two adapters: 510 eGo and 14mm
3 x HuniPot Extract dishes
Extra O-rings
Pipe cleaners
The Huni Badger electric kit takes the guesswork out of dabbing.
The Delux Electric Huni Badger Kit
Upgrade your experience with the Delux Huni Badger kit. This kit includes the Vortex Venturi Diffuser and the Honeybird Delux Core.
The Vortex Venturi diffuser reduces water surface tension by an impressive 30%. And of course, the Delux Honeybird core has the same spill-proof design that users know and love.
Like the original kit, the Delux heats up in ten seconds. It's the best in torchless dabs.
Nectar Bong Kit
The Nectar Bong Kit is the result of eight years of design improvement, and it was made with dabbers in mind. This is the fourth generation Nectar Collector, and it is handmade in the U.S.
Here's what you get with this kit:
v4.0 core
Bong Base core
Donut mouthpiece core
Infinity Tech Vortex Venturi Diffuser (38mm connector)
Infinity Tech mouthpiece connector
Infinity Tech Spillguard
Infinity Tech Nectar Connector
26mm connector
38mm connector
14mm Nectar Bong Bowl
Micro Nectar Collector Simple Kit
Designed for on-the-go use, the Micro Nectar Collector has a stinger tip and comes backed by a lifetime guarantee on glass workmanship.
With this kit, you get:
Micro Nectar Collector Core
Stinger Tip
Stinger Tip Core
Micro Nectar Collector Delux Kit
The Delux Micro Nectar Collector kit includes colored glass versions of the Micro. This upgraded version features a modular construction that makes it easy to take apart and clean. You can use it alone or with a Nectar Collector threaded connector.
This kit includes:
Micro Nectar Collector Delux core
26mm threadless connector
Vortex Venturi diffuser (threadless)
Single Hole threadless diffuser
Quartz stinger tip core
Stinger tip collar
Nectar Collector Phat Bird Kit
The Phat Bird kit includes the biggest Honeybird yet. This kit features a full-size Vortex Venturi diffuser and 38mm connector for smooth rips.
The Phat Bird kit comes with:
Phat Bird Core
38mm connector
Vortex Venturi diffuser
38mm bottom cap core
Stinger tip core and connector
Nectar Collector V4.0 Kit
The V4.0 kit features a full-size Nectar Collector with a removable 6-hole Vortex Venturi diffuser. Thanks to its modular design, this kit is easy to keep clean so that you can maximize the flavor from your dabs.
The V4.0 kit includes:
V4.0 core
38mm bottom cap core
Vortex Venturi diffuser (38mm connector)
Donut mouthpiece core
Mouthpiece connector
Spillguard
Stinger connector and tip core
38mm connector
Nectar Connector
Gear stand
What About Warranties, Repairs and Returns?
Nectar Collector stands by their products. It's important to remember that all of their units are handmade. Like any other product, there may be an occasional defect or product that slips through that doesn't meet quality standards. It's rare, but it can happen.
If you're not happy with your product, Nectar Collector encourages buyers to contact them. They will do what they can to make it right. They also welcome feedback from users so that they can continue improving their products.
The company handles all repairs and returns through their Returns and Repairs portal. Repairs are offered at a reasonable rate.
How to Use a Nectar Collector
The Nectar Collector is easy to use.
Heat the tip
Dip the tip in your concentrate
Sip and enjoy!
While easy to use, there's still a little bit of a learning curve when you first get started. Overheating the tip or dipping before the tip is cool enough can botch the dip.
How to Add and Remove Water
Water-cooled Nectar Collectors need to be filled with water. If this is your first time using one, you may be confused about how to add or even remove water.
For best results, you need to fill the diffuser up about halfway.
There are a few ways to fill the diffuser:
Grab a glass of water and dip the bottom of the core (make sure the tip is removed) into the water. Using the mouthpiece, suck the water up into the diffuser.
Grab a full water bottle. Place the top of the core into the mouth of the bottle. Gently squeeze the water bottle to push the water up into the diffuser.
Before using your Nectar Collector, always make sure that the tip is removed and that there is no water in the lower joint. If water gets trapped in the tip, it can cause the tip or joint to crack. If water drips into the hot tip, it may cause the entire lower body of the Nectar Collector to shatter.
So, it's worth the extra step to make sure that the water is inside of the diffuser ONLY and not to overfill.
If you need to remove water, just remove the tip and blow down through the mouthpiece. The water will exit through the bottom of the core.
Heating the Tip with Care
For the best dabbing experience, it's important to make sure that you heat the tip with care. Before you get started, double check to make sure that there's no water trapped in the tip or the core's bottom joint.
When you're ready, grab your torch and use a brushing motion to heat up the tip. Make sure that you're only heating the tip.
Continue with this brushing motion for a few seconds, and then hold the torch still to heat the very end of the tip. Now, roll your Nectar Collector back and forth gently for even heating.
You'll know when the tip is ready when it has a slight orange glow. Don't dip right away after heating. Wait about three seconds (maybe more). You don't want to dip when the tip is still glowing yellow. Otherwise, you'll be burning your concentrate and not vaporizing it.
Make sure that you don't overheat the tip. Too much heat can cause cracking at the joint. You don't want the tip to be glowing red – that's too hot.
If you're new to this style of vaping, be patient. It may take a few tries to get the hang of heating the tip properly.
What Does "Dip and Sip" Mean?
You may see the words "dip and sip" used a lot when talking about Nectar Collectors. And really, it's exactly what it sounds like. The goal is to dip the tip (gently) into the concentrate and sip like you would with a straw.
Nectar Collector recommends approaching the edges of your concentrate carefully with the hot tip of your unit. Don't aim for the center of your concentrates pile. You'll only melt the pile and waste valuable material.
For the best hit, start drawing before you dip the tip. Just touch the edge of your concentrate and pull away while you're still drawing. If you want an even bigger hit, you can go right back and dip again.
Please don't just submerge the hot tip into your material. This can cause violent vaporization and may damage your Nectar Collector.
What About Cleaning?
Many Nectar Collectors have a modular design that makes cleaning a breeze. But even non-modular units are pretty easy to keep clean. While it may seem like a pain to clean your unit, doing so will help maximize flavor.
To clean your Nectar Collector:
Remove the tip.
Blow all water out of the diffuser.
Fill the unit with the cleaner of your choice. Nectar Collector sells a cleaner called Formula 710 that you can use.
Let the piece sit for an hour or more (overnight is best).
Rinse with hot water.

Final Thoughts
Nectar Collector makes it easy to dab or vape on-the-go. The vertical concept and simple (but smart) design give you more control over the experience.

If you are new to the world of dabbing, they make it easy with a wide selection of units, kits and accessories are available to help you make the most of your sessions.