The new Volcano Hybrid weed vaporizer enhances what you already love about this award winning vaporization system. Storz & Bickel are helping to reinvent their iconic product, and this is happening in several key ways:
New Whip use feature
Faster heat-up time
App control
Touch button control
The Volcano Hybrid is one device with two systems.
What are These Two Systems?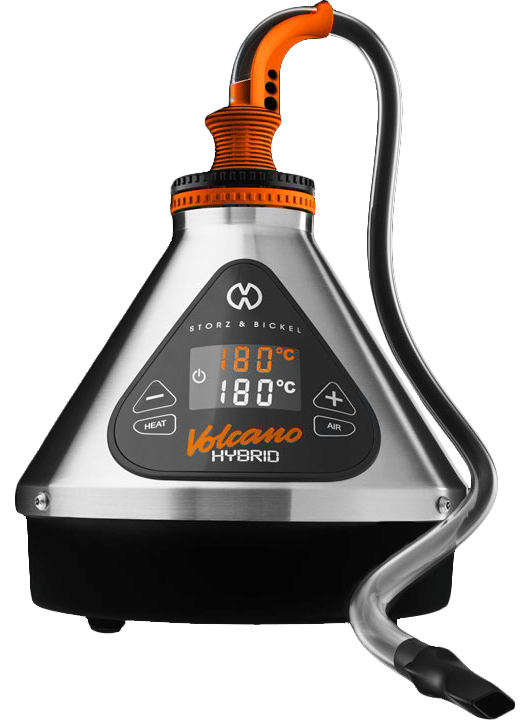 Storz & Bickel knows that consumers want the best of the best, but there are two main desktop versions to choose from: balloon or tube.
Consumers don't want to miss out on the potential of either, so it's not uncommon for someone who vapes to go from one vaporizer to the next.
The Hybrid doesn't require you to make decisions: you can switch between a balloon or a tube.
It's that quality that you expect from Storz & Bickel, and it gets even better than that. Hassle-free by design, the Hybrid has integrated buttons and a large display to allow you to change temperatures with the tap of a button.
It's all of the features you want without the added complexity.
Faster Heating for Instant Satisfaction
When you want to vape, there's no reason to wait. A lot of vaporizers take time to heat up, and it means you have to wait to vape. The Volcano Hybrid has a faster heating element thanks to the double helix heat exchanger.
What does this mean?
The vaporizer is heated up to your desired temperature in a mere 40 seconds.
The Hybrid puts the long heat-up time behind you.
Inhaling Differences
The Hybrid has the same classic easy valve balloon that users love about the original. If you want to use the easy valve, you can do so without missing a beat. But what happens when you want something different?
Whip use is possible.
There's a new rotatable tube system that allows you to vape in an entirely different way.
Save 20% OFF With Coupon Code VAPORIZERS20
Our Favorite New Volcano Feature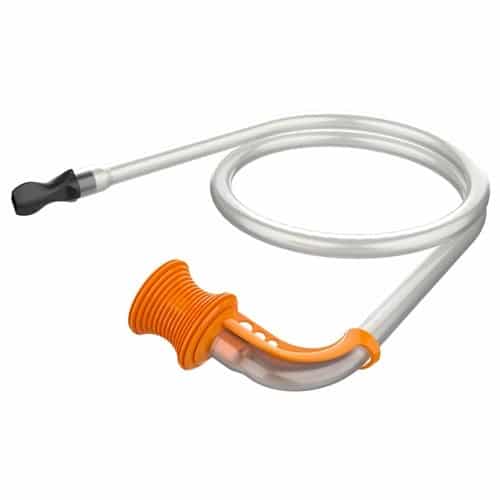 The whip system, if you haven't used one before, is a long, flexible tube that allows you to inhale the vapor.
Whip systems are very popular because they allow the air to go through the long tube before reaching the user.
The old school Herbalizer vaporizer was one of the first systems to use a dedicated whip delivery method.
Why is this important?
As the vapor travels through the tube, it will begin to cool. If you're a fan of cooler vapor, the whip system is your best option. You can always switch right back to the balloon system if you would rather have a hotter vaping experience.
Most desktop vaporizers only allow you to use a balloon or a whip system, but now you have the option of using either system.
The Volcano Hybrid also includes its very own adapter that allows you to attach your own balloons. This is a level of customization that most vaporizers don't offer.
While the Volcano Hybrid is trying to appeal to all users, it does not skimp in the quality department. The entire system, from the dual system to the faster heating element, have been manufactured with the best materials in the industry.
Adjusting Controls and Settings Via an App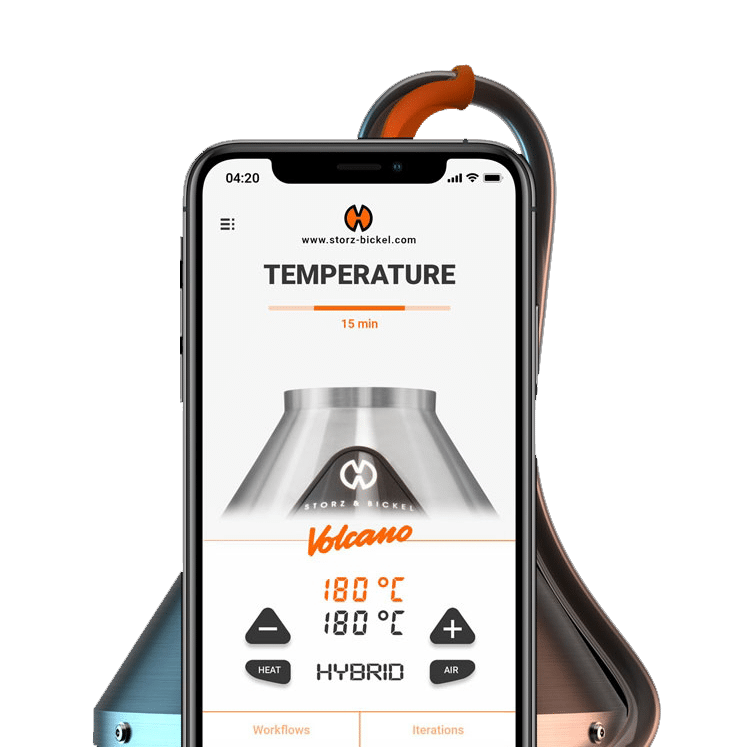 There's an app for everything, and there's also an app for the Volcano Hybrid. You have the option to use your Android or iOS device to control every last setting and feature of your vaporizer.
Remote access allows you to properly customize your Volcano, allowing you to set up your favorite routines.
You can opt to define how the vaporizer works, including:
Turning the vaporizer on remotely
Setting the temperature automatically
You also have the option of using your app to find your vaporizer. If you lose your vaporizer for some reason, the app will provide an easy-to-use locator.
Operating time can also be refined. You can see the time left for automatic shutoff and extend the time based on your own usage behaviors.
You also have the option of adjusting alarm tones using your own personal library. Alarm tones allow you to customize all of your alerts.
Workflows allow you to further personalize your vaping experience. You can create workflows that will ensure that your next time vaping is just like the last. Saved settings provide consistency when vaping.
The app works entirely through Bluetooth.
Save 20% OFF With Coupon Code VAPORIZERS20
What's Included In The New System?
The Volcano Hybrid comes with an array of pieces that will help you get started vaping.
The scope of delivery includes the following items:
Hot air generator
Power cord (removable to help with transport)
Easy valve balloon system with an adapter
Tube / Whip system
Filling chamber
Cap ring
Screen set
Drip pad
Air filter set
Herb mill
You'll also receive an in-depth instruction manual that explains how to use your new vaporizer.
Since you can hook into the unit via an app, I recommend reading through the manual to better understand how to use the new features and keep track of your usage.
Storz & Bickel also provides an array of accessories, such as a filling chamber reducer, filling set and also dosing capsules that you can use.