Water pillows are designed to improve sleep, reduce neck pain and also provide proper neck support to the user. Mediflow is the original water pillow creator, and their pillow was clinically proven to work based off of a study from Johns Hopkins School of Medicine Study.
Waterbase Pillow Options

Mediflow offers multiple size packages:
Their water pillow is ideal for all sleeping positions. The pillow moves with your head, adjusting to ensure that your neck is properly supported all night long.
But the entire pillow isn't just made from water.
You never have to adjust or fluff this pillow, and the 200-thread count cotton shell allows for a truly customized experience.
When you fill this pillow, you can adjust the amount of water to make the pillow softer, firmer or a perfect medium.
The pillow is made with a fully sealed pouch that is insulated to keep water inside. Dacron Hollofil fiber fills the layer on top of the pouch while a hypoallergenic shell provides exceptional comfort for your head.
Over 5 million people enjoy the benefits of Mediflow, and you can, too.
Mediflow Waterbase Pillow Benefits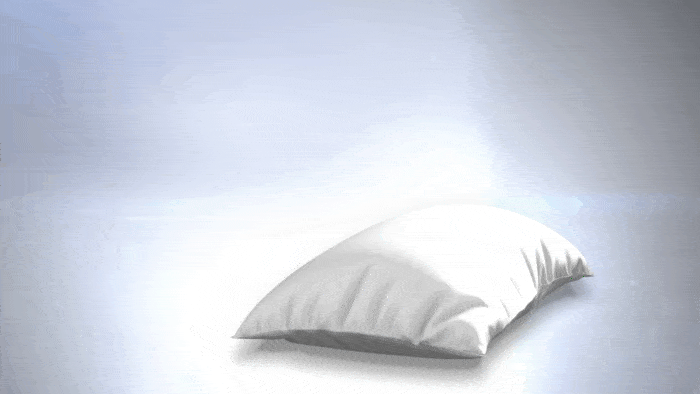 The Mediflow water pillow improves quality of sleep, and it's the best water pillow on the market. Mediflow is trusted by over 10,000 health care clinics, which choose Mediflow because it works.
John Hopkins found that these pillows are the best for:
How quickly subjects fell asleep
How many times the subject woke up
Sleep quality
Reduction of neck pain
When compared to a normal pillow, Mediflow is an exceptionally better pillow. You'll sleep better, feel better and also reduce your neck pain.
But what else did John Hopkins find?  A lot.
Three pillows were compared in the study, and the results were impressive. Water-based pillows were able to offer:
Reduced intensity of morning pain
Improved quality of sleep
Increased pain relief
When compared to the roll pillow, sleep duration was greatly reduced.
The study included a wide range of subjects. In total, there were 41 total subjects between the ages of 26 and 76. The median age was 48, and the breakdown was 20 men and 21 women. Neck pain in all subjects spanned from 1 month to 25 years, and the majority (all but 1) has suffered from neck pain for more than a month.
Outcomes included daily pain intensity scores, relief, and quality of sleep. All subjects used a diary to calculate their daily scores. Those that used water pillows had significantly less pain, almost 50% less pain than those that used a roll pillow. More importantly, pain relief started in the morning and remained consistent throughout the day.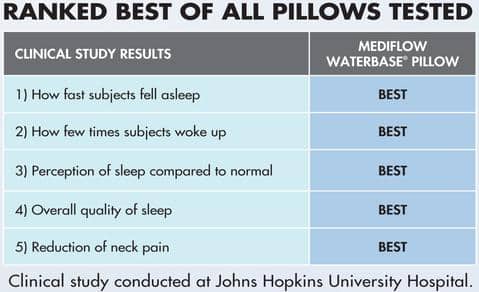 Roll pillows, on the other hand, offer less pain relief in the morning and more in the evening.
What's even more interesting is that John Hopkins decided to try water pillows in a crossover study to assess how they compared to cervical relief pillows. Researchers also found that water pillows were able to relieve pain and offer better overall sleep quality when compared to cervical pillows.
Researchers also point out that better sleep quality is able to improve a person's coping skills and can better help a person deal with stress. Water pillows consistently provide a better night of sleep compared to a traditional pillow.
Mediflow, at the time of the clinical study, was the only pillow that was scientifically proven to work better than a traditional pillow.
The secret? Water-filled pouches that provide the firmness a person needs with a nice, fluffed pillow all night long.
As you adjust yourself in the middle of the night, the water in the pouch will also move, allowing your head to be properly supported. Water cannot be compressed, so the water will surround the head and provide true individualized support that even memory foam cannot offer.
Some pillows claim to be water pillows, but are instead made with a variety of materials that are not water. Mediflow's core innovation is the water pouch in the pillow's interior. When combined with soft fibers, you enjoy the support of a water pillow with the softness of a 200-thread count pillow.
Support is fully customizable, allowing you to add or remove water to achieve the absolute best night of sleep.
You can even wash your pillow by removing all of the water from the pouch. You'll then be able to use warm water and a gentle cycle to wash the pillow. Drying should be done on low heat or even air dry to make sure that the pillow's durability is maintained.
Mediflow recommends that you wash your pillow once every year or two.
What Customer are Saying About Mediflow
Mediflow has sold over a five million pillows, and it's a pillow that a lot of doctors recommend to their patients. If you're wondering what people are saying about this pillow, some of the comments include:
None of the expensive pillows I have tried compare to this pillow. For the first time in a long time, I didn't have to adjust my pillow in the middle of the night.
Since using this pillow, my neck pain is almost completely gone.
My doctor recommended this pillow, and my migraines have all but disappeared since I started using a water pillow.
This is the best pillow I have ever tried.
I have eleven pillows laying around that all were meant to help me relieve pain from neck problems and back surgeries. Since I have been using this pillow, my headaches are gone.
Consumers that choose this water pillow often do so because of neck pain, and with the support and flexibility of this pillow, most people are able to completely rid themselves of neck pain. It works.
And John Hopkins has proven just how effective this pillow can be for neck pain.
If you have restless nights, headaches, migraines or neck issues, Mediflow can help. You'll notice a difference after the first night of sleep. There's also a no-risk trial that ensures that you're happy with this pillow.
Not happy with your Mediflow waterbase elite pillow?
Return it within 30 days for your money back.
All pillows are backed by a three-year warranty from any defects. If your pillow begins leaking, you can be confident that you will have a replacement pillow sent out to you.
People have been enjoying Mediflow pillows for over a decade, and some users claim to have had their pillows for over 10 years before needing to be replaced. If you have neck pain and cannot stop tossing and turning all night, it's time to give the Mediflow water pillow a try. It's clinically proven to work better than traditional pillows.