Have you ever wanted to learn how to build electronics?
If so, Creation Crate offers you electronic projects that you can complete and learn along the way. As an 40+ adult, this is great for keeping my brain engaged and active.  But we think this is a no brainer gift for kids and teens.  In fact, this is one of the best subscription boxes for teens that want to be electrical engineers or coders in the future.
What is Creation Crate?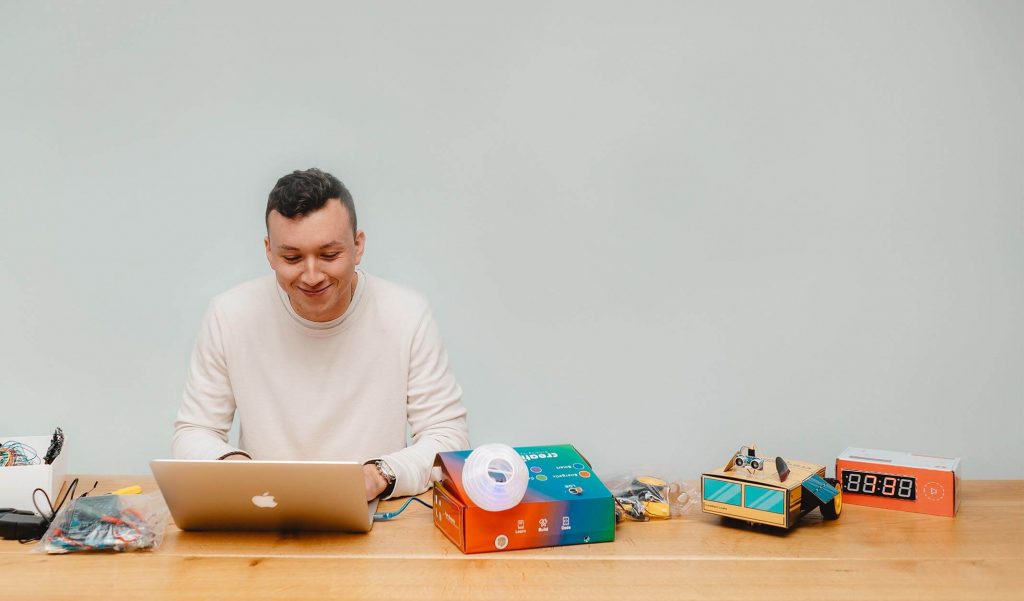 Get Your 1st Subscription Box Now For 50% Off
Creation Crate is a subscription service offered in four main plans:
1-month ($29.99)
3-month ($26.99)
6-month ($25.49)
12-month ($22.49)
When choosing multiple month options, you'll have to prepay. Shipping costs vary every month due to the different electronic projects having drastically different weights. You also have the option to upgrade.
Upgrading is $10 more per month for each plan, but it provides you with:
Upgraded components
Display-ready projects
9v adapter
Multi-stage projects
When you choose Creation Crate, you'll be choosing a subscription that follows the STEM curriculum, or Science, Technology, Engineering and Math. Teens or adults can choose this monthly subscription, and it's geared to teach you real-world skills to land 21st century careers.
But it doesn't stop there.
What happens if you make mistakes?
Your projects are all reviewed and graded, so you can be sure that they meet the highest standards of a proper STEM education.
There's Creation Crate 1.0 and Creation Crate 2.0.
What's the difference?
Creation Crate 1.0
An original version of Creation Crate, this iteration is filled with projects and teaches you the basics of Arduino, or the language needed to program the circuits. This is a great high-level problem-solving version that is ideal for people ages 12 and up.
You'll learn how to create:
Mood lamp
Memory games
Distance detector
And these are basic projects. If you want to move up to 2.0, you'll really start testing your knowledge and skills.
Creation Crate 2.0
The 2.0 version is an upgraded version with multi-stage progression. The box becomes part of the project, so you will have a neat way to present all of your projects to the world. But when you choose 2.0, which is designed for ages 12 to adult, you'll create multiple versions of the project.
For example, the first month you may receive the components to create a clock.
But the second month you may learn how to turn this clock into an alarm clock. The final month you may receive all of the components that turn the basic alarm clock into a puzzle clock. A puzzle clock will require you to solve a puzzle before you're able to shut the alarm clock off.
Through progression, you'll be able to refine your skills.
Which Age Groups is Creation Crate Meant to Teach?
The main age group for Creation Crate is 12 to adult, but they also have Engineering (JR). The JR version of the subscription is designed to teach those aged 8+ how to build basic items. You'll learn how to create basic engineering projects, including:
Draw bridge
Snapping snake
Air power dragster
The young engineer will learn all about pulleys, wheels and axels, among other basic engineering concepts.
And there's also a wearable option which will teach curriculum that relates to:
Textiles
Sewing
Circuitry
Programming
For example, you'll learn how to create a sparkly bracelet or a singing cat hat.
Creation Crate doesn't require you to have programming experience. It's a subscription that has been enjoyed in 65+ countries and by over a thousand creators. As you learn new skills, projects continue advancing to put these skills into action in increasing intensity.
All of the curriculums are approved by a third-party STEM accreditor.
When you choose Creation Crate, you're choosing an option that also comes with world-class video tutorials. All of the videos provide you with the knowledge and education you need to complete your project.
Online classrooms also provide you with learning assessments, so you can confidently judge how your project was completed.
Every month, a new crate will be shipped to your house, so you'll have a monthly box ready for you and will keep you on track.
You'll have all of the tools provided for you in the box. There's never a need to have to go out and buy other components or tools. Everything is provided so that you can begin your next electrical project today.
What Comes in the Box?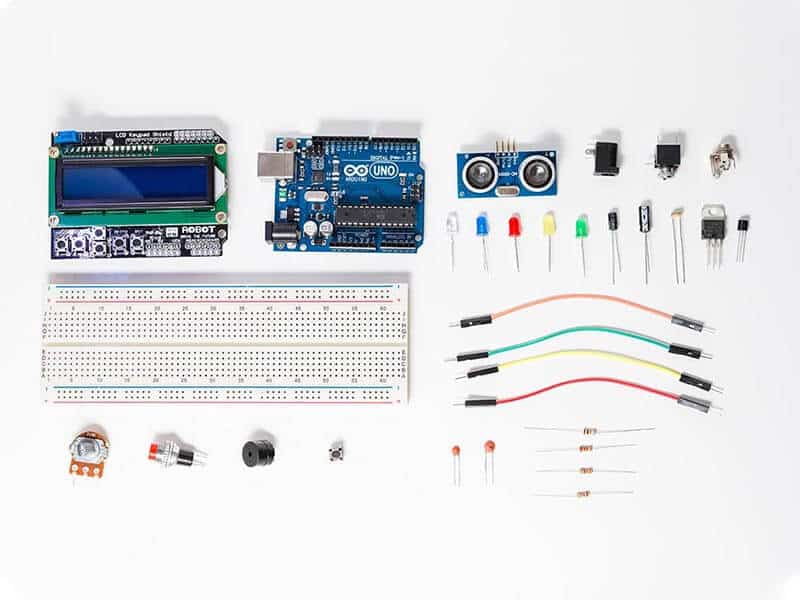 When you receive your box, there will be three main components provided:
UNO R3. A pocket-sized computer that will provide you with Arduino-compatible options for programming components.
Components. All of the components that you'll need to be able to complete a project. These components will change every month.
Instructions. An instruction booklet that helps you outline the steps that you need to take to complete the month's project.
And with 2.0, the box will actually become part of the project.
While everything comes in the box to get started and finished with your project, you will also need to have access to a computer with a USB port.
Shipping Time Based on Order
If you order today, you'll have to allow up to two days processing before the item is ready. An email will be dispatched when your item has shipped, and the company ships all over the world.
Canadian orders take 2-8 days to arrive, while US orders take 3-5 days to arrive. International orders will arrive between 7 and 21 days.
Creation Crate Reviews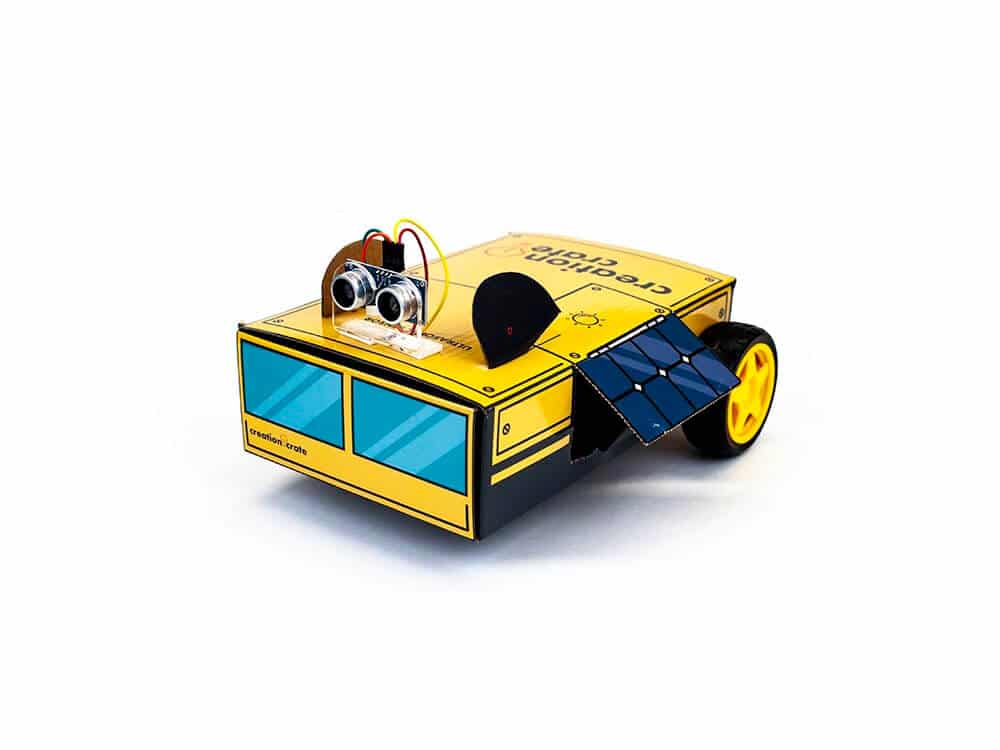 Creation Crate is not for everyone, but it is for the person who is into engineering. Reviews seem to be stellar, and a few of the reviews that I have found claim:
Great learning tool that really helped me bond with my son.
Creation Crate has taken the controller out of my son's hands and put control into his hands.
My husband has been into electronics as a side hobby for a long time, and it is a great way to ease him into the field.
I had loads of fun with each create, and I had fun learning what the code actually did line by line.
It's a subscription program that is great for professionals and students alike. Some issues that people initially had with their subscription was long shipping times. But the company was very apologetic and helped make the customer happy.
More recent reviews do not mention any shipping issues or long wait times, so it seems to be an issue that may have plagued a young startup. The issue seems to have been solved, and customer service seems to be very responsive.
Creation Crate provides you with the electronic projects you need to advance your STEM learning, learn more about electronics or just have fun. When you order, your first project will be shipped in days.
You'll gain access to a video library that teaches you all of the skills you need to complete each project successfully.
And there is no commitment.
If you want to cancel, all you need to do is log into your account and cancel it online. Your subscription will not renew, but if you did pay upfront, you will not receive your money back. Instead, the subscription renewal will stop.
Creation Crate is the ideal choice for anyone who is interested in electronics. Parents can bond with their kids and teach them skills that meet STEM standards. It's a great choice for people of all ages.
Get Your 1st Subscription Box Now For 50% Off