You work hard all week. You've been away from your family for the majority of your work day. The last thing you want to do when you get home is to spend all of your free time mowing the lawn.
Gardeners– you know, the professionals– spend almost 2.5 hours a month cutting and edging their lawns.
And this happens for most of the year in the US- from March through the end of September.
If you are like me,he last thing you want to do is come home and spend the entire afternoon cutting the lawn.
It's not fun.
Well, a robot lawn mower can help. Think of this as a Roomba for your lawn.
Are Automatic Lawn Mowers Legit?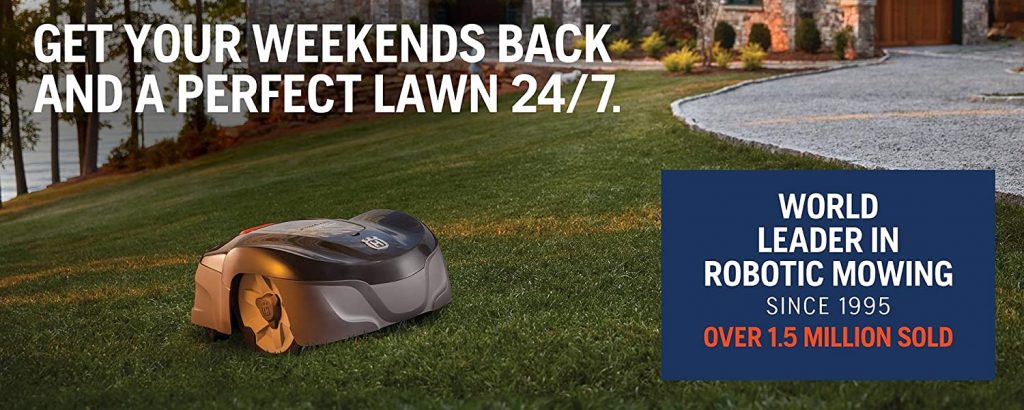 Yes. Some models are better than others, but the technology has come a long way in recent years. Something along the lines of the Husqvarna Automower 450x can easily mow your entire lawn while you sit back and relax.
You never want to spend 70 hours per year caring for your lawn.
Automation is threatening all of our jobs, but the one job homeowners won't mind losing is having to mow their own lawn.
You've probably seen the Honda Miimo, an automatic robot lawn mower, and while it's an amazing product, it's expensive and not widely available. The Miimo has turned a lot of people on to automated lawn mowing because it's a cute lawn mower.
But there are dozens of other robot lawn mowers that can quickly tackle your overgrown grass.
Robotic lawn mowers utilize electrical fields to mow your lawn.
What this means is that a boundary wire is installed for most models, and this wire emits an electrical field that the lawn mower can sense. You'll use this field to "tell" your lawn mower where the boundaries of your property are located.
You can also use this field as a way to block off trees, gardens or other areas where you don't want the lawn mower to mow.
And then once you've placed these boundaries, you'll sit back and watch as the lawn mower takes care of the rest of the work. If you think a riding lawn mower was easy, you've never seen robot lawn mowers in action.
The pioneers in the field were a little wonky, but the technology has advanced a lot in recent years.
You'll be able to enjoy a lawn mower that actually "listens" to your yard's parameters. This means that you'll never have to worry about mowing over your garden or other items. The technology is also advancing yearly, with the ability to create the amazing "stripes" you see in many lawns.
There are also modes that can mix up the look of your lawn.
It's an optimal, efficient way to mow a lawn without having to worry about getting your hands dirty. There are no long hours in the beaming sun in your future.
Sensors are installed at 360-degree angles, ensuring these robot lawn mowers can detect items on the ground, animals and humans. You never have to worry about your dog or cat being injured while the lawn mower goes to work.
What are the Best Robot Lawn Mowers?
Miimo is an example of a robot lawn mower that's not widely available. I am going to focus on the best models that you can buy from the world's leading retailers.
Which models are best?
Husqvarna is one brand that seems to be a cut above the rest.
Quality, durable and one of the technological leaders in the industry, Husqvarna offers the following models in their lineup:
1. HusqvarnaAutomower 450XH Review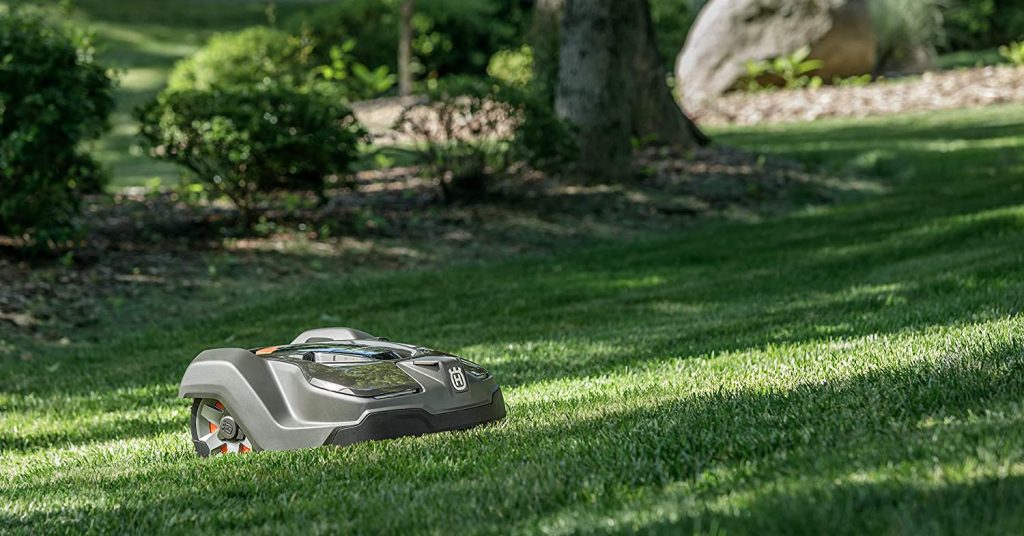 Husqvarna's 450XH model comes in a bundle with an installation kit that makes mowing your lawn an even easier process. The bundle comes with a working area capacity of 1.25 acres, so you'll be able to mow most lawns with ease.
When you choose the 450XH, you'll receive the industry's leading automower, and it features some of the world's most impressive features:
25-acre capability
Slopes up to 45%
GPS-assisted navigation
Automower Connect
Installation Kit
What makes this package so special is that there's an installation kit provided. The kit has everything you need to mow your lawn efficiently. And this means that you can cover an open lawn area of 5000 m2. If you have a complex lawn, you'll be able to mow an area that's around 2500 m2.
It's a large space to mow, and you never have to do it manually again.
The loop wire spans 400m, and there are 600 staples, 5 connectors and 5 splicers available.
When you're setting the 450xh up, you'll find that there are three tiny razors that make quick work of your lawn. The unit cuts grass at 1/8-inch at a time. Just like an irrigation system, you can set up your unit to mow your lawn on a predefined schedule.
Whisper quiet, Husqvarna knows that people will steal anything, including a robotic lawn mower.
Security features are in place to protect your lawn mower from theft, including:
Audible alarm system
PIN code operation
GPS allows you to track your lawn mower, and there's also a geofence feature that will set the alarm off if the lawn mower goes 100 feet from the lawn. Without the right PIN code, you won't be able to operate the lawn mower.
While the acreage is set at 1.25, you can cover a much wider space if it's open and doesn't include many trees or hills.
The blades will become dull over time, and the normal user can expect to replace the blades 2 – 3 times a season. The manufacturer does sell the blades.
An accompanying app connects you to your lawn mower. You'll be able to use the app to locate your lawn mower, and you'll also be able to track the unit's progress on your lawn. The weekly schedule will allow the unit to mow the lawn as you see fit.
And the noise level is low enough that you won't hear the unit when it's 20 feet or more away – it's that quiet.
Pros
App allows for easy monitoring
Large mowing radius
Weekly scheduling makes usage easy
Very rugged and has long-lasting blades
Cons
Gets stuck on tall roots or under bushes
When the unit hits taller roots, such as roots that are 2 – 3 inches in height, it will get stuck or make a loud noise. Small dog holes will also cause the same problem, but if you cover these holes or roots with dirt, you won't have any issues.
Offering a kit and the base lawn mower, the 450xh is a great buy for anyone with a larger yard who wants a hands-off mowing experience.
2. Husqvarna Automower 430x Review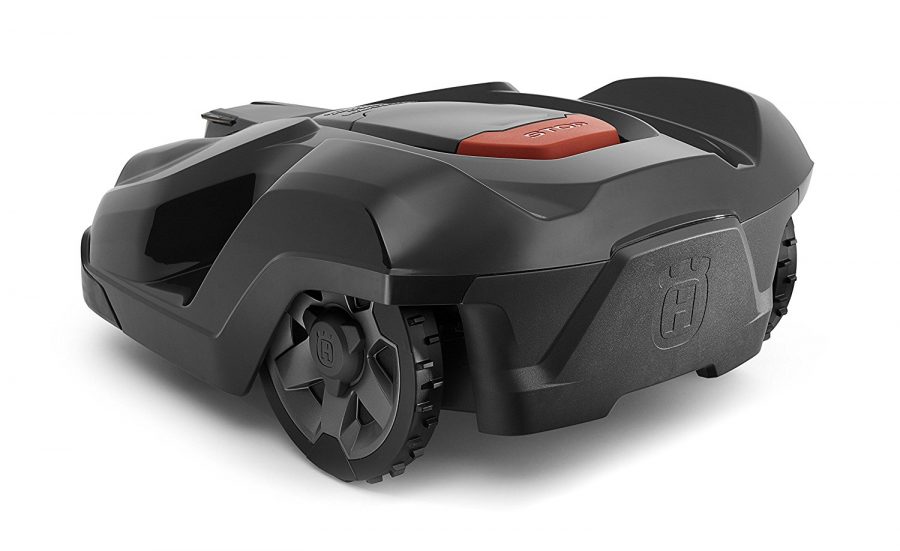 Husqvarna's 430X is another automower, but this model doesn't come with a large cutting capacity. The unit has a mowing space of 0.8 acres, so it's able to cut a majority of yards with ease. The typical charging time is a mere 65 minutes, and with a Li-Ion battery, it's a battery that will hold its charge for a long time.
Keep in mind that the installation kit is not included.
You'll need to purchase an installation kit separately, and this is the biggest drawback for this robot lawn mower.
Aside from this, you'll receive top-end features, including:
8-acre cutting capability
Ability to cut at 45% inclines
Smart technology features
65-minute charge time
When choosing this model, understand that it doesn't cut in straight lines. Your unit will move around your yard much like a pool vacuum goes around the pool. This means no fancy lines or patterns, but your lawn will still look neat and well-cut.
You'll need to use the four-digit pin to start up the mower, and this means calling the manufacturer to learn the pin out before getting started.
AutoConnect is an additional service, so you'll need to pay more for this feature.
While I recommend buying this addition, I will say that the lawn mower is easy to program.
Pros
Cuts up to 0.8 acres with ease
Can handle inclines with ease
Very quiet operation
Long battery lifespan
Cons
The only main drawback that I have with this model is that the AutoConnect function isn't provided. While you don't need these features, it's a nice perk that makes mowing more intuitive.
But for the price, it's a great automatic lawn mower that many users claim has changed their lives.
For those of us who already have limited time with their family during the week, you owe it to yourself to see what the 430x can do for you.

Worx introduced their first robotic lawn mowers in 2014 and have continued to innovate their product offering every year. In that time, their units have improved rapidly and offer competitive pricing with state-of-the-art features.
There are two main Worx Landroid models two choose from:
M 20V
L 20V
Both are different and come with options for a GPS or non-GPS model.
The Landroid has evolved in recent years, with the free app making it easier to set up and get running quickly. You'll want to follow the quick start guide to install your mower, but it should take anywhere from 3 to 5 hours to fully set up.
Worx stands behind their automatic lawnmowers with a three-year warranty.
Keep in mind that normal wear and tear issues will not be covered.
4. Husqvarna Automower 315 Automatic Lawn Mower Review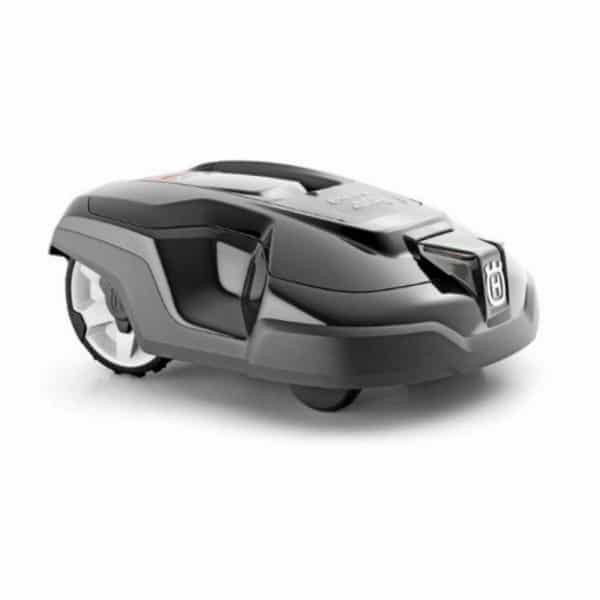 Husqvarna's 315 model is the last model on our list. It's an electric powered unit that has zero emissions and is able to run at any hour without making too much noise. The small installation kit is included, and this kit will provide you with everything you need to set up the perimeter of your yard.
You can set a timer and let this lawn mower go on its own with the confidence that it will get the job done fast and efficiently.
The key features that power the 315 are:
38-acre cutting capacity
Pivoting razor blades
Zero emissions
Quiet operation
Timer for automatic mowing
Installation kit
70-minute run time
When you have a larger yard than the 0.25-acres in the AM310 review but you don't have a yard that's 0.8 acres, the 315 is the perfect compromise.
This model has the cutting ability to make quick work of a yard that's up to 0.38 acres.
Precision razor blades will cut tall and short grass alike, and the operation is very quiet. A lot of users claim that they're able to run the 315 when their neighbors are sleeping without an issue.
The run time of the 315 is a staggering 70 minutes, so you'll be able to run the unit for over an hour before needing to recharge it. Open lawns allow for up to 8,611 square feet of space to be cut.
Complex areas will cut this capacity down by 50%.
The small kit is ideal for your smaller yard, and it allows you to get started mowing as quickly as possible.
Pros
Timer included for future mowing
Installation kit included
Runs for 70 minutes on a charge
Produces no emissions
Cons
Not many reviews available
A main issue I have with the 315 is that there are not many reviews available. This was a 2017 model, and the 315x is available, so this may be the reason. But the problem is that the 315x isn't sold at many retailers, so users are opting for more advanced mowers.
The price of the 315 along with the ample timing, zero emissions and installation kit make it a great choice for smaller yards and anyone on a lower budget.
5. Husqvarna AM310 Robotic Lawn Mower Review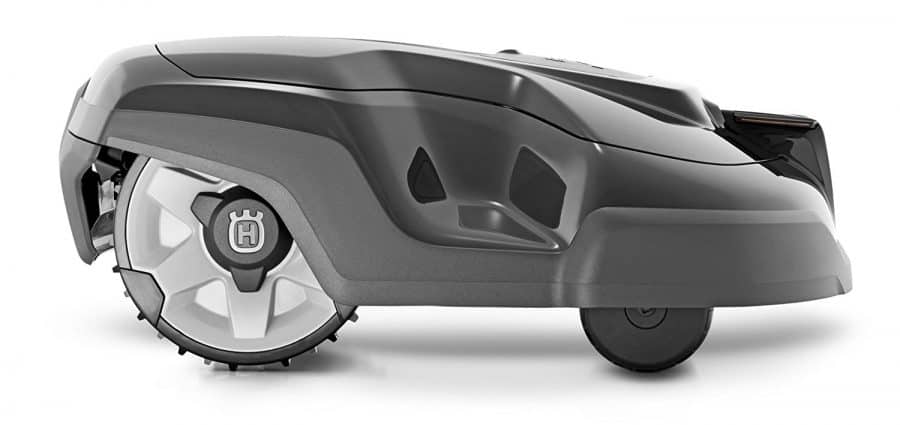 The AM310 is a robotic lawn mower that comes with an installation kit. You have the option to choose expert installation in some areas, but this isn't required in most cases. The installation kit is straightforward and allows you to get your lawn mower up and running in an afternoon.
Cheaper than the previous two models on our list, the AM310 is the ideal choice for modest yards versus the larger yards discussed previously.
This model features:
25-acre cutting area
Automatic passage handling
Ability to manage 26-degree slopes
Auto mower connect
You'll be able to schedule this lawn mower to mow up to 0.25 acres. Fast and efficient, the built-in automatic passage handling is able to detect obstacles and adjust to them properly. This means that the lawn mower will be able to detect holes, animals, humans or other items that can't be mowed.
Smart technology is built into the AM310, and this technology has been in development for 20 years.
Even when trying to navigate narrow areas, you'll find that the smart technology is able to guide the lawn mower so that it doesn't get stuck in the process. There are snap-covers available, and there are four efficient wheels that can handle 26-degree to 40-degree slopes.
What I really like about this model is that it can be programmed for zones.

What does this mean?
Let's say that you have a front yard and back yard. Well, you can set a primary zone and a secondary zone. The zones allow you to properly mow different areas. You'll be able to program the zones so that they all match your preferences.
Pros
Cutting area of 0.25 acres
Automatic passage avoids obstacles with ease
Multi-zone options
Cons
Connect@Home is a security feature that allows you to keep your lawn mower safe at all times. You'll be able to use this feature with some of the other models mentioned, but it's not available with the AM310.
If you fear that someone might steal your lawn mower, you'll want to spend the additional $249 for the feature or keep the unit in your garage. Aside from this, you'll find that the AM310 does offer zones and a great system that easily avoids obstacles.
It's the perfect robot lawn mower for smaller yards.