The idea of whole body vibrational training (WBVT) was introduced in the 1960s with the goal of improving health. When used properly, WBVT can take your regular workouts to new levels while improving bone density and even speeding up healing after an injury.
To take advantage of WBVT's benefits, you'll need a whole body vibration machine. What do these machines do and what benefits do they offer? Which models are worth buying? We'll cover all of this and more to help you better understand WBVT and whole body vibration machines.
What Does a Vibration Machine Do?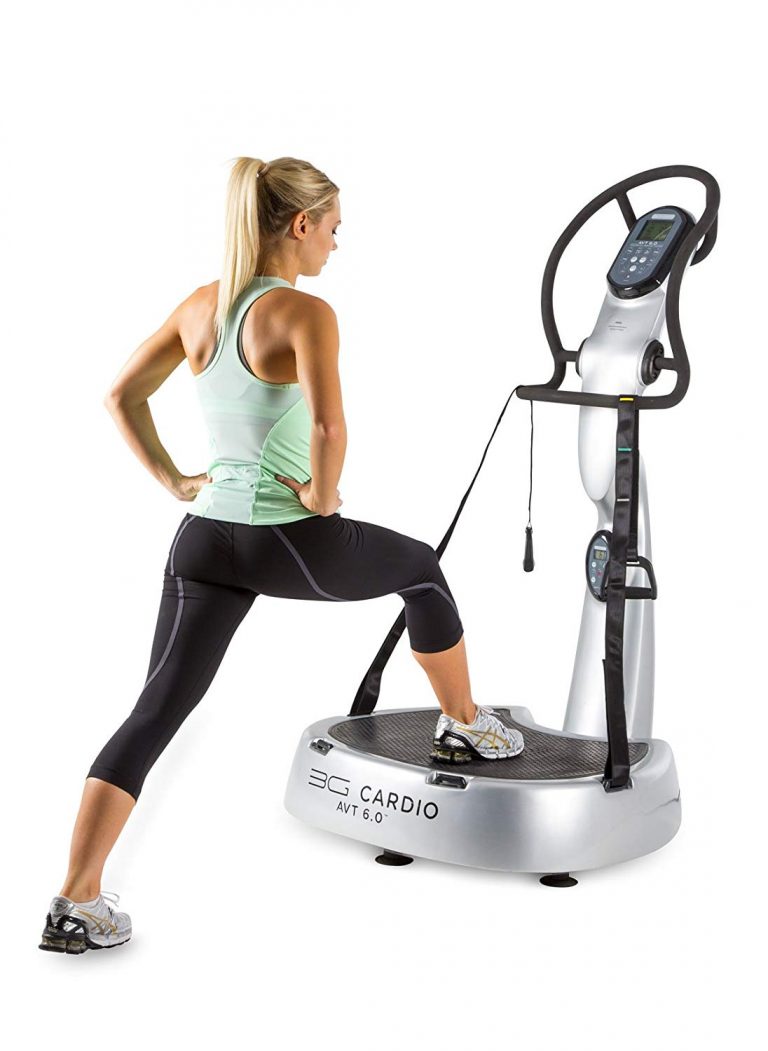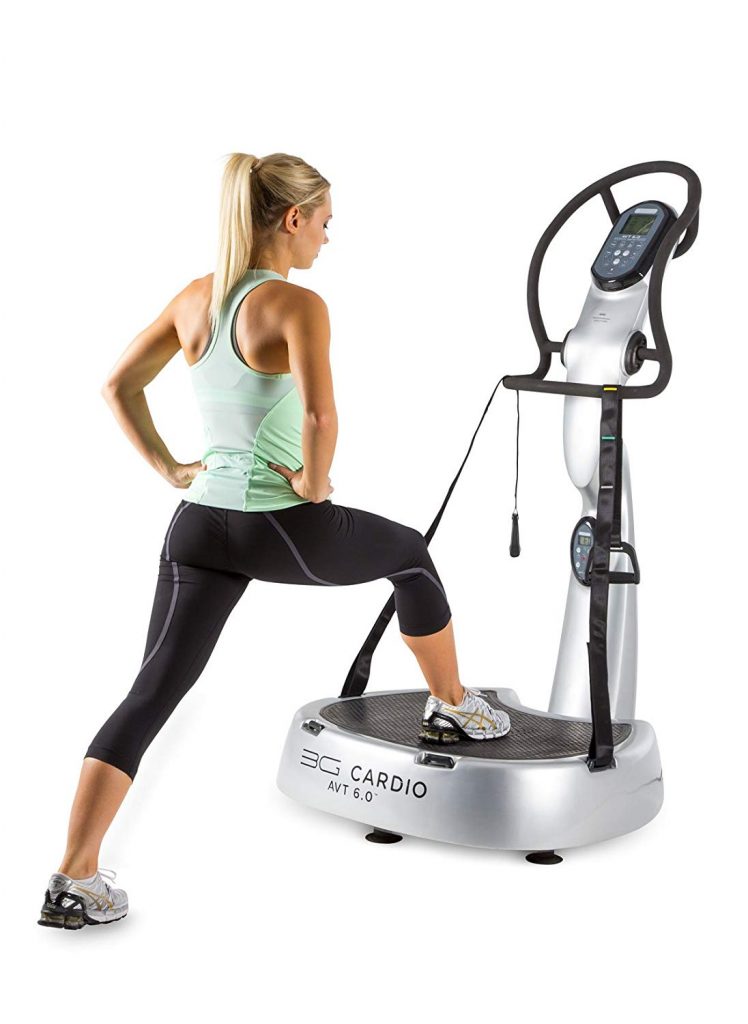 The science behind the vibration machine is based on space medicine. The goal was to prevent the severe bone and muscle loss that astronauts suffer with while in space. To counteract the effects of weightlessness, astronauts simply strapped themselves to a vibrating plate for 10-20 minutes per day.
But why? How can vibrations prevent bone and muscle loss?
Vibrations increase gravitational forces on the body. Platforms that vibrate in all three dimensions (vertical, sagittal and horizontal) are capable of producing forces from 2-6 Gs.
The vibrations force your body to react, contracting reflexively as a response. Up to 98% of the muscle fibers are engaged, including the fast and super-fast fibers. The front-to-back and left-to-right movements improve coordination and balance, while the up-and-down movement improves your muscle tone.
As the machine vibrates and the muscles contract and relax, it causes you to feel like you're exerting yourself.
These vibrations also help improve your bone density in a similar way that strength training exercises do.
Vibration Machine Benefits

Why buy a vibration machine when you can just exercise as normal? Vibration machines are designed to supplement or enhance your workouts. They also provide a number of benefits on their own.
In fact, studies have shown that 12 minutes of WBVT in a vibration machine is equivalent to working out for 1.5 hours with weights.
Research has shown that vibration machines can help:
Improve muscle strength
Reduce pain
Lower cortisol levels
Increase hormone secretion
Improve fat loss
Improve flexibility and motility
Improve neurological conditions
Reduce cellulite
Prevent age-related muscle wasting
Improve secretion of norepinephrine and serotonin
Improve lymphatic drainage
Bone Health & Osteoporosis
In 2001, NASA-funded research showed that 10 minutes of vibration therapy per day led to near-normal rates of bone formation in rats.
Other research has been promising in post-menopausal women. The women, aged 58-70, performed either:
Dynamic or static exercises for the hips and upper legs using WBVT three times per week for 30 minutes a day, or
60 minutes of conventional weight training, three times per week.
The researchers concluded that WBVT was a helpful supplement therapy to reverse osteoporosis and bone loss. Leg strength was increased by as much as 16%, and bone density in the hip improved by 1.5%.
Lymphatic System Drainage
Machines that can deliver lower vibration frequencies can help with lymphatic system drainage.
Research has shown that lymphatic drainage can occur at 15-30 Hz of vibration frequency, but the slower the vibration, the better the drainage. Slower vibration rates give the lymph nodes enough time to open up, drain and close down.
Combat Muscle Loss
As we age, mobility and muscle wasting become two major issues. That's why many seniors struggle to stay fit.
A vibration machine can help seniors and those with mobility issues prevent muscle wasting while improving coordination and balance. It works without the user having to engage in strenuous and potentially dangerous exercise routines.
Stimulating the fast- and super-fast muscle fibers prevents the loss of muscle mass that naturally occurs with age. It can also help build stronger bones, which can help prevent fractures.
Weight Loss & Turkey Neck
There's no magic formula for weight loss, but using a vibration machine can help jumpstart your weight loss. In one study, diabetic and obese mice gained similar muscle mass whether they put in 45 minutes on a treadmill or 20 minutes on a vibrating platform each day.
The mice also saw similar improvements in insulin sensitivity.
Muscle Recovery & Balance
Vibration machines can also help with muscle recovery and your balance. It's great for post-workout relaxation and stretching.
The vibrations, which cause the muscles to contract and relax, help improve blood flow while also reducing post-workout muscle soreness.
The front-to-back and side-to-side movements help improve your balance and coordination.
Hormonal Effects
Intermittent WBVT can lead to beneficial changes in the internal organs, brain and glands. In particular, studies have shown that vibration machines can help increase testosterone by 7% and growth hormone by 460%. WBVT can also help reduce cortisol by 32%.
But it's important to note that only intermittent use provides these benefits.
These responses were observed only when a 10-minute protocol was divided into two main sets of five one-minute subsets. A one-minute rest period occurred between each subset, and a six-minute rest occurred between the two main sets.
Continuous WBVT can actually increase cortisol levels.
How to Use a Vibration Machine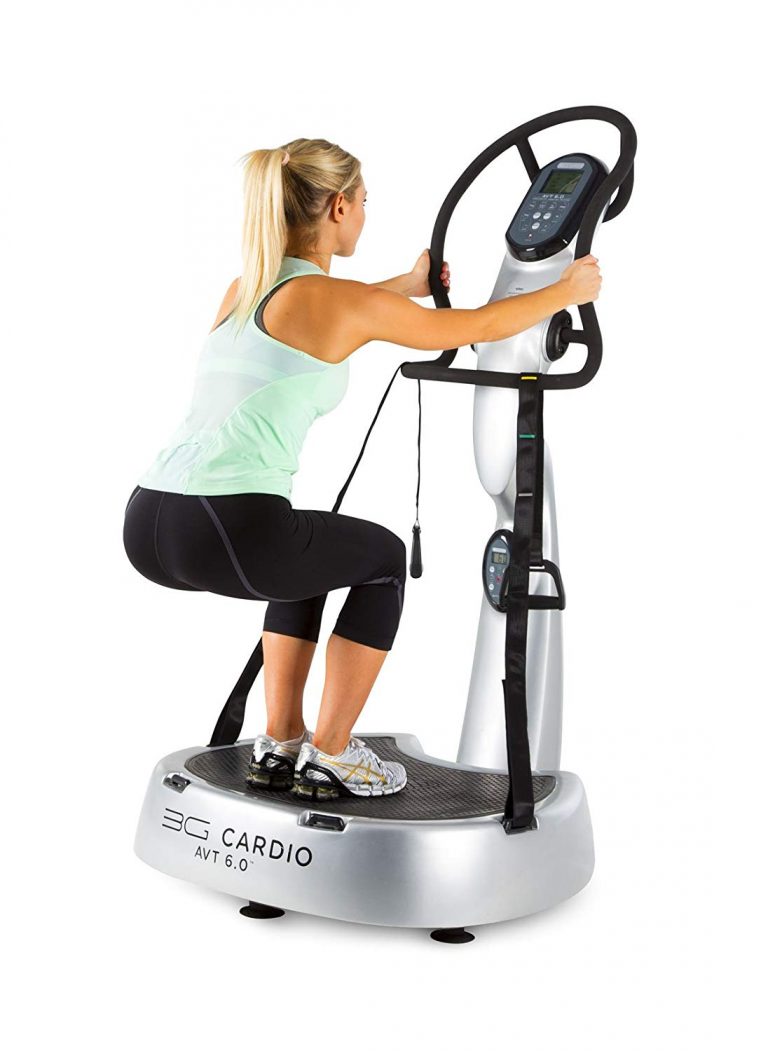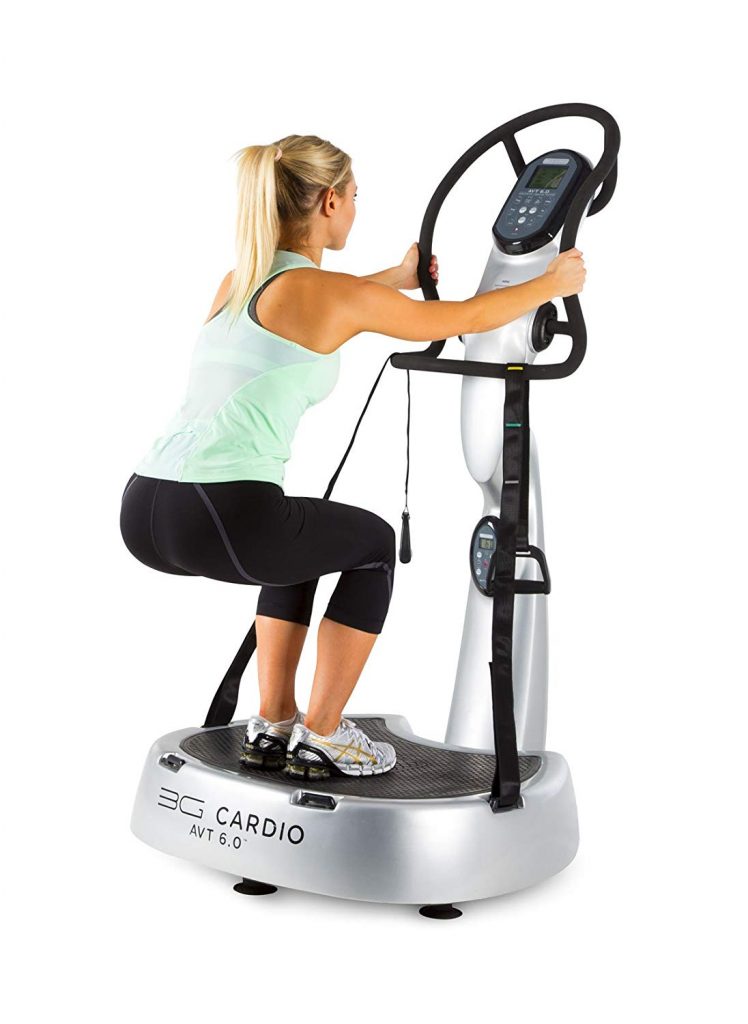 Vibration machines are so easy to use, whether you purchase a simple plate model or one with stability bars.
High-end models will offer more options and programs, but the process of using the machine is the same:
Stand on the plate
Allow the vibration machine to work its magic for your desired amount of time
Most machines have console or remote control that will allow you to adjust the:
Speed
Amplitude
Frequency (Hz)
Some have built-in programs and options for stretching, strength or massage. You may also be able to set your desired time.
While the unit is running, you can perform exercises on the platform, or you can simply stand there and enjoy the vibrations.
There are several different bodyweight exercises that can be performed on a vibration machine, and the unit makes these exercises more intense.
Squats
Push-ups
Planks
Crunches
Dips
Lunges
Some models also come with accessories that allow you to perform exercises safely.
Which Vibration Machine is the Best to Buy?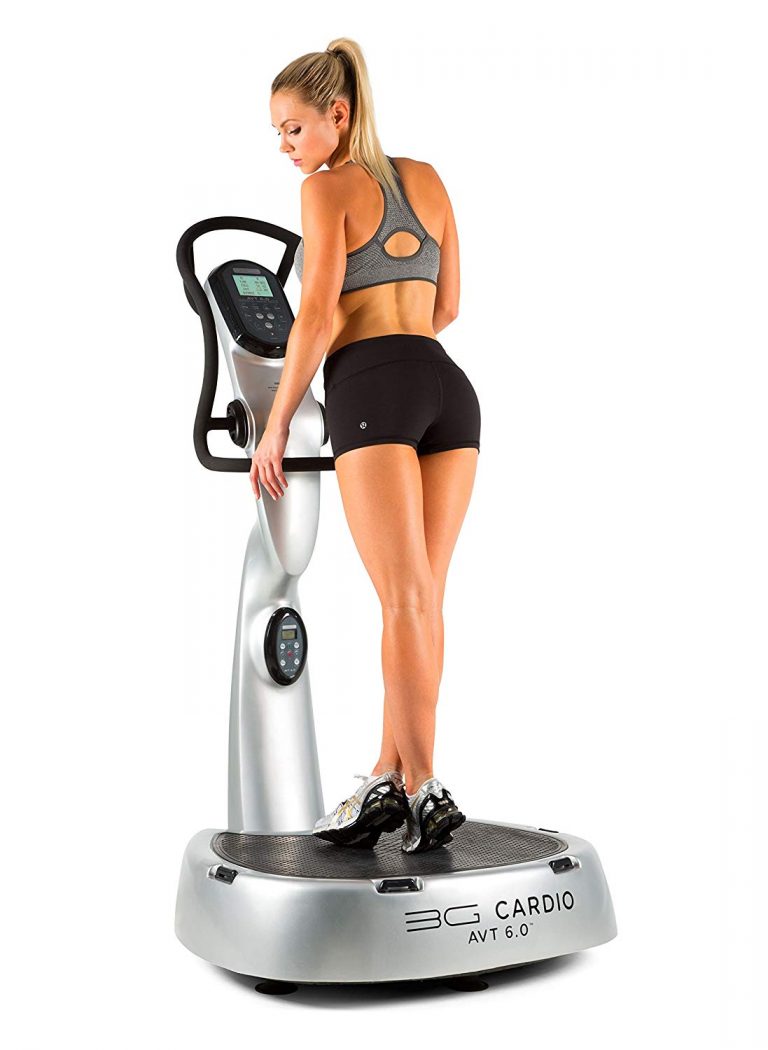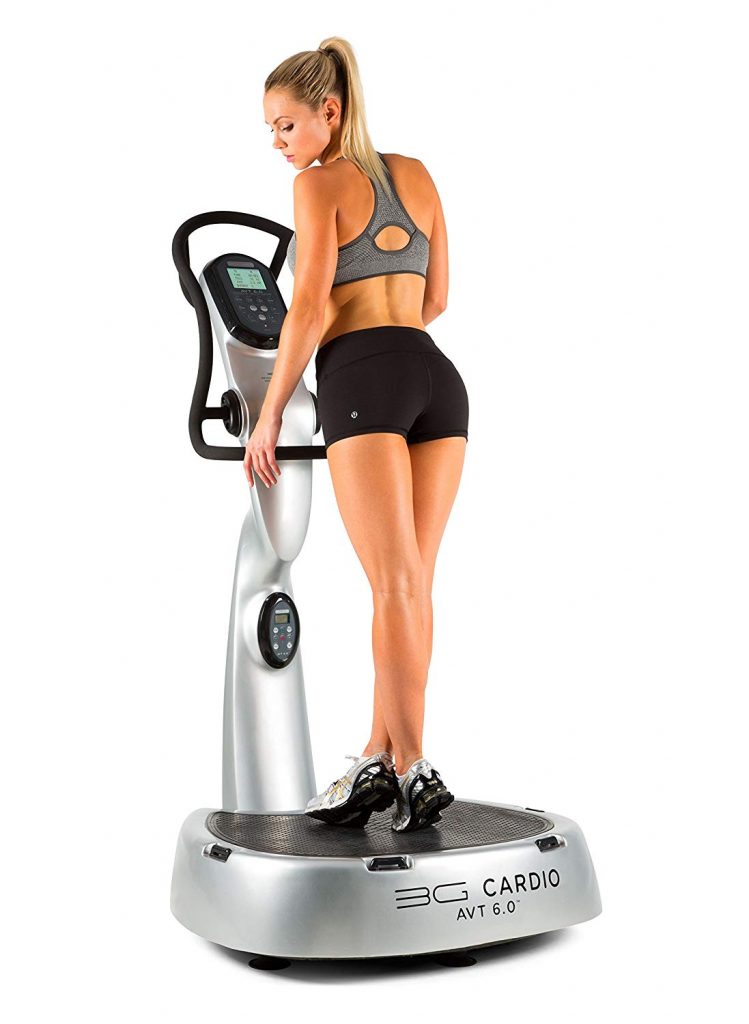 Because vibration machines can be used for so many different purposes, there are several different types of models available.
Movement: lineal and pivotal
Energy level: low, medium and high
Speed: high and low
Amplitude: high and low
Some models offer a wide range of options, while others are more limited.
Let's take a minute to talk about the movement options (lineal and pivotal) because these will have a major impact on your results.
Lineal vs. Pivotal (Oscillating)
A lineal vibration platform remains horizontal at all times, and the entire platform moves up and down by the same amount. These units have a smaller peak-to-peak amplitudes.
Pivotal, or oscillating, machines are very different. The platform itself tilts around a pivot point, similar to a see-saw. The right and left sides alternate up and down, and the center point remains fixed.
Pivotal machines allow you to adjust the amplitude, or the distance your feet move up and down.
Which vibration machine is the best? That really depends on your needs and your budget.
Best Budget Buys
Not everyone has thousands of dollars to spend on a vibration machine. Here's the good news: you can enjoy the same benefits of more expensive WBVT machines without the high price tag. These models may not have all of the bells and whistles that high-end models have, but their function is exactly the same.
Some of the best budget vibration machines include: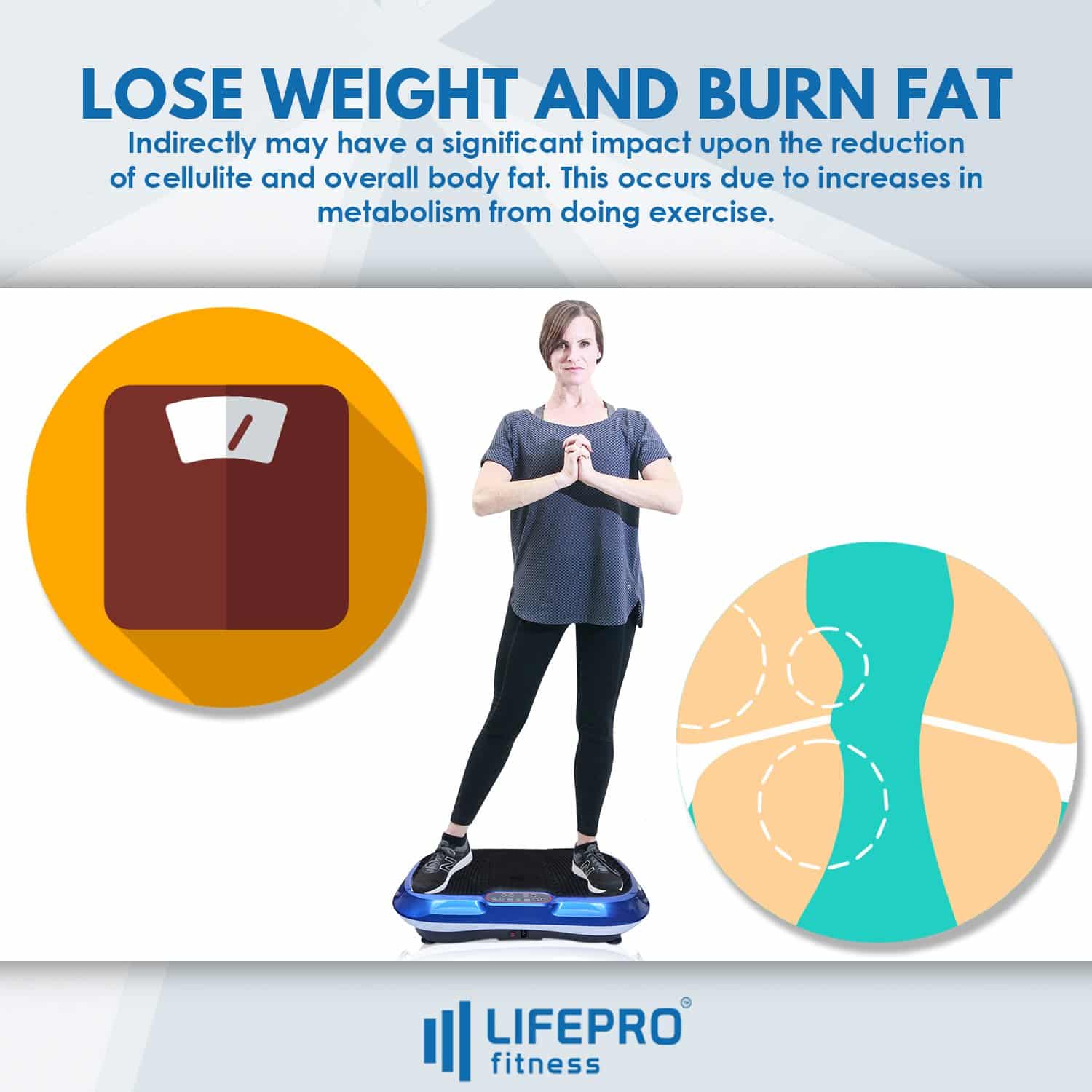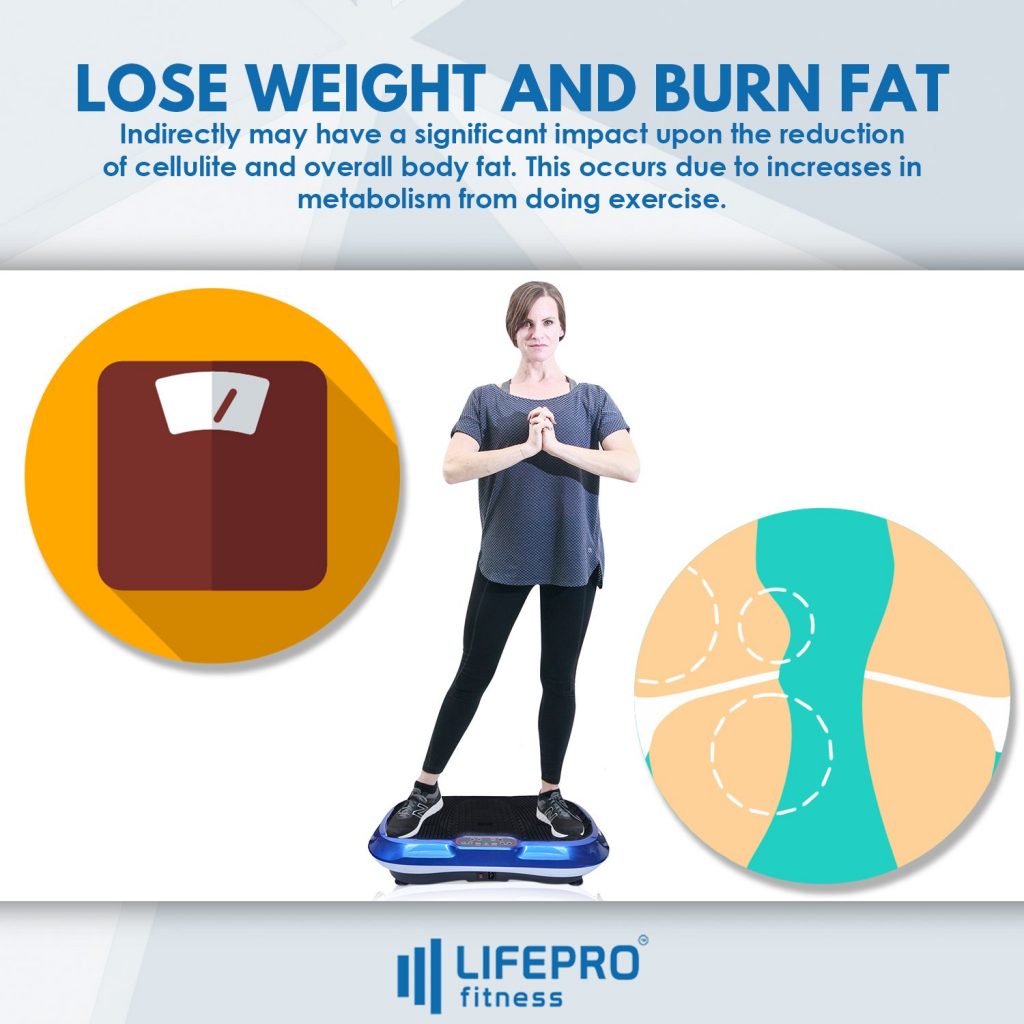 The LifePro Power Plate is a vibration platform designed for home use. Offering a user-friendly display and multi-speed options, the Power Plate is arguably the most well-known at-home vibration machine on the market.
The Power Plate was designed primarily to improve your fitness level and boost your weight loss results.
The Power Plate offers:
Oscillating (pivotal) vibration
Speed settings ranging from 1-99
Weight capacity of 330lbs
Display screen with remote control
Wheels for easy storage
Yoga straps and resistance bands to boost results
Free online video courses
The included remote control allows you to adjust the time, speed and program with the touch of a button. You can also adjust the settings right on the platform itself.
Pros
Uses oscillating vibration
Offers a wide range of speed settings
Portable and easy to store
Comes with accessories to enhance your workout
Option to use a remote control or the buttons on the platform to adjust settings
High weight capacity
Cons
If you have mobility or balance issues, the Power Plate may be a little more difficult or unsafe for you to use.
If you're looking for a budget-friendly but effective vibration plate, LifePro's Power Plate is a good option. It's durable, easy to use and offers a wide range of options to help you reach your goals. The additional accessories (straps and bands) add value and will intensify your results.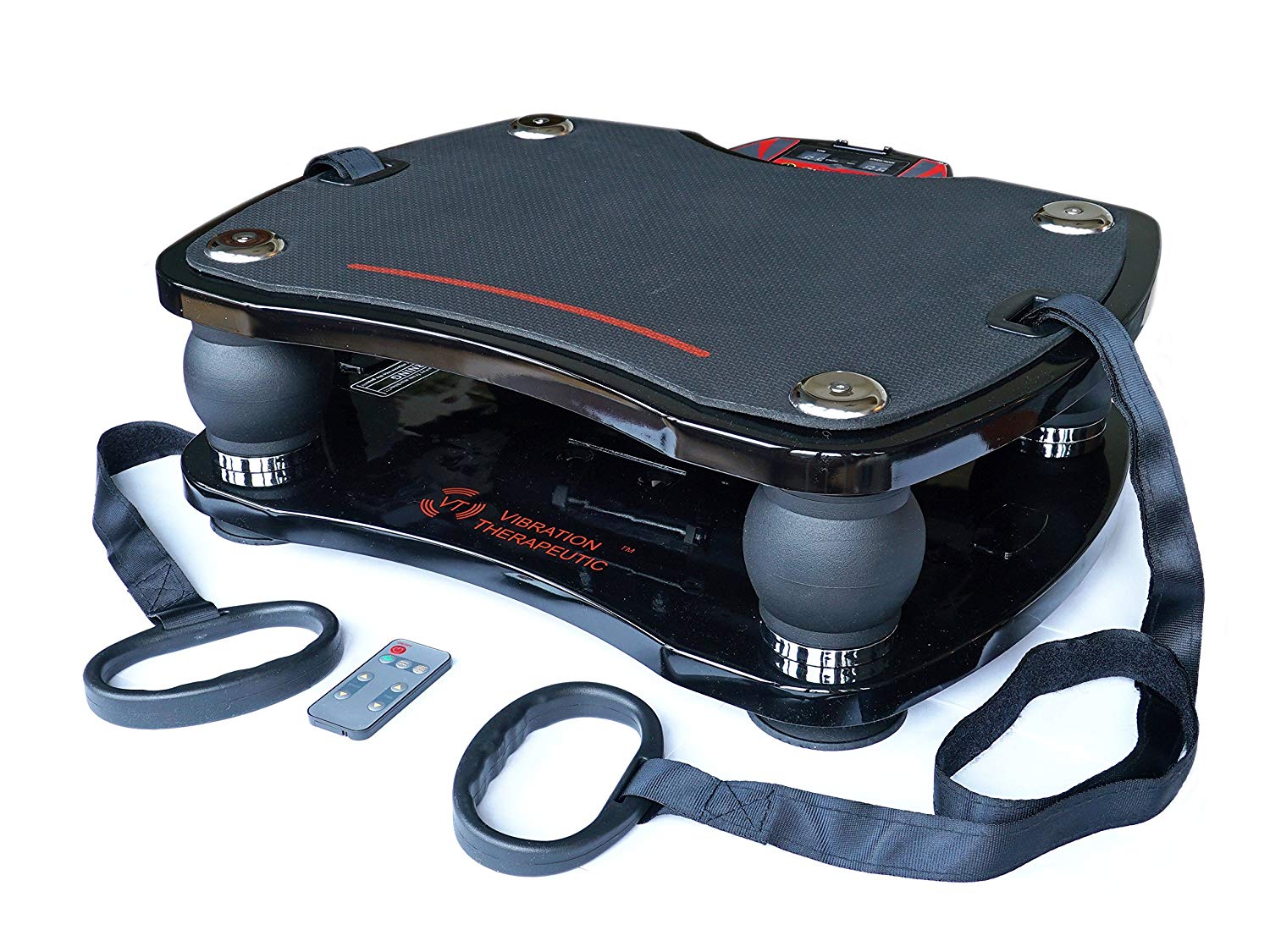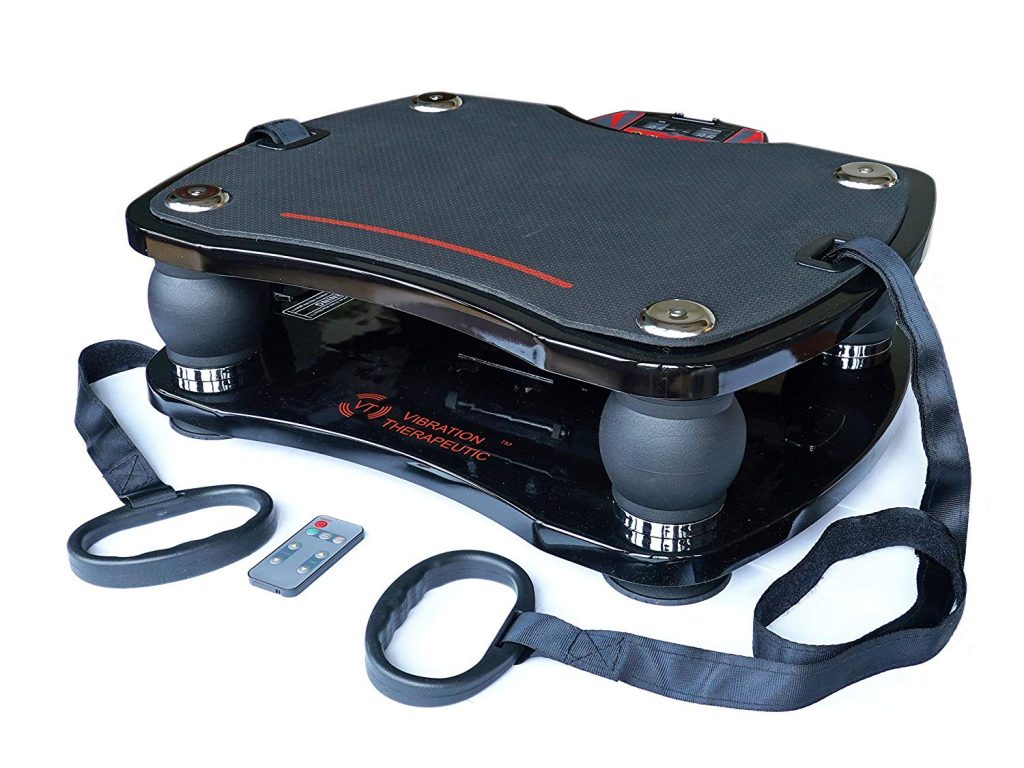 The VT003F offers deep tissue vibration, high frequency and linear vibration. Three built-in programs help you achieve your goals, whether you're looking to relax, improve your cardiovascular health or improve muscle tone.
Program 1: Low amplitude; ideal for relaxation and detox (massage)
Program 2: High amplitude; ideal for cardio exercise
Program 3: Mix mode; ideal for muscle tone and enhancement
Here's a rundown of the technical specs and features of the VT003F:
Frequency range: 15Hz-40Hz
Vibration type: Linear
Max G-force: 5.82
Max vibration amplitude: 3mm
Machine weight: 26lbs
Dimensions: 22" x 19" x 7.1"
Maximum user weight: 264lbs
Session time: 1-20 minutes (10-minute default time)
The VT003F offers a contemporary, simple design that's easy to use. The control panel is located on the platform itself, which features a durable mat made of EVA material. There's also a remote control that allows you to adjust the settings during use.
Attached to the platform are two thick straps with large handles, which allow for arm vibration and better stability.
The platform is constructed with ABS material. Two steel frames are connected by four springs to create the machine's skeleton.
Pros
Highly durable
High frequency range
Portable and easy to use
Lots of options for program settings
Cons
Only offers linear vibration
Some argue that linear vibration is inferior to oscillating (pivotal) vibration. The combination of the vibrations and oscillating (side to side) movement may provide better results.
With that said, people love this vibration plate and say it's highly effective. The low amplitude and linear vibration features make this model ideal for bone health.

Confidence Fitness' Slim full-body vibration unit offers a user-friendly display console, stability bars and a wide range of vibration options.
Compact in design, this full-body vibration trainer has an easy-to-use display console, and the plate is fitted with yoga straps to enhance your sessions. There's also a built-in heart rate monitor, so you can keep tabs on the cardiovascular benefits of this machine.
Confidence says that just 10 minutes on their platform is equivalent to 60 minutes of conventional exercise.
Vibration type: Oscillating
Dimensions: 29" W x 27.5" D x 48" H
Speed settings: 50
Maximum user weight: 300lbs
Machine weight: 62lbs
Frequency range: 50-60Hz
The console allows you to adjust the speed and time, choose your program, and view your heart rate.
Pros
Easy to use
Offers stability bars
Built-in programs
Compact design
Heart rate monitor
Oscillating vibration
Cons
The biggest complaint with this machine is that it doesn't come with instructions or exercises. You'll have to do your own research on exercises and usage.
Otherwise, the Slim full-body vibration machine is a good option for those who want stability bars and a user-friendly design.
---
Best Professional High-End Vibration Machines
If you're serious about vibration machines, a professional model may be the right choice for you.
Some of the best high-end vibration machines include: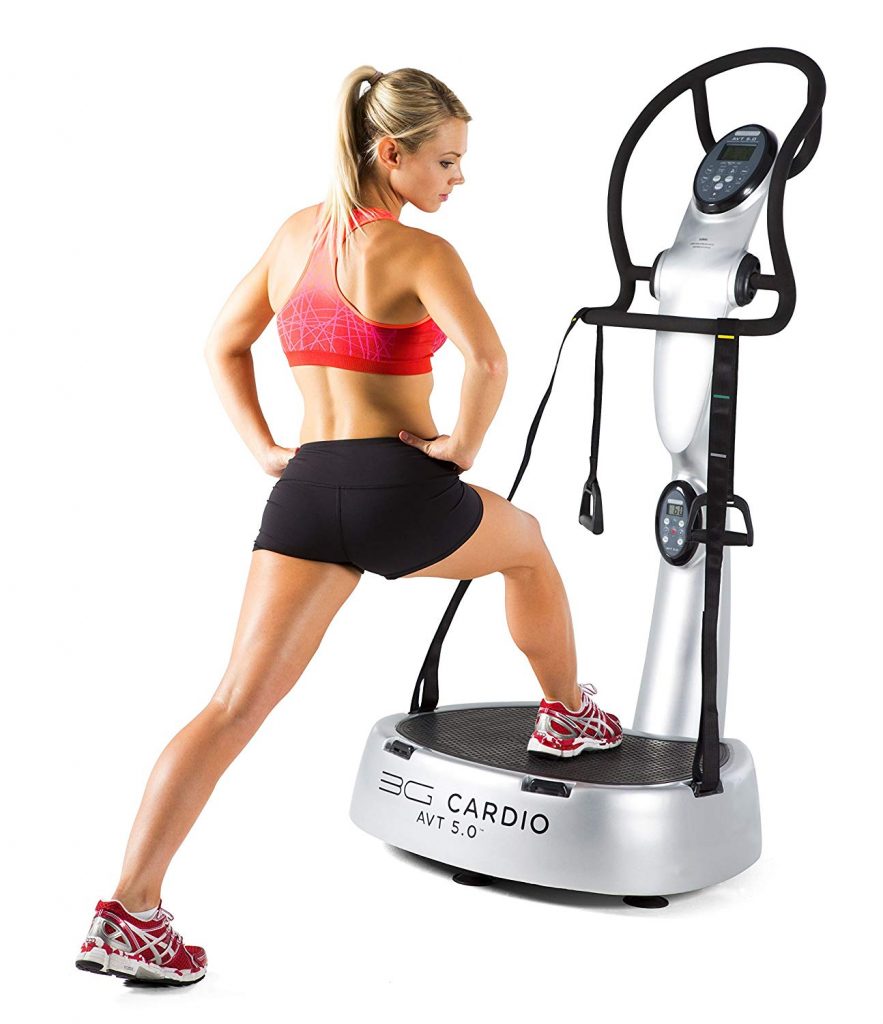 The 3G Cardio AVT 5 offers an oversized vibration platform, high maximum weight capacity, built-in programs and a plethora of options.
The vibration platform itself is 28" W x 23" D, which provides you with plenty of space to perform exercises. The machine is outfitted with the Premium High Fatigue SOFT AVT Surface for a comfortable experience every time. The dampening mats also help reduce fatigue and improve comfort.
Built-in bars, straps and handles allow for better balance and stability when using the machine, and provide you with a wide range of exercise options.
The AVT 5 uses vertical vibration, which 3G says is superior because it's more effective and comfortable for the body to absorb.
Here's what else the AVT 5 has to offer:
24 built-in workout programs and 3 custom programs
Vertical amplitude range of 1.5mm-3mm
Frequency range of 30-50Hz
Maximum user weight of 400lbs.
The AVT 5's console allows you to adjust the frequency range, amplitude, program and speed. Its sleek, compact design also makes it easy to install in just about any home.
Pros
Plenty of built-in workout programs
Wide frequency and amplitude ranges
High maximum user weight
Large platform, which makes it easy to perform exercises
Comfortable to use
Linear (vertical) vibration
Cons
Some users say that it took them some time to figure out what to do when using the AVT 5. Many other high-end models include exercises with their machines, but the AVT 5 does not appear to provide them.
With that said, the AVT 5 is easy to use, does include a range of workout programs that are built-in, and the platform provides plenty of room to perform exercises.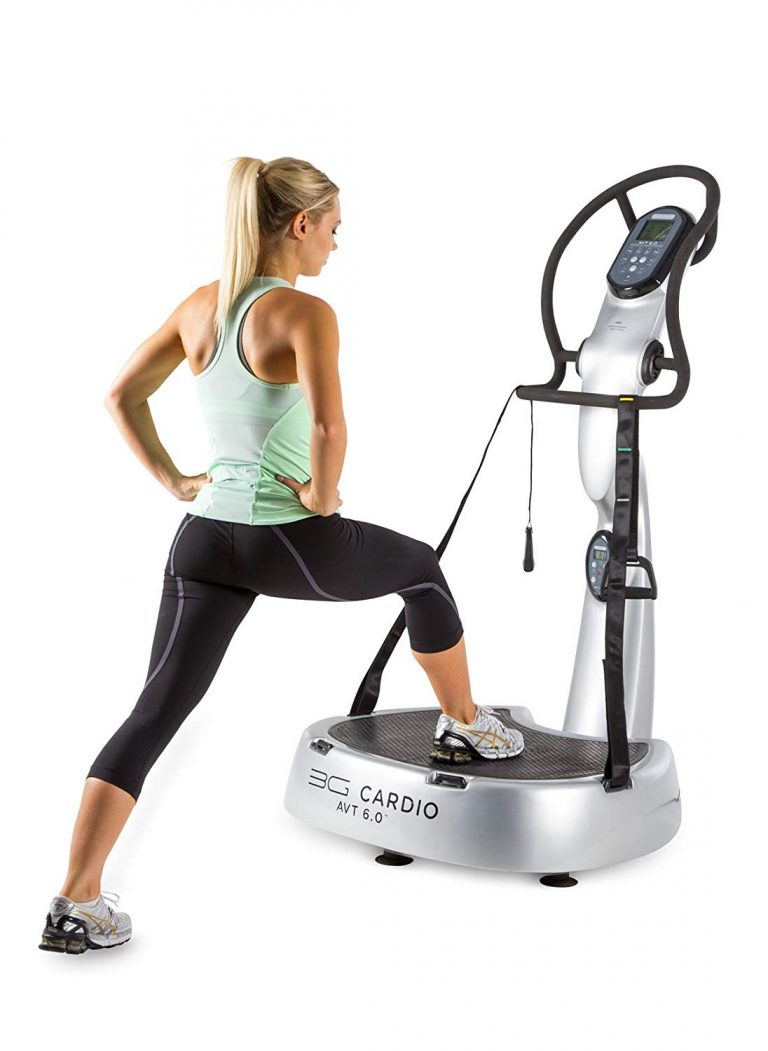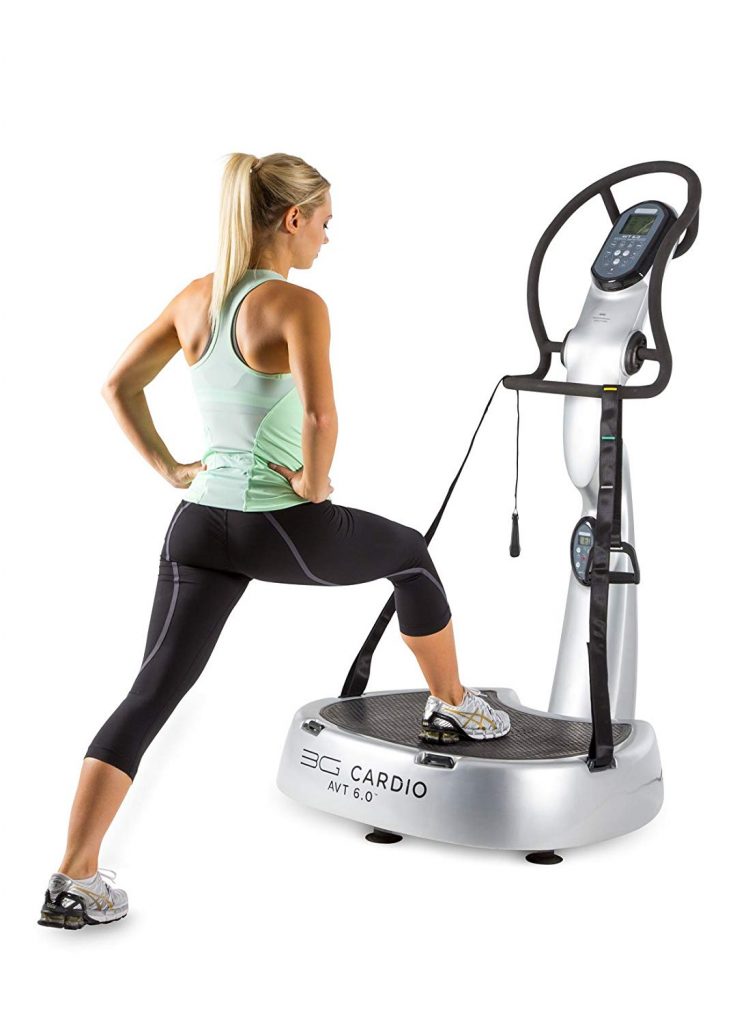 The AVT 6 is an improved version of the AVT 5, offering a larger platform and more options.
24 built-in workouts that can be tailored to meet your goals
33" oversized platform (bigger than the AVT 5)
30-50Hz range
Premium high fatigue AVT dampening surface mat
Max user weight of 500lbs.
Vertical amplitude range of 1.5mm-3mm
The AVT 6 is nearly identical to the AVT 5, but provides a larger vibration plate and can accommodate more weight. The console design is slightly different, but the overall design and functionality is the same.
Pros
Lots of built-in workout programs
Large range of frequency and amplitude settings
High maximum user weight
Very large platform, which makes it easy to perform exercises
Comfortable to use thanks to the dampening mats
Linear (vertical) vibration
Cons
Like with the AVT 5, the AVT 6 does not include any workouts. The 24 built-in programs should help with this issue, but it's something to make note of.
The AVT 6 is one of the best full-body vibration machines on the market today. It's durable design and wide range of options ensures that you'll be using this machine for years to come.