I've wanted a portable pizza oven for years, but I always found a reason to push off my purchase. My water heater broke, I bought a grill – you get the idea. But this spring, I decided that it was time to buy a portable pizza oven when I saw a YouTube video on the Ooni pizza oven.
I've made pizza six or seven times since I purchased my Ooni, and it has made making pizza at home a Friday night tradition.
What is Ooni?


Backyard pizzas are amazing. I am a fussy eater, and I like to eat organic as much as possible. Being health-conscious, I haven't seen a pizzeria in my area that offers organic toppings or cheese from pasture raised animals.
I knew that owning an Ooni pizza oven would give me the option to eat responsibly while still enjoying my favorite guilty pleasure.
Ooni is a company that you'll find everywhere online because they claim to be the world's #1 pizza oven company.
I can't verify or deny these claims, but what I can do is tell you that this is a true restaurant-quality oven that comes in a variety of models (I'll be discussing this shortly). You can make authentic pizza in just sixty seconds from your backyard.
Before I dive into the models available, I want to touch on one main reason for choosing the Ooni pizza oven over the competition: quality.
Ooni Oozes Quality

When you go to a restaurant that makes pizza, it's hard to miss the giant ovens with pizza pans and fast cooking times. Cooking pizza in your home's oven never comes out quite right because the temperature is too low.
I have tried many times to make pizza in my oven, but I gave up because even after following an old Italian pizza making recipe, my pizza was mediocre.
The problem was the heat.
I don't know about you, but my oven only goes up to 500°F – about 400°F less than a traditional restaurant pizza oven.
Ooni pizza ovens are designed to:
Reach 900°F in 15 minutes
Cook incredible pizza in just 60 seconds
Delicious, cheese pizzas come out great with the Ooni. And the manufacturer offers a satisfaction guarantee for 60 days. I could't find a portable pizza oven with this level of quality anywhere else online – I looked.
Larger in size, these portable pizza ovens are made with high-quality materials, and you're able to choose the fuel type that works best for you.
I was really considering making my own brick pizza oven last summer because I wanted to have a more traditional pizza oven that would make my grandmother proud. What I found was that the cost of the fire bricks and the amount of labor that goes into making the oven just didn't make it worthwhile.
Ooni offers a similar or cheaper price, depending on how you make a brick oven, with the same great tasting pizza.
You'll be ordering a pizza oven that offers:
Removable chimney
Steel door
Lightweight
I can take off the chimney and place the pizza oven in my trunk. Versatile and able to cook 12" pizzas and other foods, such as delicious organic vegetables and steaks, you'll also receive a cordierite stone baking board.
Choosing Between the Types of Ooni Pizza Ovens
When I was first researching the Ooni, I think they had three main portable pizza oven models. The list has since expanded, and admittedly, it took me a while to make my final choice on which model to buy.
You can choose from a variety of different models:
Ooni 3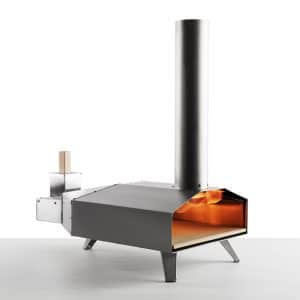 Ooni 3 is the pizza oven that really ignited the company's brand and is responsible for cooking over a million pizzas. You can choose this oven with wood-fired cooking to keep a traditional pizza taste, or you can upgrade to a gas burner.
The oven heats up to 932°F in just ten minutes and can bake a Neapolitan pizza in just sixty seconds.
This is the world's first portable pellet oven and is now one of the cheapest model in the bunch, with prices around $279.
Ooni Koda 16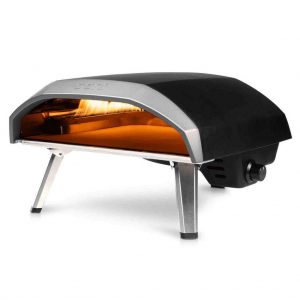 Koda 16 comes only in a gas-powered version and is designed for pizza lovers wanting to bake a 16-inch pizza. You can also place steaks or fish inside of the oven, and the flame boasts an L-shape design.
Instant-on gas ignition is convenient, and you'll be able to reach the 932°F threshold in 20 minutes.
The Koda 16 is sold for around $499.
Ooni Pro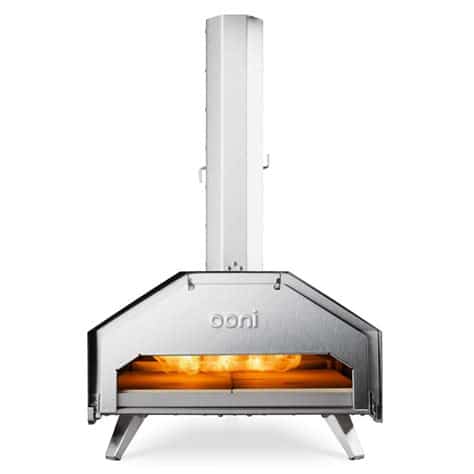 Ooni's Pro version is the top-tier model, offering a multi-fuel pizza oven that can have gas added to it for an additional charge. The unit can use wood or charcoal stock, and it will reach the 932°F threshold in just 20 minutes.
With the Pro, you can cook pizzas up to 16 inches big and also cook a variety of other foods inside of the oven.
Pro is less portable than competing models with a weight of 65 pounds. The interior boasts ceramic fiber insulation while the exterior is made out of brushed stainless steel.
Prices start around $599.
Ooni Fyra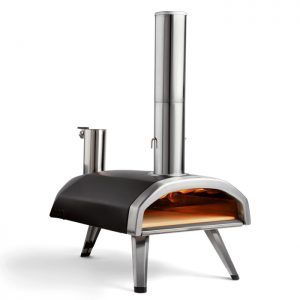 The new Ooni Frya model isn't out yet and is slated to debut in August 2020.
The Frya only comes in a wood-fired option and is designed for maximum heat retention. Temperatures reach 932°F in a mere 15 minutes, and you'll be enjoying stone-baked pizza in less than a minute. For a portable oven, this may end up being the king of rapid fired pizza ovens.
Weighing a mere 22lbs, the oven is small and portable with a taller hopper that allows for wood pellets to burn for longer.
Frya is the successor to the Ooni 3 and is the most affordable with prices starting at around $249.
Ooni Karu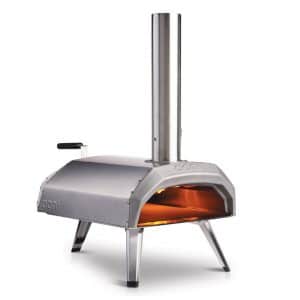 The Karu is available in a wood or charcoal-fired fuel option, yet you can upgrade to a gas burner if you would rather have gas than charcoal as your fuel source. The gas burner attachment extends your options for fuel, so you'll be able to use either fuel type.
Karu boasts a custom fuel tray to maximize airflow. No ash cleanup is needed either.
The unit weighs 26.5 pounds, it boasts a fiber-insulated interior and the Ooni baking tone is included. Ready to cook in 15 minutes, the pizza oven is able to reach 932°F due to the maximum heat retention design.
Karu is sold for around $329.
Choosing the Right Ooni Fuel Type For Your Style
I didn't think I would have so many different options when choosing a portable pizza oven. When I first saw the fuel options, I was a bit overwhelmed because too many options means that I have to do more research and make a choice on which fuel type is the best.
But I ultimately, decided to try a multi-fuel option that allows wood pellets and charcoal.
The fuel options are:
Wood is easily sourced in my area, and the wood-fire does provide a unique taste to my pizza. You'll be able to use wood chips or pellets, but I found chips to be the best option. Wood pellets are clean, but you need to keep adding pellets every 10 minutes, which is a hassle if you're throwing a house party.
Charcoal is also easily sourced and provides a great taste to the pizza. Since you can mix charcoal and wood in the oven, a lot of owners prefer to use wood chunks and charcoal for a longer burn. Briquettes can be used, but they're not the best for your oven since they produce more ash. The ash also builds up in the chimney and oven.
Gas is another option and is an add-on for many of the ovens that we've reviewed. The only issue with gas is that you'll need to refill a gas tank which is a hassle. I know I am terrible at refilling propane tanks, so I would be terrible filling up the gas tank, too. The one major benefit with the gas models is that you don't have to worry about burn time like you do with wood.
I recommend experimenting with different wood options and charcoal to find the best option for you if you don't want to use gas. A lot of people try different types of wood to see if they add to the taste of the pizza.
But what I found is that the pizza cooks so fast that the different wood choices didn't add much flavor to the pizza.
Ooni Accessories
Ooni wants everyone to be happy with their pizza oven, and you'll find that there are a lot of accessories you can buy, too. Of course, gas options are available on individual ovens, but you can also find a variety of accessories, including:
Hardwood pellets
Infrared thermometer
Perforated pizza peel
Bamboo pizza peel
Turning peel
Carry covers
Modular table
Iron skillet pan
Cookbook
Pizza cutter
Rocker blade
Bench scraper
Apron
Digital scale
Baking stones
There are dozens of accessories, but you won't need them to cook great pizza.
If you don't have an iron skillet, it is the one accessory you may want to consider adding to your oven's cooking ability. I use the skillet to grill up a bunch of organics to add as a topping to my pizza or to grill up chicken or steak.
You can also talk to the customer support team to have your questions answered rapidly. The team is always responsive.
I also recommend the recipes that Ooni offers on their site that teach you how to make dough properly and other great options, including sourdough naan, piadina flatbread, classic pizza sauce and so much more.
Ooni portable pizza ovens offer a lot of great alternatives for cooking pizza at home. While the Pro is the best of the best, if you want to save money and don't mind 12" pizzas instead of 16" pizzas, there are plenty of great options available.