Still carrying around your standard billfold? It's time for a change.
A smart wallet brings your wallet into the 21st century with new, high-tech functions that I didn't know existed until recently.
What are these wallets and who should upgrade?
What is a Smart Wallet?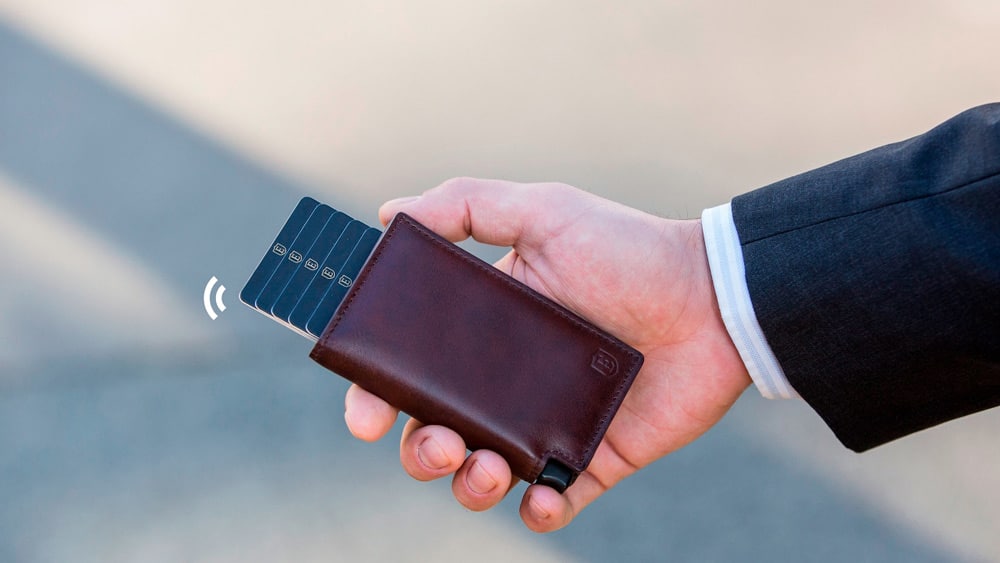 Smart wallets are exactly what they sound like: wallets that utilize "smart technologies."
People are using smart devices in their everyday lives, and these wallets help amplify a person's lifestyle even further with added functions.
A few of the key functions are:
RFID Blocking: Skimming is common and allows someone to scan your credit cards without you even taking them out of your wallet. Scammers will steal a person's credit card info using this technology. Special material used when making a wallet allow it to block the RFID skimming that leads to stolen identities and credit information.

GPS Tracking: Tracking can help you find your wallet in your home, or some wallets allow you to use crowdsourcing to have others look out for your wallet. If someone is in range of your wallet, you'll be alerted to the whereabouts of the wallet.

Bluetooth: Connect your smartphone to your wallet with Bluetooth technology. Connecting allows you to easily track your wallet and even alert you when you start walking away from the wallet. Forgot where you placed your wallet? Check your phone to find it!

Fingerprint: Opening your wallet is easy with a standard billfold. A person can pick up your wallet, take out your money and there's no locking mechanism to stop them. Fingerprint technology can keep some of these wallets locked to keep them from opening without an authorized fingerprint. Some wallets have as many as 20 fingerprints that can be stored so that your family can always open your wallet, too.
You'll find some manufacturers offering additional features that separate them from the competition.
A lot of smart wallets offer a rugged design that's able to withstand everyday use without worrying about your credit cards or money falling out. Few come with Bluetooth or GPS tracking – unless you're willing to spend a ton of money.
But the smart wallets that we'll be covering offer options for the minimalistic owner, someone that holds primarily credit cards and the tactical user.
Manufacturers are also exploring different wallet types that allow them to offer more styles and options to consumers. There are:
Minimalistic metal wallets
Card holder wallets
Tactical wallets
Tactical wallets are enhanced in both size and durability. These wallets usually come with multi tools or prying options and have features that appeal to most outdoorsmen. If you need a wallet for camping, hiking or anything else, this is a good wallet type to choose.
You'll find options for every style and taste. The best wallet is all about preference and your budget.
What Is the Best Smart Wallet?
Smart wallets come in a lot of shapes and sizes. We're going to provide a brief overview of the top wallets on the market so that you can find one that you like. There are a variety of options, and a lot of them have additional items that can be purchased to make them more powerful, including one that has a tracker that you can purchase to go along with it.
Ekster Wallet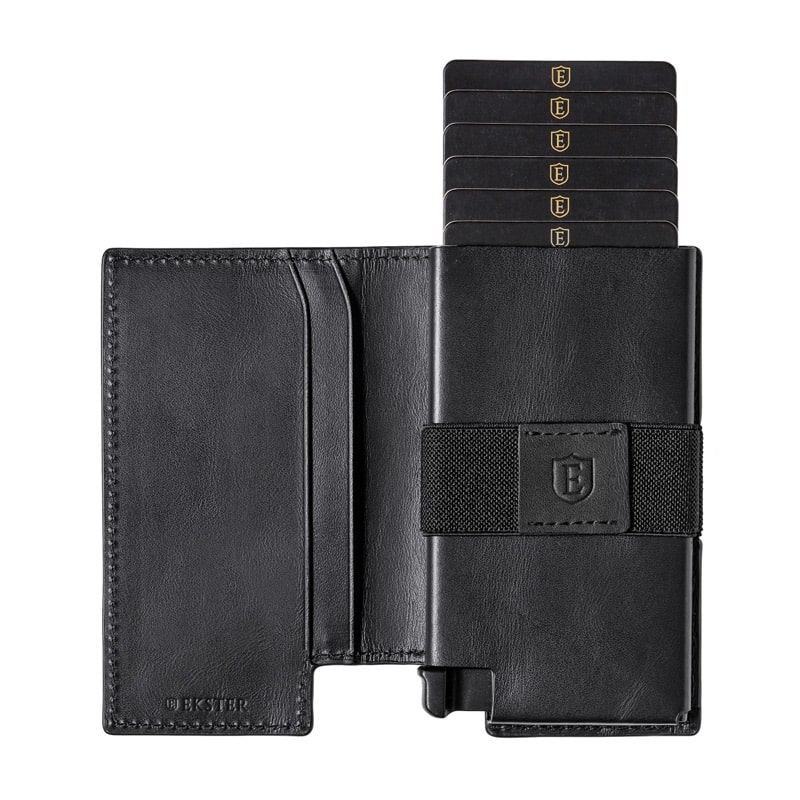 Ekster is a popular brand known for bringing the best RFID blocking technology to their wallets.
The Parliament is a slim, leather wallet that is as aesthetically pleasing as it is functional. The wallet blocks the dreaded RFID skimming and also allows for quick access to your debit and credit cards.
Multiple colors are available, and the wallet has a premium leather lining, too. The slim profile allows for quick closure, and easy access is just a click away. There's a built-in aluminum holder that can hold 4 to 6 cards (but there's really space for 10+ cards).
A pocket strap has room for four additional cards and any cash that you have.
Slim, the wallet is just 0.59 inches thick and allows for durability and style. You can purchase a tracker to go along with your wallet if you like. The tracker is solar-powered and doesn't require any charging. A single 3 to 4 hours of charging provides enough power for two months of battery life.
The tracker allows you to connect your phone to your wallet using Bluetooth technology. If you lose or misplace your wallet, you can pull up the location on the phone.
Note: The tracker is sold separately but highly recommended.
Pros
RFID blocking technology built into the card holder
Carry 10+ cards and cash within the wallet
Tracker to help you connect your phone and wallet together
The Ridge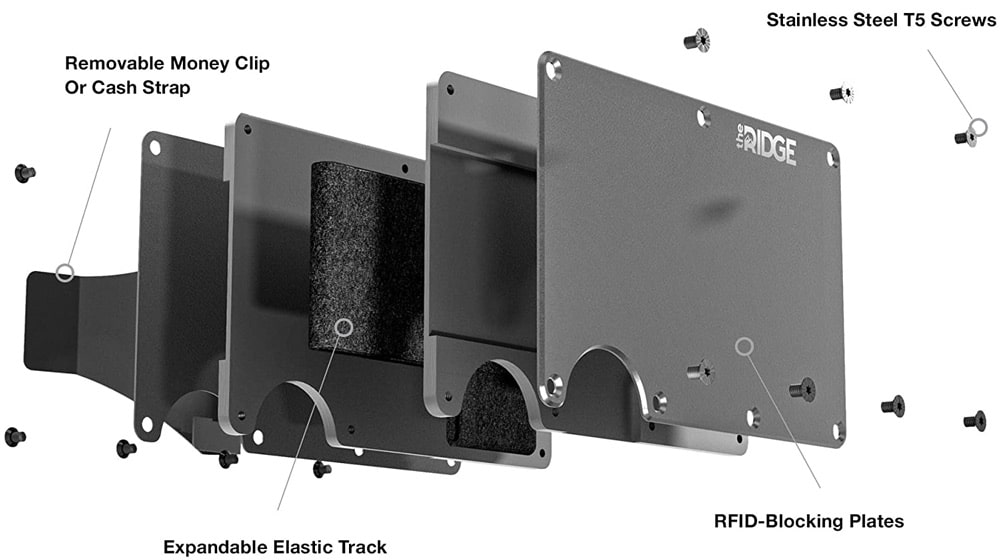 A minimalistic, slim wallet that comes with a gunmetal exterior and RFID blocking metal. Easily keep your cards and cash safe. The built-in money clip keeps your cash easily accessible if you have to run into the grocery store or gas station with no unlocking required.
Military-grade materials are used in the construction of The Ridge which is designed to last a lifetime – guaranteed.
RFID chip readers don't stand a chance with this wallet. Hold one or two cards comfortably. Exterior notches allow you to push cards out of the wallet effortlessly. The integrated money clip comes with a proprietary clip that is designed for easy readability and safety.
The unit weighs just two ounces, and the frame spans 86 x 54 x 6mm.
If you need more than one to two card storage, you can stretch the wallet out to hold 12 cards.
Inner plates let you lock the cards in place and protect you from the risk of your card slipping out of your pocket. Small and compact, The Ridge is a great choice for anyone considering a minimalistic wallet.
Pros
Expandable size keeps the smart wallet small and compact
RFID blocking technology stops potential theft of your credit card info
Military-grade design is backed by a lifetime guarantee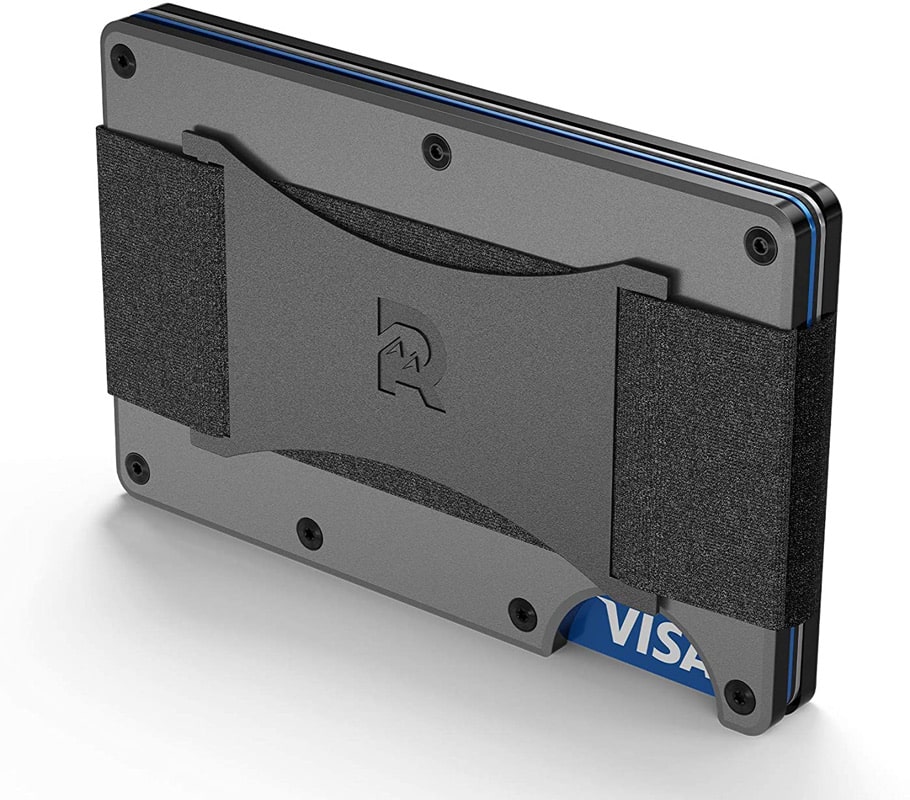 Dango M1 Maverick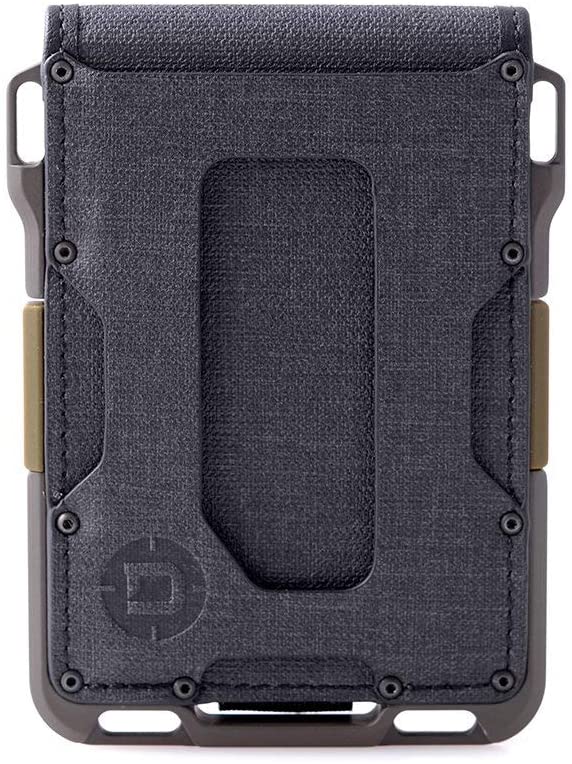 The Dango Maverick is made in the United States and comes in multiple color options. The smart wallet is designed to be a bifold with RFID blocking in the lining.
Made from top grain leather and aluminum, you can hold a staggering 16 cards plus cash inside of your wallet at once.
Stainless steel bolts are military-grade, and the wallet spans 5" x 5" x 0.7". Tuck the wallet into your pant or shirt pocket. You can use the wallet in a vertical configuration, with a lanyard mode or badge holder mode. A modular design allows you to change out pockets and screws as well as the wallet bands.
Versatile and modular design concepts allow you to use the Dango multitool to rapidly configure and make this wallet your own. It's the perfect wallet for anyone that is active or wants a smart wallet that can hold multiple cards without being too bulky.
When trying to hold all of your cards and cash, the M1 Maverick offers a simple, durable solution.
Pros
Easy customization thanks to the modular design concept
RFID blocking to keep card readers from stealing your information
Can purchase a lanyard or badge holding option for more functionality
Dango T01 Tactical Wallet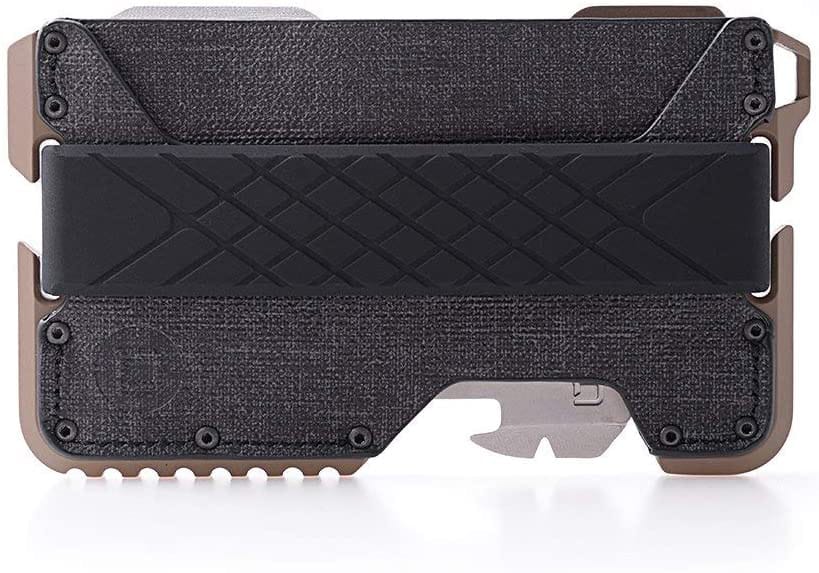 Dango's tactical wallet may be more to your taste if you don't like the Maverick. The T01 is considered an EDC wallet (every day carry) and is made with genuine leather. The RFID blocking wallet also has a bifold and comes with the MT02 multi tool.
Up to 12 business and credit cards can be held in the wallet which features a genuine top grain leather and military-grade bolts.
The multi-tool offers you ten neat functions including a knife, saw, smartphone stand, nail removal and so much more. You can remove or attach the tool to the wallet so that you can use the multi tool wherever you need it most.
The material used in the wallet's design is aerospace-grade 6061 aluminum which weighs just over two ounces.
While there's no money clip included, there's a leather envelope where you can store cash.
If you're the type of person that loves the outdoors or leads a very active lifestyle, using the T01 tactical wallet is a great choice. High-end durability and a multi tool make sense for anyone that may be camping, hiking or spending extended periods of time outdoors.
Pros
Extensive holding capacity in a small, compact design
Multi tool offers superior functionality
Aerospace aluminum and RFID blocking make this a high-end tactical wallet
Trayvax Element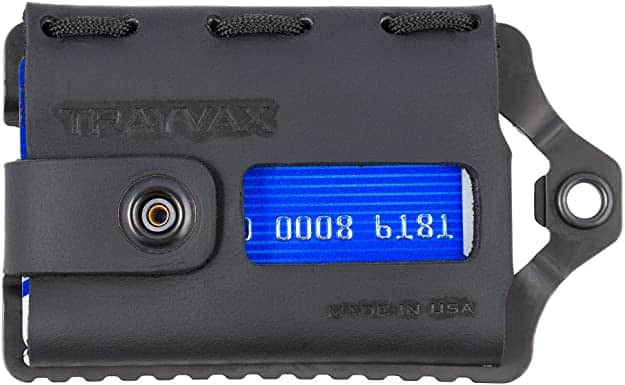 Trayvax offers a timeless tobacco color and a leather design. The wallet is made in the USA and has a stainless-steel frame that's wrapped in leather. Users can fit 3 to 10 credit cards in the wallet along with one to five bills.
A lifetime warranty protects your investment while the wallet offers an integrated money clip, attachment point and RFID protection.
Rugged and able to take on the day's challenges with you, the Element can be secured with a paracord and there's also an area that can be used as a bottle cap opener. The high-end design allows you to pursue the outdoors with a stylish wallet that can be worn every day.
Dimensions are just 4.5" x 2.8" x 0.5" with a weight of just 3.5 ounces.
There's a slight break in period if you carry multiple cards due to the genuine leather. Over the period, you'll be able to slide additional cards into the wallet without difficulty closing it. Minimalistic and comfortable to carry, you can easily fit this wallet in your pocket and not be able to differentiate between a smart wallet and your standard billfold.
Pros
Classic minimalistic design that will be in style today and years from now
Ample space to fit up to ten cards and five bills
Aerospace design that's needed by every tactical wallet and rugged use
Bellroy Hide & Seek Wallet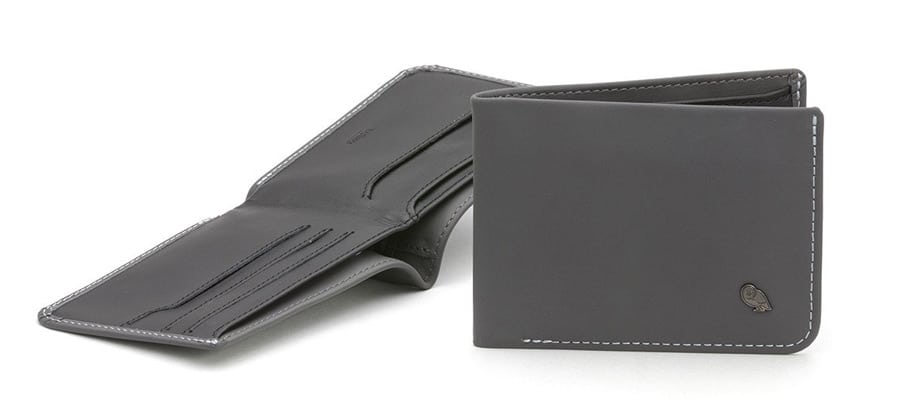 Bellroy's Hide & Seek wallet is the most traditional looking wallet on our list. But when you start digging deeper into this slim bifold, you'll notice that it has capacity for 5 to 12 cards and even a built-in coin pouch.
There's an additional section for bills.
A hidden pocket allows you to hide away items, too. The wallet has RFID protection built into its design. Environmentally friendly, certified leather is used in the wallet's design along with a compact design that span 3.3" x 4.5".
All bills can confidently fit in the wallet including USD, Yen and British pound among many others. Business cards can be tucked away in their own section. Slim, comfortable and aesthetically pleasing, this is a great smart wallet if you travel a lot or want to enjoy RFID protection while still using a wallet that looks and feels similar to your standard wallet.
The hidden compartment is one of the best features of this wallet that allows you to hide away notes or bills that you may want to save rather than use. And the hidden compartment is also great for security reasons.
Pros
Smart wallet design with a conventional look and feel
Hidden compartments to hide away special items
Fits up to 12 cards and accommodates all bill sizes
A smart wallet is a logical choice for anyone that wants to upgrade to a new wallet with a few additional security features that a conventional wallet doesn't offer. Whether you choose a tactical wallet or another one on our list, all of these wallets are sure to be an upgrade over the traditional wallet you're carrying.