Looking for a new hobby to get you outdoors and out from behind the desk?  Well, we might surprise you with our next toy.   If you have ever considered taking long walks on the beach searching for lost jewelry, precious metals or even gold, the Minelab Equinox 800 can even help newbies get started hunting treasure successfully.
This lightweight metal detector weighs just 2.96 pounds, and it comes with three mode options to help you accurately find precious metals.
These three modes are:
And since the metal detector can work on multi-frequencies, you can accurately detect the specific metal you're searching for and the depth. If you want to go out and treasure hunt, the Equinox 800 is a great option.
Equinox 800 Specs

96-pound weight
5" x 12.5" x 5" dimensions
Park, beach and field mode
3-year limited warranty
5kHz – 40kHz operating frequencies
Multi-frequency options
Wireless audio options
Waterproof option
Gold detecting mode
2 custom search profiles
Arm rest setup
Adjustable shaft up to 56.7"
Audio tones
Depth indicator
LCD backlit display
Volume control
12-hour battery life
Rechargeable system
The Equinox 800 is filled with features, and with the three modes available, you'll be able to switch between two different options:
Field 1
Field 2
Beach 1
Beach 2
Park 1
Park 2
Two custom search profiles are available so that you can save your favorite settings at any time. Different fields and frequencies are able to detect metals more accurately. If you want to detect gold, you'll want to go to the 20 kHz to 40 kHz frequencies.
Sleek and lightweight, you can also adjust the shaft up to 56.7," and there's an armrest setup to make detection more comfortable.
Audio tones can be adjusted to better be able to hear when detection has been made. Wireless audio is also provided with low latency Bluetooth headphones.
When detecting on the beach or close to a river, you can be confident that this metal detector can be submerged in 10-feet of water. You'll be able to detect metal in the middle of a creek or in a river without fear that the detector will break in the process.
I suggest using the beach mode for best results when searching for metals in any body of water.
When it comes to altering settings, you'll find that the user interface is intuitive.
The unit is backlit, and the LCD display will provide all pertinent information at a glance:
Target ID numbers
Detect modes
Frequencies
Advanced settings also allow you to determine how much target information you hear when a metal has been detected.
The depth indicator will allow you to judge how deep the detected metal is in the ground.
When it comes to battery life, the unit can last for up to 12 hours on a single charge. The battery life is more than sufficient for an entire day of detecting.
The 800 is a great metal detector for beginners, but it's also complex enough to provide years of use.
You have a lot of features and settings that you need to master, so there is a bit of a learning. All metal detectors have a learning curve, but once you master all of these settings, you'll be able to detect metals more efficiently than ever before.
It takes time to master metal detection, so you'll want to take your time and read through online forums to find which settings and options work best for your detecting needs.
The Equinox 800 has all of the features and refinement settings needed to find gold, lost watches, earrings or a variety of other precious metals. It's a robust metal detector that has all of the user-friendly features that you could want with a lot of advanced features to increase detection accuracy.
Given enough time, you'll be able to create custom profiles for your metal detector and refine the settings to work best on your land.
With advanced audio tones and Bluetooth connectivity, the 800 allows for highly accurate metal detection and hours of fun.
Minelab Equinox 800 Reviews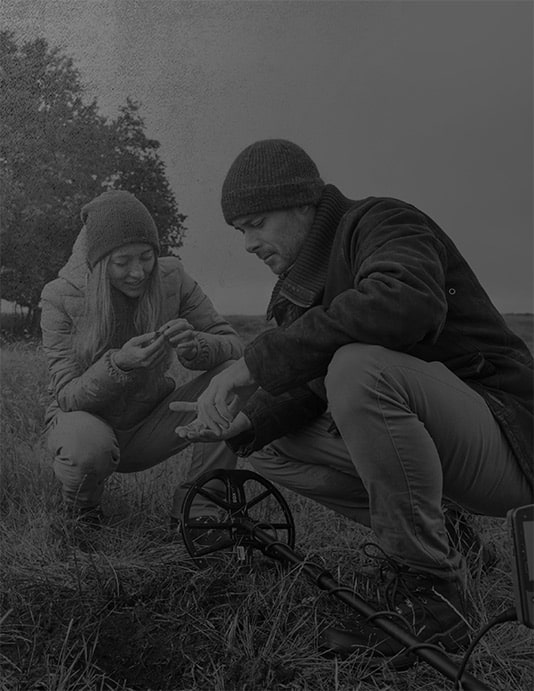 The Equinox 800 has tons of reviews online. What are other people saying?
Best metal detector that I have had in 25 years.
True multi-frequency detection running all five frequencies at once.
Learning curve ahead of you, but able to use at beaches or in large fields.
My buddy was able to find five little gold nuggets.
Found gold a few inches underneath the wet sand on the beach.
There are very few complaints against the Equinox 800.
Complaints that I have seen is that the unit is not as good as some that are much higher in price. You can't argue with these types of reviews because there are always new, better models on the market.
But you'll pay a lot more for these newer models.
Otherwise, the Equinox 800 is able to accurately detect metals, it's fully submergible and works on multiple frequencies at one time.
What Minelab Equinox 800 Profile Goes the Deepest?
If you want to be able to search down the deepest, you'll need to adjust between different modes.
There are beach, park and field modes, and you should switch based on your respective landscape. When searching in bodies of water or in a river, you'll find that the 800 is waterproof up to a depth of 10 feet.
You'll want to operate in beach mode when going in the water for best results.
Low settings provide the best detection for deeper targets, but when objects are close together, the low setting is not the best option.
The unit is designed to find gold nuggets 4" to 6" in the ground and coins in the 14" to 16" range.
Park 2 and Gold 2 often detect the deepest metals, but it will change from one type of metal to another.
Where to Buy the Minelab Equinox 800 For The Best Price
There are many retailers that have the Minelab Equinox 800 for sale:  but we found the best price on Amazon .
Shipping from was free and quick.
If you want the best beach metal detector on the market or simply want to go exploring in your yard, the Minelab Equinox 800 is a great option.