Is The Legendary LP120 The Best Budget Record Player Of All Time?
Do you want to experience the best in audio production? The Audio Technica LP120 simply blows the competition out of the water with its high-quality, crisp and clear sound. This unit is not only affordable, it also connects straight up to USB and offers direct-drive professional performance.
High torque allows this unit's motor to offer accurate speed, strobe speed, pitch adjustments and reverse playback that's ideal for the disc jockey who's just starting out in the industry.
And it will even allow you to digitize your music straight onto your computer via USB. With an easy setup, exceptional quality and a manual tonearm return, this is one of the best budget-friendly record players on the market.
Audio Technica LP120 Features and Specs
USB connectivity
78 RPM speeds
+/-10% – +/-20% pitch adjustments
Selectable 33=1/3, 45
S-shaped tone arm
Anti-skate adjustment
20-20,000 kHz frequency response
3-speed, manual operation
Electronic brake system
Pre-Amp Gain 36 dB
Just look at these features and specs – the LP120 is exceptional.
Click here to see the full list of features and specifications of the LP120.
Tonearm and Adjustments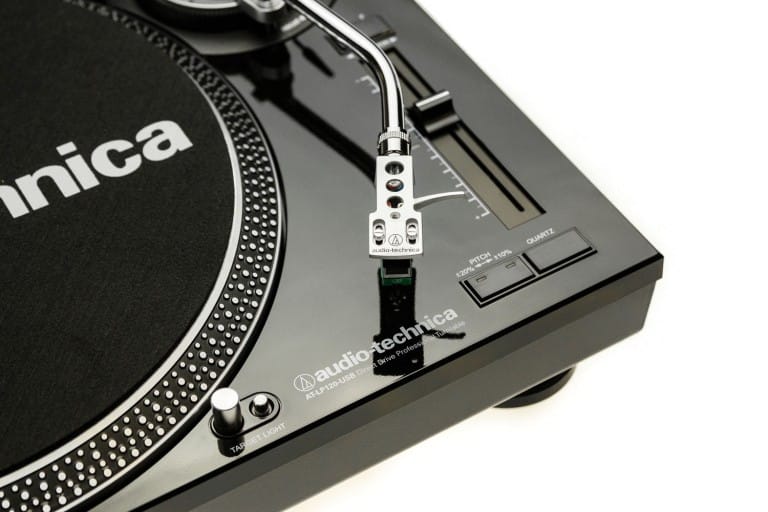 This is such an advanced turntable, that it's the best record player for the money. I really want to go in depth with as many different features as I can, and starting with the tonearm and adjustments seems like the right area for DJs.
Reducing tracking errors, there's a lift control lever and a lock to secure the unit in place during transport. When you want to get the absolute best sound out of this model, you'll need to do the following:
Assemble and adjust the tonearm components
Balance the tonearm and anti-skate
Adjust the tonearm height
This is not an automatic tonearm.
Instead, this unit is a completely manual option, which means that you're not going to want to fall asleep while spinning records. You'll need to manually lift up the arm and return the needle to its proper place to restart an album.
For casual listeners, this may be a concern, but for DJs and aspiring DJs, this is a perfect option.
Through the tonearm height adjustment, you'll be able to adjust the tonearm to the thickness of your album. This means you'll be able to get 78 RPMs even on 200-gram vinyl records with a quick adjustment.
Motor, Platter and Speed

Many people like to compare the Audio Technica LP120 vs Technics, and it's very difficult because each model is priced so differently. What I found is that this model is able to compare both in the speed and functionality department – minus the cost.
The direct drive motor has high torque, which allows you to reach your desired speed quickly. This is the same type of motor that you would find on high-end DJ decks, and you're able to reach over 33 RPMs in 0.7 seconds.
Coming with a felt mat, you'll be able to reduce external vibrations and enhance your sound at the same time.
A die cast aluminum platter is included, and even has strobe dots on the edge to provide a visual indication of the speed and accuracy of the unit. There's also strobe lights and small dots that correspond to the speed of play.
Offering three different standard speed rotations: 33 1/3, 45 and 78 rpm you be able to experience accurate, clear audio at all times. Forward and reverse playback are offered, and you'll be able to use the courts lock button to bring the platter itself up to the appropriate speed and pitch positions.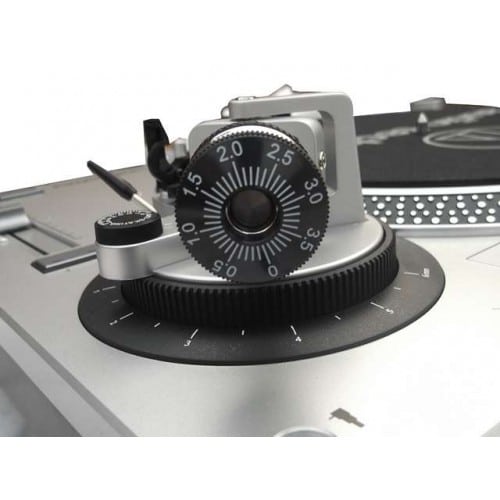 I also love the Audio Technica LP120 preamp because it allows you to plug in components without a dedicated turntable input.
When comparing the Audio Technica LP120 vs LP60, you'll notice that the 120 superior in almost every way. A high-performance Technica AT95E cartridge is included, and produces detailed sound that is clear. The delicate cantilever requires a gentle touch, and a tracking force of 2.0 grams is recommended during play.
You can buy a separate headshell for different cartridges, which is recommended if you plan on switching between all three speeds often. Otherwise, you'll need to replace cartridges often, which can be difficult.
Note: The clinic cartridges are perfect for 33-1/3 and 45 rpm records, but you'll need a special cartridge if you plan on playing 78 rpm records because they have wider grooves.
Fluctuations are less than 0.2%, and you have a pitch adjustment's slider to increase or decrease the platter incrementally. You'll be able to choose from a range of +/- 10% – +/- 20% with the slider.
This unit does not come with the Wi-Fi capability like the Techniques 1200, but that is to be expected for a budget-friendly unit. If all of your components are of high quality, including your stylus, pre-amp amplifier and speakers, the sound quality will be amazing.
And Audio Technica includes a lot of accessories to help you get started:
USB cable
Headshell
Pre-mounted cartridge
RCA output cables
45 RPM adapter
Audacity software
Pros
There's a lot love about this record player, and some of my favorite features are:
USB connectivity
Built-in pre-amp
A variety of adjustments
Exceptional sound quality for the price
Strobe and speed adjustments
This isn't the absolute best record player on the market, but it's the best in this price range.
It's feature-rich, and offers the same quality that you would expect with professional DJ decks – minus the cost.
Cons
Manual operation
No auto-stop / return
This is a direct turntable for about half the price that the competition offers. While adjustments and assembly take a little bit to get used to, this is a great value that offers sound quality want without the high price tag.
Users will find that it takes a little bit to get used to the manual operation, and that the no auto-stop takes some time to get adjusted to at first.
This is a real turntable – not one of those "wannabe" turntables – and it even offers USB connections.

Click here to buy the Audio Technica LP120 professional turntable.