If you're a true audiophile, you know that there is a major difference between a quality record player and a cheap one. You can spend thousands of dollars to get that perfect balance of audio perfection, but you don't always have to break the bank to get a quality record player.
The Pro-Ject Debut Carbon is under $300 and is the right choice when looking for the perfect audio quality at a price that is affordable.
What to Look for in A Record Player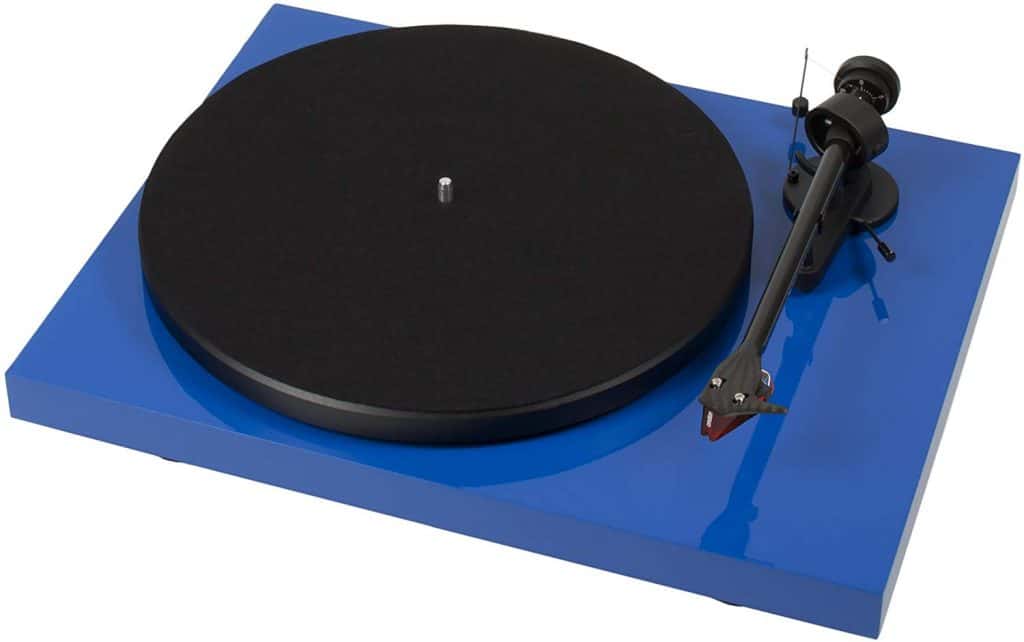 If you're new to the world of record players, you need to know exactly what to look for in a record player. We're going to be talking about some of the features that are very important, so you can make a smart purchase.
Note: A true audiophile will want to skip right to the review section.
Platter: A platter is the instrument or component that resets and spins your record. Most people aim for heavier platters that reduce vibration. The speed of the platter is what you want to pay close attention to. Most will play 33RPM an 45RPM records, but if you want to play older records, you'll need a platter that can play 78RPM records. You can also buy a kit to modify the unit to play these old classics.
Tonearm: Audiophiles have a tendency to prefer manual tonearms because fewer parts means less potential for interference when playing records. Automatic tonearms have gotten a lot better, but you still want a smooth transition between tracks.
Cartridge/Stylus: The cartridge is the housing of the stylus, or needle. A cartridge is one of the best investments you can make, so it's often recommended that you upgrade or spend more on a cartridge. Always spend extra money to get a good cartridge if you want the best sound possible.
Price: I almost didn't add pricing, but it's important. If you want an audiophile turntable, expect to pay between $300 and $500. This is a good range for a beginner model, and the Pro-Ject Debut Carbon falls right in this criteria.
Sure, we can talk about preamps and other features, but this is meant for the beginner. If you dig into these features a little more, you'll see just how vital they are to sound production.
Pro-Ject Debut Carbon Review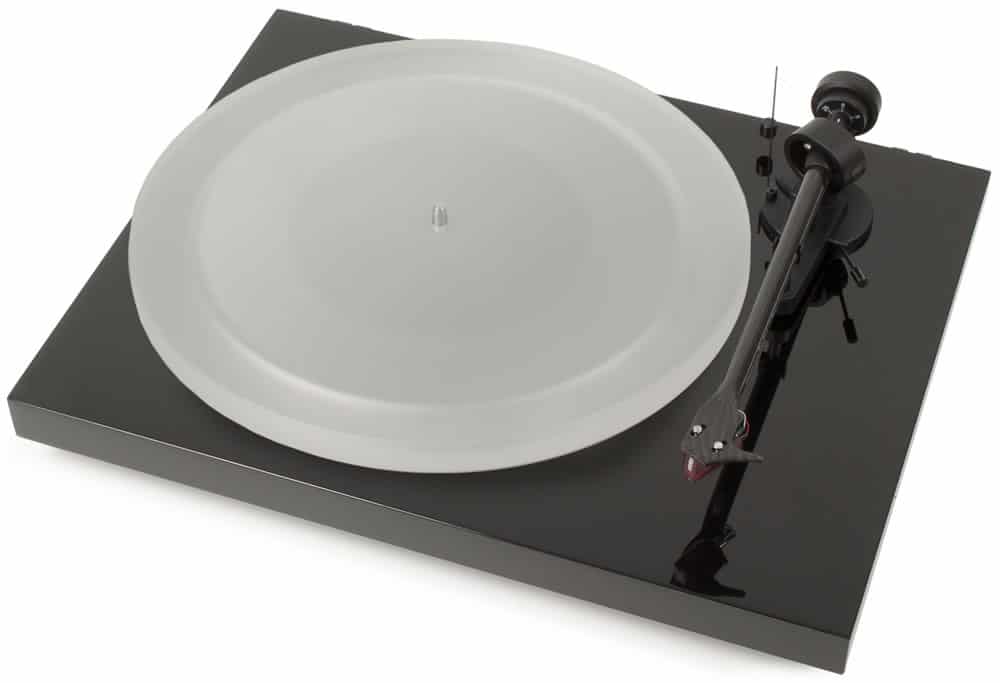 Down to business. The Debut Carbon has been given a lot of praise in the community, and for good reason – it rocks. Affordable, under $400, and made with top-of-the-line parts, it's almost like cheating when buying this turntable.
You'll be getting a higher tier turntable at an entry-level price.
Pro-Ject Debut Carbon Setup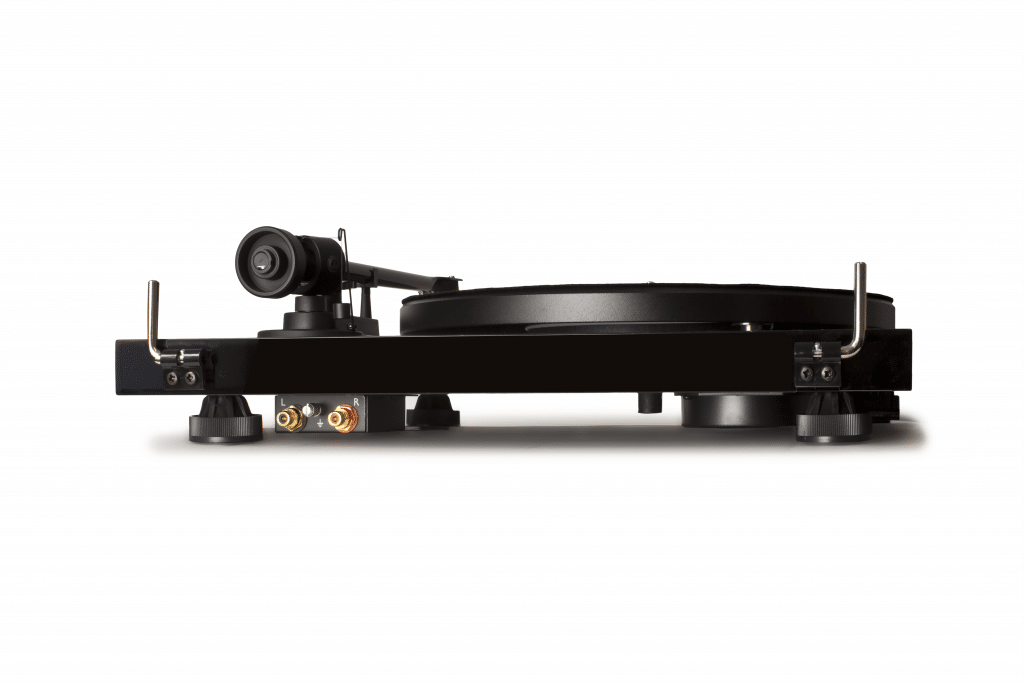 One complaint that many beginners have is that they need to set up virtually everything with this record player. And this is good and bad. It's a learning experience for sure, but you'll get to know your record player more intimately as a result, which is what a true audiophile thrives on anyway.
Don't get me wrong, you don't need to assemble the cartridge – thankfully. If you've ever assembled a cartridge, you know just how difficult it can be.
Once you've set up everything, you'll be well on your way to hearing the beautiful sounds of the Pro-Ject Debut Carbon.
And the Pro-Ject turntable guide walks you through the setup process.
Breaking Down the Components
This model comes equipped with an Ortofon 2M Red cartridge. Big deal, right? Wrong. This cartridge produces an amazing sound time and time again. If you have tried the Shure M97XE, you'll immediately realize just how amazing this cartridge is for your listening experience.
Platter weight is high, too, so you don't get that noisy vibration that ruins the listening experience.
Now, the counterweight isn't ideal – not for pristine sound. So, I recommend upgrading this with something like the Shure SFG-2. I'm not saying it's horrible, but for a more refined sound, it's worth the extra cost.
With that said, I am very picky with record players. You don't truly need to swap out the counterweight if you don't want to, but I am going after the best sound possible.
The tonearm is made out of carbon (hence the Debut Carbon) and is 8.6" in length. Created to reduce resonance, carbon allows the tonearm to be stiff, which is ideal for high-quality sound production.
If you think this model is noisy, you want to make sure that you use the included dust cover – it's there for a reason. Even a bit of dust can cause noise interference.
Belt-driven, the manufacturer has found the right balance between an AC motor and sound production.
Pre-amp
The Pro-Ject Debut Carbon preamp doesn't exist, and you'll find many record players don't include a preamp. You have the option of using any preamp you see fit, but I like to keep my setup as close to the same as possible.
I recommend trying the Pro-Ject Tube Box. Why? You'll have one point of contact if something goes amiss. It's a lot easier to use components from the same manufacturer, especially when they make quality products.
With that said, the cartridge will require a moving magnet input, or MM input.
Speed Adjustments
The Carbon can be changed between 33 RPM and 45 RPM. Simply do a manual adjustment of the belt by picking up the platter. It sounds scary, but it takes just a few seconds to do, and you'll be able to listen to your 45s with ease.
Adjusting the belt is a breeze – really. Even a novice can do it.
You won't be able to play 78s (old records), but you can buy an adapter kit (I haven't for this model) so that it can play 78 RPM.
So, if you plan on using this record player for your grandfather's relics sitting in the garage, you'll need a kit to listen to his collection properly.
Note: 78s started to be produced alongside newer speeds in the 50s and stopped production in 1955 (for the most part). Lacking the 78 RPM speed isn't really much of an issue as a result. Records from before the 1950s likely need a 78 RPM player.
If you have to have a player that can play 78s and really like Pro-Ject, you'll want to go with the Pro-Ject Debut Carbon Esprit. This model is pricier, and it's often difficult to find. But, it is designed to play 33, 45 and 78 RPM records right out of the box. But you'll be looking at paying upwards of $600 for this model, so it's not exactly priced for an entry-level buyer.
A grounding cable is included with the Pro-Ject Debut Carbon, but keep in mind that it is a little on the short side. Not a big deal by any means, but it should be noted.
The Pro-Ject Debut Carbon is our top pick for a record player under $400. Not only is this model affordable, but it features a high-end cartridge that really makes all of the difference when it comes to sound. The platter is nice and heavy, and the tonearm does a great job keeping music in tune the entire time.
If you're on the market for the best entry-level record player, look no further than the Debut Carbon.