Symbol Audio's vinyl storage makes owning vinyl records easier, with high-end custom furniture designed to fit all of your vinyl albums. When you own vinyl, there are very few storage options that are convenient, and if you do find an option, they look commercial.
You want your collection to naturally fit in your space, but in the age of digital audio and streaming, there is a major gap in furniture for vinyl records.
Until now.
Symbol Audio has a collection of high-end audio furniture that will fit into any space.
Today I am going to focus on two of the main product lines available:
Aero
Dovetail
While you'll find more than these two product lines available, these are the two that really stand out from the rest.
Who is Symbol Audio?
Symbol Audio is a brand you won't find in most retail stores, but they have carved out their own niche in the furniture industry. The company designs products for audiophiles, and they focus on sound and functionality.
All of their products are handcrafted, so you can be sure that the vinyl storage solutions that you choose are the best.
Leave the mass production behind when you choose Symbol Audio. Products are unique and focused on quality.
These aren't the cheap storage solutions that you'll find in large retailers.
Instead, these are quality products that are built-to-last.
Aero Storage Cabinet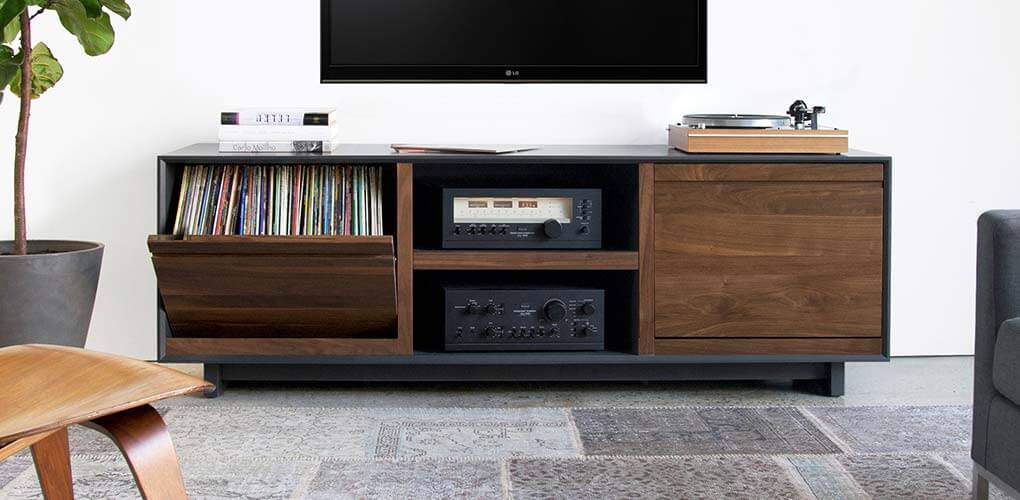 The Aero Cabinet Program, also called Aero Storage Cabinet, is a media storage that is crafted to your own configuration. Since all of the products are handcrafted, you have the luxury of thousands of configurations and a solid wood construction.
You're not dealing with fake or cheap wood that breaks easily.
But the tradeoff is that you will have to wait six weeks for the product to be made. There's also a white glove delivery option to ensure that your cabinet arrives in pristine condition. Aero offers:
Unique furniture alternatives
A range of wood choices
Numerous finishes
Three Storage Options
Aero's Storage Cabinet has three main storage options:
LP Swivel Bin: A proprietary swivel bin that protects all of the records when closed and puts them on full display when the bin is open. Dual-pivot hinges are used to provide optimal balance that's perfect for balancing the weight of your records. The bins are able to hold 120 LPs, so it's a bin that's perfect for audiophiles.
Audio Rack: The audio rack is an integral part of storage and includes adjustable shelves that can be quickly adjusted with the 5mm stainless steel pins. The audio rack will act as your component's storage area and has a slotted back, too. Audiophiles that want to neatly manage all of their wires can do so thanks to the removable back panel. The panel also provides ample ventilation to keep your components cool.
Drawers: Aero's drawers offer full extension with glides that can accommodate your vinyl records, or 144 CDs or 56 DVDs. Partitions are able to be placed or removed for true storage customization. You'll be able to change the configuration to meet the types of audio that you prefer the most.
But that's just the beginning of the customization options that you have available with your vinyl storage unit.
You can also choose between the following options:
Width Options
What width would you like for your storage cabinet? There are three main options, so pull out your measuring tape, measure your space and be on your way to a cabinet the fits perfectly. The width options that you'll be able to choose from are:
5-inch, which is a one-cabinet width perfect for smaller spaces.
51-inch, which provides two cabinet spaces
5-inch, which will provide you with three cabinet spaces
Height Options
Height allows you to stack the storage options vertically, saving space and adding more space as needed. The four main height options are:
5-inch, which is the standard size for an audio rack, swivel bin or double drawer
5-inch, which provides the same space as the 25.5-inch with the addition of a single drawer u top
5-inch which, offers two spaces for an audio rack, swivel bin or double drawer
5-inch, which adds on to the space that the 43.5-inch offers and adds an additional single drawer space at the top
Storage Options
Storage is a custom need, and you may need multiple bins or audio racks, depending on what type of setup you currently have available. You can choose from four main storage options that you'll mix or match to your liking:
Audio rack
LP swivel bin
Double drawer
Single drawer
And you with the largest width and height, you'll be able to have six larger storage areas and three single drawer storage areas.
Audiophiles never have to compromise when they choose Symbol Audio to manufacture custom-made storage solutions.
There are three color options and a solid walnut finish available.
Made in West Virginia, Aero cabinets boast:
North American hardwoods
Proprietary hardware
Sustainable production
If you're investing in your audio collection, it only makes sense to invest in an audio solution to fit your collection's needs. All of Aero's custom solutions provide you with a vintage, stunning look and offer the quality only offered with heirloom furniture.
You can confidently pass these pieces of furniture down to family members without concern that they'll fall apart.
This is real furniture – not cheap furniture that breaks in a few months or in a year.
Dovetail Storage Cabinet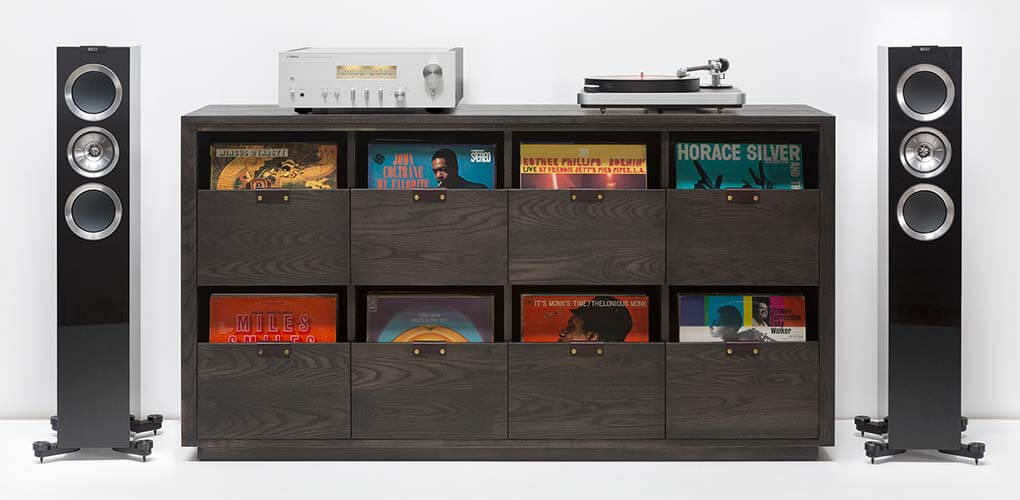 A Dovetail storage cabinet is going to be the hip way to store all of your vinyl records. Dovetail record crates have a lot of configurations, and they include:
Heavy-duty mounts for the drawer slides that can withstand the weight of dozens of records
Solid wood construction
Leather handles that are vegetable-tanned to provide a high-class look
White glove delivery option for first-class delivery of your cabinet
You'll find that a file drawer approach is taken that allows you to store and display your entire record collection. Sturdy and long-lasting, the drawers are on sliders and display the cover art for easy record location.
All units are made in North America from hardwoods from the region.
The features of these crates are:
40-inch flip style bins that allow you to flip through all of your collection without taking them out of the bin to look at the cover art
Leather handles made by Wickett and Craig, which has been manufacturing leather handles for 150 years
Capacity to hold up to 90 LPS in a single drawer thanks to the soft-close, under-mount drawer design
Equipment shelves with passive ventilation and built-in wire management are also available
But the true customization comes from the modular system that allows you to customize your cabinet storage in a way that makes the most sense for you. A few of the many cabinet storage options are:
25-inch height, which can include a single column with one area for equipment and two storage bins. You can add up to four columns together for eight storage bins and three open spaces for equipment.
40-inch, which is similar in design but includes a large, single area for equipment regardless of how many columns are present.
34-inch height, which removes the audio storage and includes only crate storage that can span four columns with two bins on all columns.
27-inch, which includes a single bin and audio space per module. You can choose from options with one audio space and two bins, two audio spaces and three bins or three audio spaces and four bins.
19-inch module, which is the smallest option that features one, two, three or four bin options.
Widths for all of the units are as follows:
Single column: 18-inch
Dual column: 33-inch
Triple column: 48-inch
Four column: 63.5-inch
You can choose a modular design and setup that bests meets your needs. All pieces are made with solid ash and come in the following premium finishes:
3 lacquer colors
4 ash stains
1 premium wood
Symbol Audio wants you to enjoy only the finest furniture in the industry. The Dovetail setup is one of the company's most prized units and is built the right way. When you choose a custom build, you'll be confident that your furniture is being handmade in West Virginia.
Solid North American hardwoods are in use to ensure that you're left with a piece of furniture that can be passed down for generations. These heirloom quality pieces are among the best in the industry and are manufactured to the highest standards.
Each cabinet has been meticulously engineered to fit and accommodate the weight and size of vinyl records. When you purchase other types of record storage, you're often purchasing a one-size-fits-all approach to storage with a cabinet that isn't going to last the test of time.
A snug, proper fit is provided that ensures your records will not wiggle in the space and break, but you still have the option of pulling the record forward to view all of the record covers for easy sorting and selection.
You can also be confident that the highest quality hardware was used in your cabinet's manufacturing. The hardware includes:
Heavy-duty drawers that are rated at 75 pounds
Full extension design that allows drawers to easily slide out for access to your albums
Soft close design that allows you to close each drawer without a "boom" in the process
Undermount that hides all hardware from the viewer for a pristine look
All products are produced with sustainability in mind. Wood is sourced responsibly, and all energy and waste are monitored. The approach allows Symbol Audio to produce the highest quality vinyl storage solutions with peace of mind that you're not damaging the environment.